In Hey, What's the Deal With… we're tackling everyday oddities, random curiosities, and what-the-actual-fuck mysteries about life in the Twin Cities. Got a pressing but somewhat trivial Q about something you saw, heard, or thought about while stuck in traffic? Email jay@racketmn.com, and our crack investigative team just might try to figure it out.
I first became acquainted with Elmer during a dog walk last summer. That's semi-remarkable considering I've lived in Minneapolis my entire 34-year life, and I'd never encountered the odd mascot who was allegedly born in 1976. While heading down Oakland Avenue toward Minnehaha Creek, I noticed a directive shouted from Elmer at the base of a freshly planted tree.
It didn't sit well with me.
Elmer's physical appearance recalls Radagast the Brown, the Tolkienian hippie wizard with birds living in his hair. But something about him⁠—the sagging eyes, toothless grin, pleading gesture—struck a nervous chord. The leaves cascading around Elmer suggested the omnipresence of death, a topic that he's eager to address with, presumably, children.
For 363 days, I didn't pay much attention to Elmer. He'd pop up on dog walks, sure, smiling with those gnarled, outstretched arms, but it wasn't like he'd inserted himself into city politics. Until he did.
On Monday, a press release from the Mayor's Office packed all of this into the subject line: "Photo Release: Frey, Palmisano, Osman, MPRB Leadership, and Community Partners Highlight $1 million ARPA Investment to Add 200,000 Trees in Minneapolis by 2040." Being a fan of trees and photo-ops, I clicked. The news of spending federal COVID-19 dollars on trees? Downright pleasant. The accompanying photos, however, sent Elmer screaming back into my consciousness.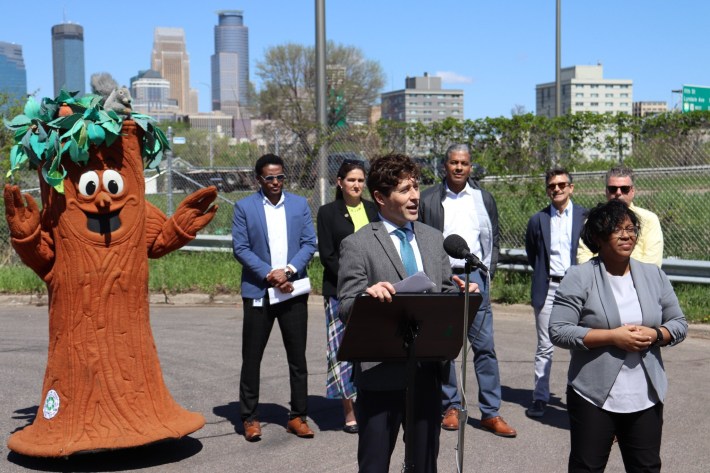 In the one above, we see Elmer hailing Mayor Jacob Frey as some sort of god-like figure. Or is he preparing to attack the divisive mayor by taking a page from the Rowlingian Whomping Willow, to use a painful tree metaphor? Unclear.
To clear things up, I emailed the patient comms staff at Minneapolis Parks & Recreation Board with the email subject line: "What's the story with Elmer?" Within minutes, I was directed to Elmer's bio and offered the chance to speak with Ralph Sievert, director of the city's Forestry Department.
To believe the city government account, Elmer the Elm Tree became the official mascot of the Forestry Department in '76, the same year those tall bicentennial ships really lifted the nation's spirits after Watergate. "One of Elmer's favorite messages is, 'Water Trees Weekly,'" his bio reads. "This message encourages you to water trees on a routine basis." From there we get PDF links to Elmer's various sayings—"Photosynthesis is Peachy," "Conifers are Cool," "Tree Trunks Have Structure"—and his modestly followed social media accounts. Most posts involve Elmer delighting kiddos, while others show him goofing around with local mascots, educating WCCO's Jason DeRusha about tree watering, dressing up for Halloween, and… drinking beer? Possibly concerning: Elmer's most recent Insta post is from five years ago; he's not been active on Facebook for two years.
Sievert, who I like to imagine is something of a father to Elmer, has been at the Forestry Department for 28 years. He says Elmer has been a runaway success. "We don't even have to beg to have him included; it's kind of an expectation that he's there, like at yesterday's press conference." A couple years back, Sievert says his counterparts in St. Paul even developed a tree character of their own named Burley Oak, though that mascot maintains no internet presence we could find.
Sievert supplied us with an Elmer history he authored as part of an Arbor Day Foundation Award nomination: "Minneapolis still has significant mature elms thanks to Elmer and 'Elm Watch,'" he writes of Elmer's early crusade against Dutch Elm Disease. The mascot has since shifted his fight to Emerald Ash Borers and, of course, the importance of routine tree watering. His message has reached over 500,000 residents since 1978, Sievert estimates. In 2020, 1,000 of 'em gathered to sing "Happy Birthday" to Elmer at Rev. Dr. Martin Luther King Jr. Park as "the world's only tree climbing brass band, The Arborators," played from atop a nearby tree.
While Elmer's gaze may be disconcerting and his political allegiances may be murky, it's hard to fault his ongoing quest to promote urban forestry.
Am I made less afraid of Elmer when, on a Halloween-edition Tree Fact Tuesday from 2019, he shared that, "The Corymbia opaca, also known as the desert bloodwood, oozes a blood red kino when its bark is wounded"?
Not one bit.
Does my blood turn ice cold upon viewing the throwback Elmer, whose whale-like mouth and vacant, orbital eyes feel ripped from a Wes Craven film?
Absolutely.
"Early on, he was much… scarier I guess is the word," Sievert says with a hearty chuckle. "The version now actually got made by the same company that does the Muppet characters, VEE Corp., they're based somewhere in Northeast. Those earlier ones, though, were just very scary; kids actually were almost running away from him."
But, as Sievert concludes in his ode to Elmer: "For over 40 years 'Elmer the Elm Tree' has reliably spread a positive message about tree care."
Can you say the same for yourself?