Welcome to Meet the Tattoo Artist, a series where we aim to showcase a variety of talented Twin Cities tattoo artists who are creating spectacular art on peoples' bodies in Minnesota. This week: Rachel Radiant, a newer artist learning the ropes at The Present Tattoo Parlor.
Years tattooing? 
I'm just a little tatter-tot, with only one year tattooing! I still have a whole lot to learn and am just so grateful to have clients who want to work with me, friends and family who support me, and to have the opportunity to become a better tattooer every day.
Are you from Minnesota?
I am! I was born in St. Louis Park, and I grew up in Golden Valley and Plymouth. I moved to Minneapolis for college (U of M Twin Cities for Graphic Design), and now live cozily with my boyfriend and cat in the Como neighborhood of St. Paul.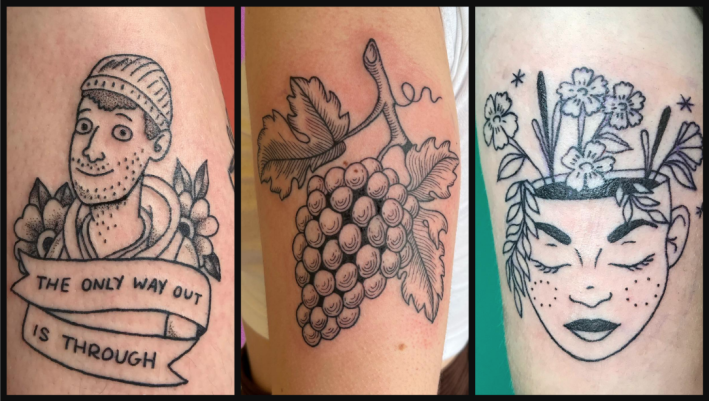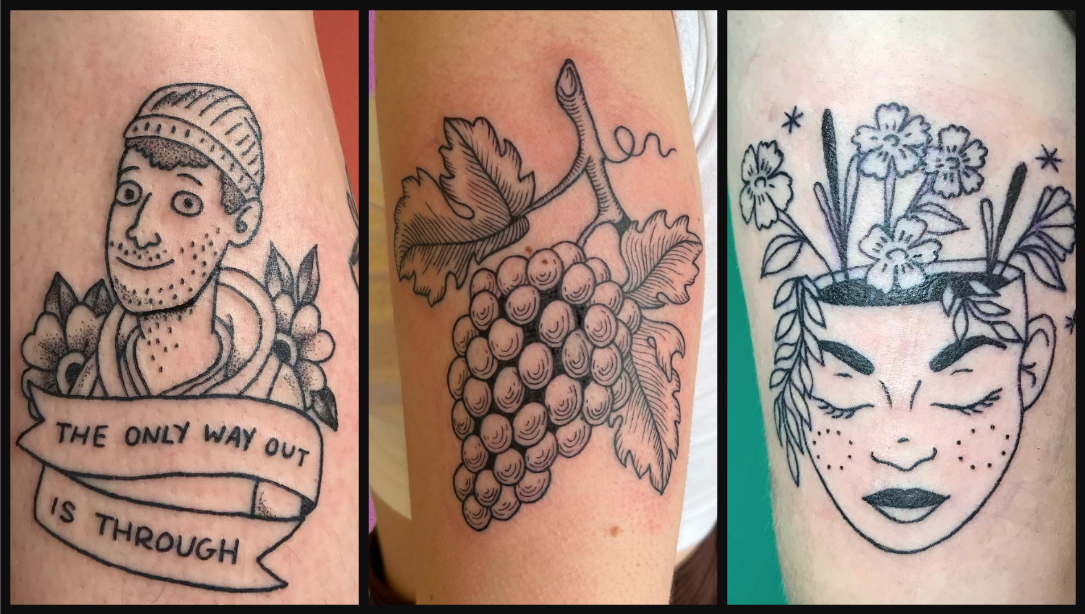 How did  you get into tattooing?
After pursuing a handful of other creative/visual arts careers–photography, videography, graphic design, marketing–I started getting tattooed and talking with tattoo artists. One of those artists happened to be a former graphic designer who had always loved to draw, like me, and he encouraged me to start drawing seriously and build a tattoo design portfolio. 
That advice was all it took. I drew almost daily for two years, and then showed my portfolio to a couple of artists. My mentor was only the second tattoo artist I approached, and she took me on much sooner than I had imagined it would take for me to find a mentor. I'm forever grateful for that.
What were some of the barriers/struggles you have faced as a tattoo artist?
I'm very lucky that my young tattoo career has all taken place in a shop that is so inclusive and welcoming to all. So many traditional tattoo shops are still a boys' club, but The Present has made me feel so safe, and in that safety, I've been able to create tattoos for people who also might not have felt safe in other shops. So I've been very blessed to have fewer struggles compared to other young female artists. 
That being said, I do have a very different style than traditional tattoo artists, and I've had those types of artists try to invalidate the style of tattoo art I'm creating. My tattoo work is often very inspired by femininity, so it makes sense that a male-dominated, "tough" industry wouldn't always be onboard with it.
Do you lean toward a particular style of tattoo?
My style is still forming and evolving, but it has always been described as whimsical, illustrative, bold, and linework-based. I would add the word magic. I try to inject a magical feeling into every tattoo that I do.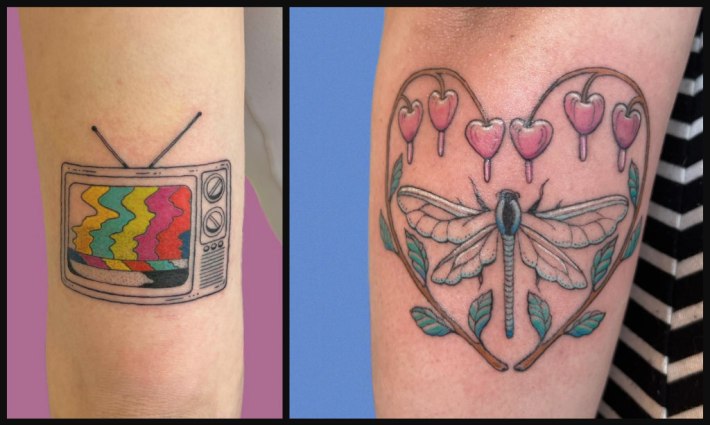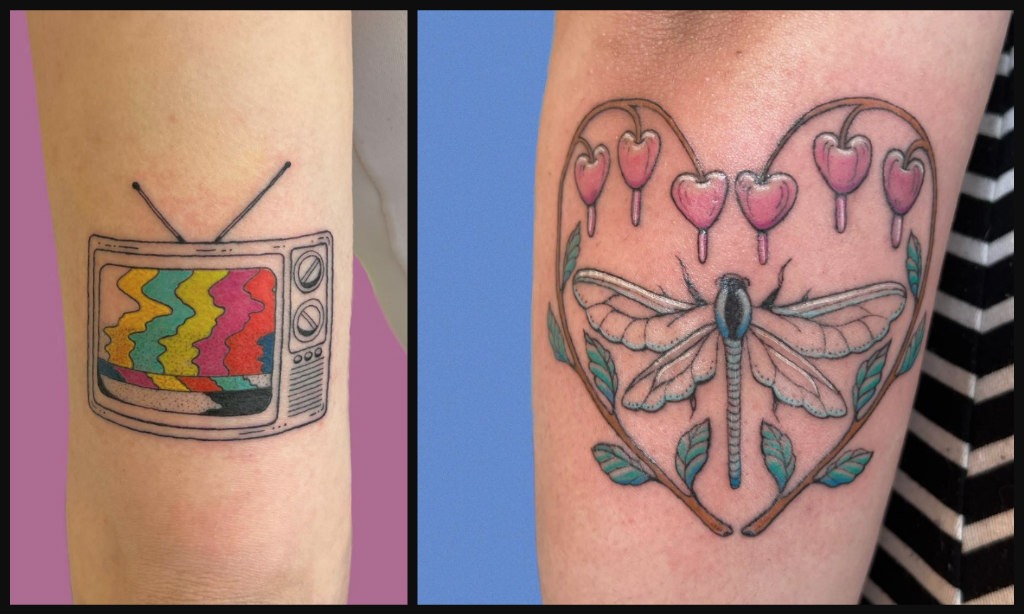 Name three things that inspired you early on in your career:
Frogs. 
Nature. 
Tattoo artist Chris Kirkpatrick.
Name three things inspiring you now:
Surrealism. 
Vintage botanical illustration. 
Tattoo artist Ruth Callaway.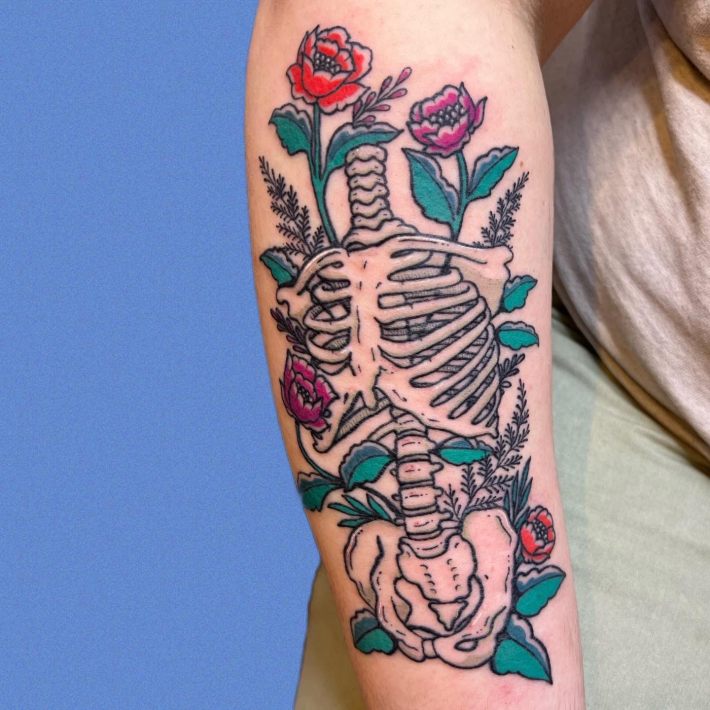 Is there a tattoo that you're particularly proud of? 
This skeleton torso piece is probably my favorite as of late. I'm very pleased with the healed linework, the vivid color palette, that my style translated well into such a detailed piece, and that this piece of art lives on a good friend of mine who has been supporting my creative endeavors for many years.
What about the weirdest/most original/most random tattoo you've even done?
This surreal snail eye line work piece comes to mind.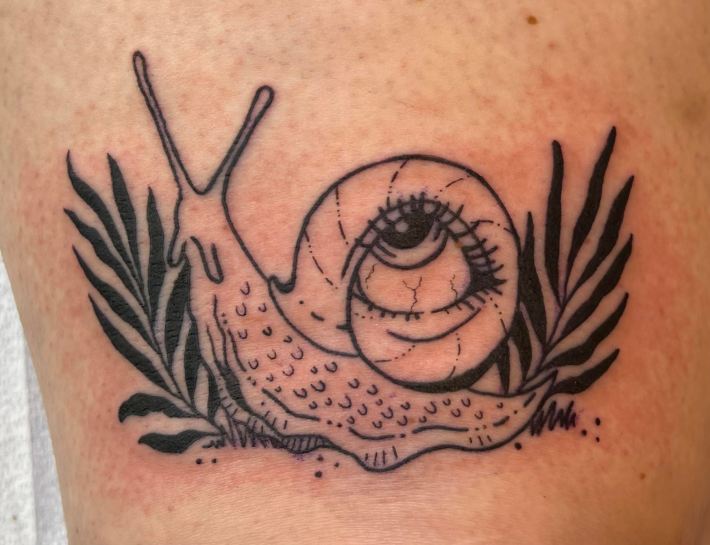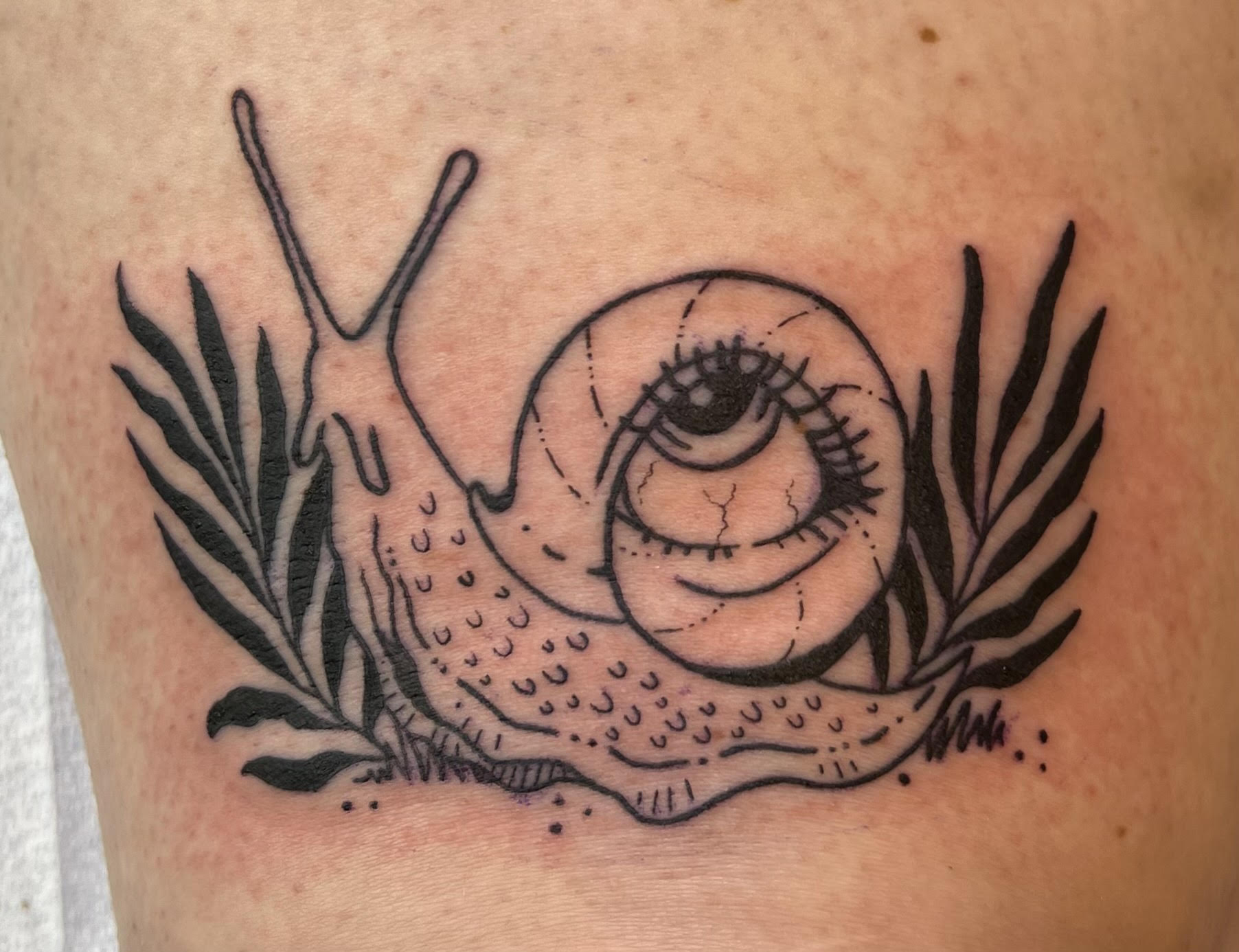 Do you create other kinds of art? 
I don't give myself much time to make art for fun. Those who know me know I'm always thinking about tattoos. But when I do have time for something creative outside of work, I'm either taking bass guitar lessons, drawing/coloring/painting in my sketchbook, or playing with/making stickers.
Where can we find you when you're not tattooing?
At home! Homebody fo' life.
Where Can We Find You?
I tattoo at The Present Tattoo Parlor (@thepresenttattooparlor) and my work can be found on instagram (@rachelradiant) and at rachelradiant.com.
Do you have any projects or new things coming up that we should check out?
Just lots of tattoos! New tattoo flash designs dropping soon, keep an eye on my Instagram and website for more info.