When Minneapolis hosted the Super Bowl in 2018, giddy profiteering ran amok.
As celebrities, New Englanders, and deranged Eagles fans descended on our modest tundra city, locals responded by jacking Airbnb prices to the moon. (God, who controls earthly weather from a control panel in heaven, responded with historic arctic blasts.) The market rate for chips 'n' guac became, briefly, $36. Forty-five minutes of a half-interested Cardi B? $150-$250, though that show did elicit a classic moment when Cardi told the Star Tribune's Chris Riemenschneider to suck her dick.
With this year's Super Bowl way off at SoFi Stadium in temperate Hollywood, only the savviest local entrepreneurial minds will find ways to profit. Consider professional musician Riley Helgeson. In a Nathan for You's Bill Gates impersonator sense, the St. Paul man boasts an uncanny resemblance to Cincinnati Bengals quarterback Joe Burrow, the second-year star who'll do battle against the L.A. Rams on Sunday. So Helgeson posted an ad on Craigslist advertising his Burrow likeness to Super Bowl partiers: The lookalike will come to your Twin Cities party in a Burrow jersey, conduct "Heisman-worthy motivational speeches and photo/autograph sessions," and even toot out the Bengals fight song on his trumpet.
"Folks, this is the best-looking Joe Cool you're liable to find outside of SoFi Stadium in Los Angeles on February the 13th," the ad reads. "He's got the haircut, he's got the chain, and the steely ice-water-in-his-veins look of a kid from Ohio chasing a dream poised to be the next Super Bowl MVP."
We had to know more. Here's our recent conversation with Helgeson; the interview has not been edited for length or clarity.
Racket: When and how did you first realize your resemblance to NFL star Joe Burrow? 
Riley Helgeson: As the Bengals' season continued, Joe Burrow started popping up more and more on social media. Friends started tagging me in posts of Joey B., asking "Is this you?" Immediately I'd reply  "Yes, this is me." 
Racket: How'd you decide to go into business as a Joe Burrow impersonator? 
Helgeson: A good friend, who's also my manager in this endeavor, DM'd me and suggested the idea. As a performer, I thought to myself "a gig is a gig" and immediately responded "Yes, I would love to."
Racket: If/when someone buys your services, how serious, percentage-wise, are you about going through with it? 
Helgeson: I am 100% committed to doing this. This could be really good for me. 
Racket: Can you give me a ballpark # for your rate?
Helgeson: I want people to have a good time and enjoy Joey's presence at their Super Bowl party. If you're seriously interested, please reach out for rates. I think it's fair to add that If the Bengals score a touchdown while I'm at your party I will take full credit for said touchdown and expect a tip.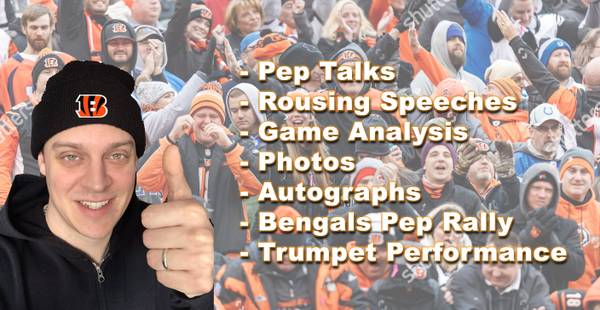 Racket: In terms of measurables, how do you stack up against the real Joe Burrow? 
Helgeson: Joe is a little taller… sure. Joe is a little younger… no big deal. I'm fully capable of bringing a Joe Cool-size energy to your party. This is not a problem for me.
Racket: The physical resemblance is obviously there. How do you tap into the mind of Joe Burrow? 
Helgeson: Naturally, like any good QB, I'm studying the tapes.
Racket: Are you a Bengals fan, a Vikings fan, the fan of another team, or not a fan at all? 
Helgeson: Not really a fan of sports, but I really like going to parties. 
Racket: Your ad really plays up your ability on the trumpet. Tell me about your history with the instrument? 
Helgeson: I am a professional trumpet player in the Twin Cities. I love playing the trumpet and I do it to make a living.
Racket: Do you know for a fact that Burrow doesn't play the trumpet? 
Helgeson: Joseph Burrow has yet to confirm or deny that information. Personally, I think this makes me more valuable to parties. I'm bringing something extra to the table.
Racket: What sort of buyer do you anticipate will inquire about your services? Have any inquired so far? 
Helgeson: No bites yet. I think buyers will be people who are really looking to put their Super Bowl party a head above the rest. Something to really impress guests, especially when it comes to a Super Bowl that Minnesotans don't have to be too invested in. 
Racket: What's your prediction for the score of the Big Game? 
Helgeson: Joey B. is taking the W. 40-24.