While reporting on a bus smashing through a cherished local establishment, Acadia Cafe, the Racket team discovered a less familiar one via Google Maps. Something called Man Vs. Fries exists on Minneapolis's West Bank at 519 Cedar Ave., as do places called MrBeast Burger, Wings & Things, and Buns & Bao.
They're all ghost kitchens, and if we're to believe certain industry forecasters, they're also the future of the restaurant business. That'd be unwelcome news for customers who've left Google reviews for Man Vs. Fries. The San Francisco-headquartered Mexican restaurant currently cooks out of at least four Twin Cities addresses, all of which are loathed; the Cedar Avenue outpost boasts a 2.1-star rating based on 14 reviews.
"If you want a soggy cold burrito that's also outrageously priced, then this is the place for you," reads one.
"Do the community a favor and choose to eat somewhere local," reads another.
"A big NOPE," concludes yet another.
It's not as if Man Vs. Fries tries to hide its unsatisfied customers. Reviews on the company's main Facebook page, a feature you can turn off, average out at 2.5 stars. Its marketing is focused elsewhere, like an Instagram account with 60,000 followers and menu copy that reads like a glitching Gen Z bot. (Of the Asada Fries, Man Vs. Fries writes "Sometimes, it's good to be bad. Take for example hella crisp, delicious french fries, drizzled with savory toppings beloved by everyone, everywhere. Hell-oh! Calling all bad boys to step their game up! #MANVSFRIES.")
You might be unsurprised to learn #MANVSFRIES didn't originate as a beloved mom 'n' pop Cali burrito shop. A "start-up junkie and foodie," CEO Bill Bonhorst launched the first Man Vs. Fries in 2018. His tech-bro background informed the business model⁠—the brand has rapidly scaled-up to 100+ international locations. Asked in an interview to describe Man Vs. Fries in three words, Bonhorst responded: "A french fry lover's dream." Hm, close. Bonhorst partners with Reef Technology Inc., a Miami-based ghost kitchen/parking lot operator that has clashed with Minneapolis regulators, the Biz Journal reports. Reef has been showered with start-up cash, including $700 million from Japanese mega-conglomerate SoftBank.
So, are those the ingredients for a tasty taco shop? Not even close, though the parts summing that corporate whole have cooked up a way to charge $20+ dollars for the "hella big" burritos being assembled alongside MrBeast's poorly reviewed burgers. On Sunday, I placed an order for one NorCal Burrito (carne asada, fries, cheese, sour cream, guac, "secret sauce psst… yum") and one order of curly Asada Fries. Cost after $9 tip and various DoorDash fees: $57 dollars. That's not a typo, and it would've been $12 more had I not been a valued Chase Freedom cardholder who's entitled to DoorDash savings. About an hour later, a nondescript bag affixed with a Man Vs. Fries sticker arrived cold at my door.
The burrito, as promised, appeared hella big, though there was no evidence it had ever existed above room temperature. Globs of unmelted shredded cheese, sour cream, secret sauce that tastes indistinguishable from sour cream, and watery guac occupied half of the interior; slimy, chilly fries and boot-leather-tough, aggressively seasoned steak took up the rest. I counted one lonely leaf of cilantro. For that same $20.50, you could acquire three hot steak burritos from Chipotle or the entire freaking menu at Taco Bell. And that's the thing: Given the biz model—delivery and pick-up only—it's almost impossible to taste Man Vs. Fries food fresh from whatever device cooks it.
Mere specks of Sysco-grade chicken topped the Asada Fries, which held up surprisingly well in transit and could compete with respectable Arby's curly fries in terms of quality. The still-crisp Flamin' Hot Cheetos ($1.50 extra) provided nice pops of color and flavor, but my side of queso ($1.50 extra) was forgotten in the ghost kitchen.
It may have been possible to derive some pleasure from the junky flavor-bomb menu, which fashions itself as a plussed-up Taco Bell, had the price tag not been so staggering. (Very much related for recouping purposes: Subscribe to Racket today!)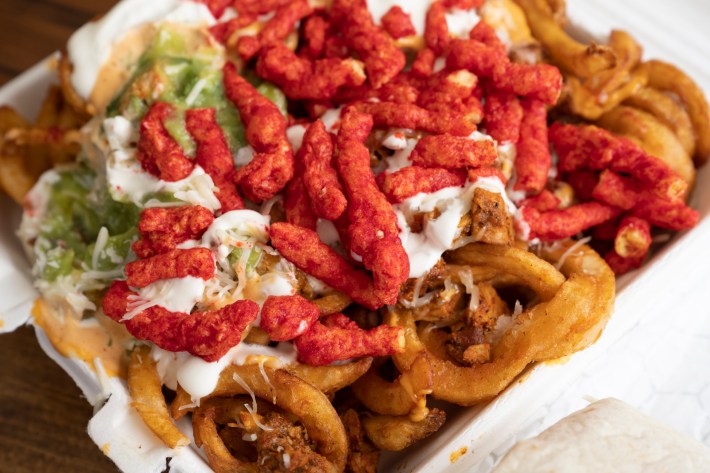 A recent episode of Doughboys—the endlessly hilarious podcast about chain restaurants—devoted two hours to ripping apart Tyga Bites, another big-money-backed ghost kitchen brand.
"I've seen the abyss; Tyga Bites is the abyss," guest John Hodgman said of the nugget shop named after rapper Tyga. "Everything about this is so insidious, so disingenuous. Its approach to restaurateurs… you just feel like it's a pyramid scheme. I could almost forgive all that if the food was undeniable and great, but it's mediocre at best."
(For what it's worth: The Pioneer Press seems to like Tyga Bites, despite abysmal local customer reviews.)
The same can be said of Man Vs. Fries. If ghost kitchens are indeed the future of restaurants, the future is bleak, expensive, and somehow makes one wistful for the less cynical corporatism of Chipotle.