Welcome back to The Flyover, your daily midday digest of what local media outlets and Twitter-ers are gabbing about.
After 183 Years, Lisa Goodman Says 'Byeee!' to Minneapolis City Council
It's the end of an era: Minneapolis City Council member Lisa Goodman announced this morning that she won't be seeking reelection in November. For the past 25 years, Goodman has repped the 7th Ward, which covers posh areas like Bryn Mawr, Kenwood, Cedar-Isles-Dean, and parts of downtown. "Now is the time for me to step back from my role in city governance to allow someone else the chance to lead," she said in a letter sent out to constituents. "I'm excited about what can come next, for the city and for myself, as I chart my new course."
When Goodman first joined the council in 1998, she was considered left-leaning; these days many would probably place her somewhere in the center. Over the years, she has been a supporter and, controversially, a participant, of funding downtown real estate developments. (Goodman chairs the Business, Inspections, Housing, and Zoning committee and the Minneapolis Community Development Agency.) In 2012, she was part of a special task force aimed at quelling noisy bar patrons in Uptown, and who can forget the time she took a wad of gum out of her mouth during a Ward 7 forum and handed it to a candidate? Since the murder of George Floyd, Goodman has been a vocal supporter of the police, voting for increased cop funding, and in 2020, she complained about feeling like people were implying that Minneapolis is racist after a report analyzing neighborhood equity found that Minneapolis is… pretty racist.
The KQ Morning Show Has a New Host
If you're a KQRS listener, you heard a familiar, very un-Tom-Bernard-like voice on the radio this morning. Steve Gorman, who used to drum for the Black Crowes, has taken over retired loudmouth Barnard's spot on the KQ Morning Show, as of this morning. Gorman's syndicated show, Steve Gorman Rocks, has already aired on weeknights on KQ since 2019. In this interview with Neal Justin for the Star Tribune, Gorman says all sorts of nice things about Minnesota music (particularly Gary Louris and former Prince drummer Michael Bland) and Kramarczuk's reubens. Some other details from the story: Gorman once golfed with Bernard, he's in the process of relocating from Nashville, and his current band, Trigger Hippy, contains two members with "Minnesota roots."
More like Ham-Fisted
Seems like just last week we brought you the news of a Hamline University lecturer who was let go after showing a painting of the Prophet Muhammad. That controversy has now gone national, appearing in the New York Times, Fox News, The Times of Israel, and even ArtNet. Adjunct professor Erika López Prater says that she gave students plenty of warning about the painting during a global art history class last semester. The syllabus was clear that images of religious figures, including the Prophet Muhammad, would be featured throughout the course, and in class, she told students they were welcome to leave if they'd rather not see the portrayal. But when a student complained after the fact, it became a Big Deal on the private college's campus, and Dr. López Prater lost her job.
The NYT sums up the fiasco succinctly: "Officials at Hamline… had tried to douse what they feared would become a runaway fire. Instead they ended up with what they had tried to avoid: a national controversy, which pitted advocates of academic liberty and free speech against Muslims who believe that showing the image of Prophet Muhammad is always sacrilegious." If you want to read a loooong and nuanced take about the whole thing, we enjoyed First Amendment lawyer Ken White's exploration, as recommended in the Reformer's newsletter today.
Bandshell Shell Game
In October, Minneapolis residents rallied to restore the dilapidated Lake Harriet Bandshell to its historic powdery blue. "I'm optimistic that we'll get some shade of blue returned to the bandshell once it is renovated next year," wrote lead petitioner Steve Brandt (emphasis ours). But the devil? Oh baby, he was lurking in those details. And the rubber? When it first kissed the road, via a test paint job on a mock portion of bandshell, the public reaction wasn't pretty. "People feel that this is another dull color that doesn't show enough blue," Brandt, who's an avid reader of The Flyover, reported in a social media update: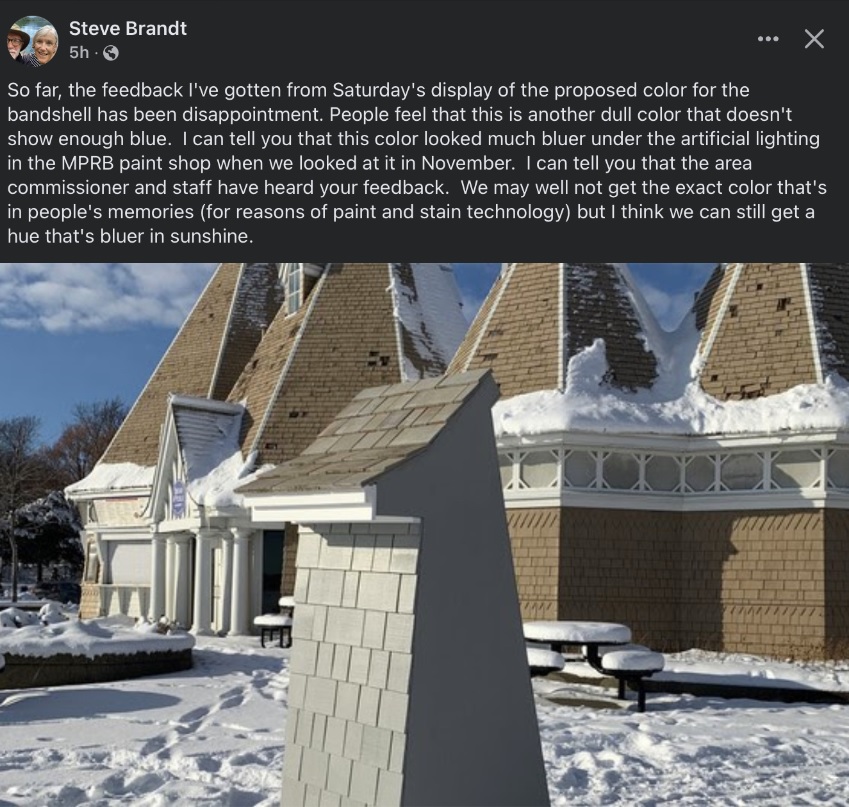 We're with the people on this one—that's the same drab graywashing you'll encounter in any number of flipped homes. It's as if the the cedar shingles have been passed through the Pet Cemetery, only to be reanimated as something… off. Evil, even. We want the proper throwback blue, the blue that was stolen from us and replaced by so much sad, lifeless beige. In an era of technologically dizzying gizmos and gadgets, you'd think paint and stain tech would be approaching Jetsons proportions. Thankfully, as Brandt notes, Park Board brass is privy to the loud complaining this initial misstep has elicited. Our ceaseless civic grousing is working, fellow townspeople! There's time to stick this landing; the Bandshell's glow up won't be complete until spring 2025.