Books
Jeremy Norton's 'Trauma Sponges' Is a Bracing Look Inside the Firehouse
Five-alarm fire calls? Not exactly.
10:33 AM CDT on October 10, 2023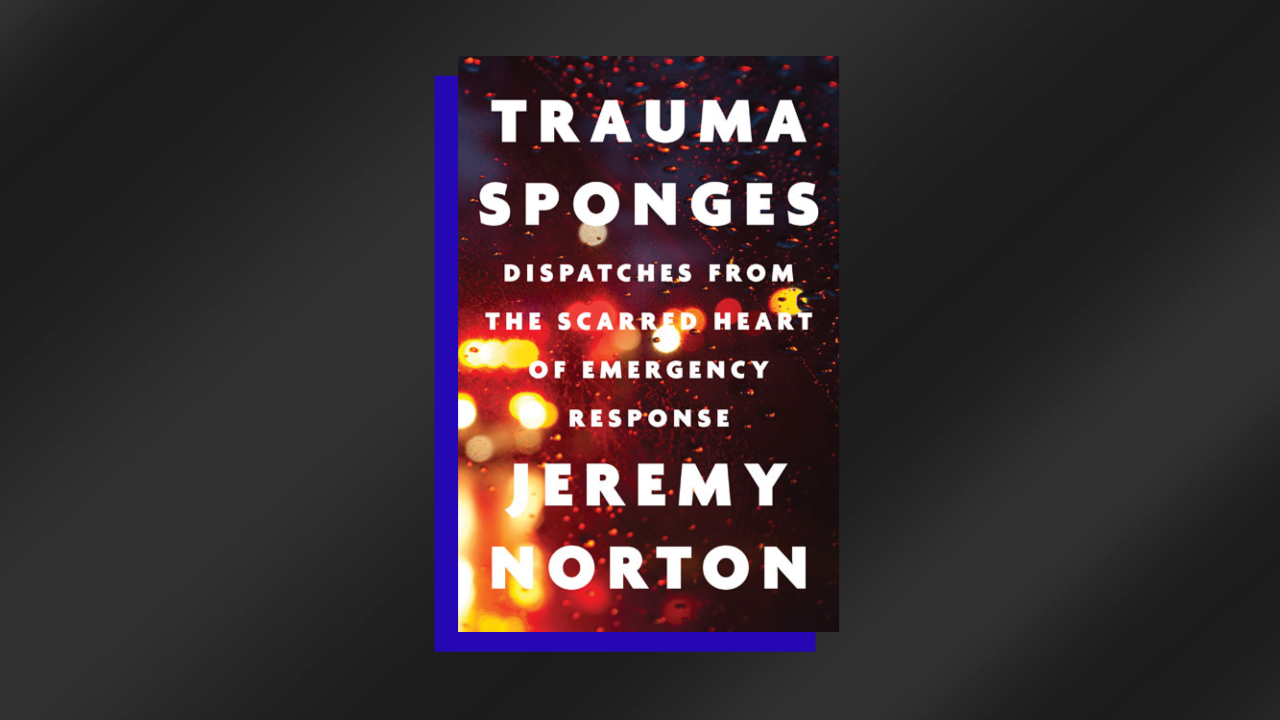 "I am not your representative fireguy," Jeremy Norton admits in his debut book Trauma Sponges: Dispatches from the Scarred Heart of Emergency Response (October 10, 2023, University of Minnesota Press, 352 pages). Norton grew up in Washington, D.C., in a family of lawyers, earned a master's degree in creative writing from Boston University, and taught at evangelical Presbyterian prep schools, where he had an autodidactic social-consciousness awakening. When he moved to Minneapolis in the mid-1990s, a high school friend introduced him to her social circle of "second-wave fireladies." The fireladies' compelling shop talk convinced Norton to join the Minneapolis Fire Department (MFD), where he now captains Minneapolis Station 17. At one point in his career, Norton worked his way up to Battalion Chief, but he voluntarily demoted himself because he missed responding to calls.
Five-alarm fire calls? Not exactly. Norton wrote Trauma Sponges, in part, to bring attention to the fact that MFD calls are mostly Emergency Medical Service (EMS) situations. He estimates that working fires account for only one out of every one hundred calls received by MFD. Responding to EMS calls in a society that has abandoned its most impoverished, marginalized members, while working within a profession that insists on upholding "macho firehouse culture," motivated Norton's book-length invective about the "structural con" of white supremacy and capitalism that underfunds public resources and traps people in poverty and poor health.
Trauma Sponges is sort of like a BOGO deal between one hardcover. The first ten chapters cover firefighting and toxic masculinity. Norton describes the good and bad of MFD engine companies, from enjoyable camaraderie to hazing and risk-taking. He covers cadet school and rookies, and ruminates on tough subjects like faith, heart health, and suicide. Norton analyzes why non-emergencies, like George Floyd's counterfeit twenty dollar bill, get escalated when working in concert with dispatchers, ambulance EMTs, and police. One chapter gets into the long history of MFD discrimination, starting with the first Black firefighter in Minneapolis, who achieved Captain rank in 1907 and led an all-Black brigade because white firefighters refused to work for him. Discrimination continued through the twentieth century, evidenced by a 1979 federal consent decree over bias in hiring and the 1990s-era award-winning all-female crew that formed when male firefighters refused to work for the first female MFD captain. 
The second part of the book includes an essay Norton penned in 2017 about racism, emergency response, and Jamar Clark, a piece of writing that eerily foreshadows George Floyd's murder in 2020. He writes about the COVID-19 pandemic and how MFD's top staff initially dealt with the disease's threat to its firefighters: not great! He reflects on anti-maskers, the mental health of 911 callers and EMS workers, what it was like to be on the scene at Cup Foods on May 25, 2020, and then testify at Derek Chauvin's trial.
Norton's recollections of specific, tragic EMS calls function as illustrative vignettes in between his reflections on the profession and diatribes against American society's fault lines. The order in which Norton covers topics and intersperses stories is idiosyncratic, circuitous, and, at times, repetitive. This may sound like a criticism, but it's not. There's no tidy, straightforward narrative for a reason. In fact, Norton writes about workshopping an early manuscript and how his first readers wanted resolutions. But he can't provide them due to the nature of EMS work. In one chapter, Norton recounts how, immediately after a terrible call, he was assigned to his first tramp (that's firefighter-speak for subbing at an unfamiliar station) with no outlet with which to debrief, nobody to listen, and nowhere to go with the horror of seeing suffering humans at the lowest moments of their lives. 
Throughout, Norton laments the "empathy exhaustion" felt by firefighters and other emergency workers. "No one," Norton writes, "plans to have their worst day ever, yet they do. And that is our workplace." Firefighters and other first responders are tasked with incredibly difficult, unpredictable situations. And with no outlet for their trauma, lots of emergency workers suffer from pervasive, unrelenting machismo—some people practice it; some people are victims of it. And everyone is worse off because of it.
Overall, the writing devastates and entertains, simultaneously. Norton is at his best when relaying specific memories and anecdotes. His descriptions viscerally activate adrenaline. While I read certain sections of Trauma Sponges, my palms sweat and my heart raced. I wept at other points, some sad, some redemptive. Norton successfully balances the dreary, often macabre subject matter with an entertaining voice and an unflinching commitment to truth-telling. He punches up stories with wry observations like, "people who spontaneously stop being alive generally have something very wrong with them." He packs the book with literary allusions, plays on song lyrics, and Gen X cultural in-jokes, from Melville, Faulkner, and Baldwin to Liz Phair and Craig Finn. 
The book isn't about solutions, really, although Norton discusses the need for more social workers and social services, how the whole civic system could reframe the perceived threat of people in the throes of mental illness crises or drug-induced freak-outs, how administrators and leaders should be held accountable. Trauma Sponges is, rather, as Norton writes, "a compendium of sorrows" that fits in nicely with the robust recommended reading list included at the end of the book.
Readers who identify as bleeding hearts will find Norton to be an endearing narrator. I especially enjoyed his candid idealism and lonely, but dignified, commitment to speaking truth to power. Norton writes, "If you can endure being ostracized, the misfit's life feels purer than smothering your integrity to fit in." It's gratifying to read about someone who proudly identifies as a unicorn outlier. Possibly this is just my own confirmation bias showing, but I especially enjoyed Norton's blunt assessment of Minneapolis leadership, from City Council, Mayor, MPD, and their collective, abject failure to make changes to the culture of policing in Minneapolis. Norton sums it up: "They've done fuck all."
At times, Norton employs a "white we" collective first person that implicates the reader in systemic failures, which is an effective narrative choice. Norton ribs "earnest whites" who leaned in to learning about social inequity after George Floyd's murder and, just as quickly, leaned out with a bullheaded insistence on maintaining their comfortable status quo. Some well-meaning white people will not enjoy this technique, or the book's major themes. But we—"white we," Minneapolis-dwelling we, American we, voting we—can and should read hard things, especially when they're this eye-opening and important. I recommend Trauma Sponges to anyone who wants a gritty, literary, thoughtful portrayal of what day-to-day work is like for a real-life EMS hero. Buy a copy for yourself, and then buy another copy for someone who probably doesn't want it, like a certain mayor who has not delivered on his promises for meaningful reform.
Book release events for Trauma Sponges:
Tuesday, October 10, 6:30 p.m., Minnesota Fire Museum (644 22nd Ave. NE, Minneapolis). Free, registration required here.
Thursday, October 12, 7 p.m., Excelsior Bay Books (36 Water St., Excelsior). Free, registration required. More info here.
Stay in touch
Sign up for our free newsletter