Music
I Think Morgan Wade and Kelsea Ballerini Are Both Fantastic
Two very different country singers put on two very good shows this weekend.
4:00 PM CDT on March 13, 2023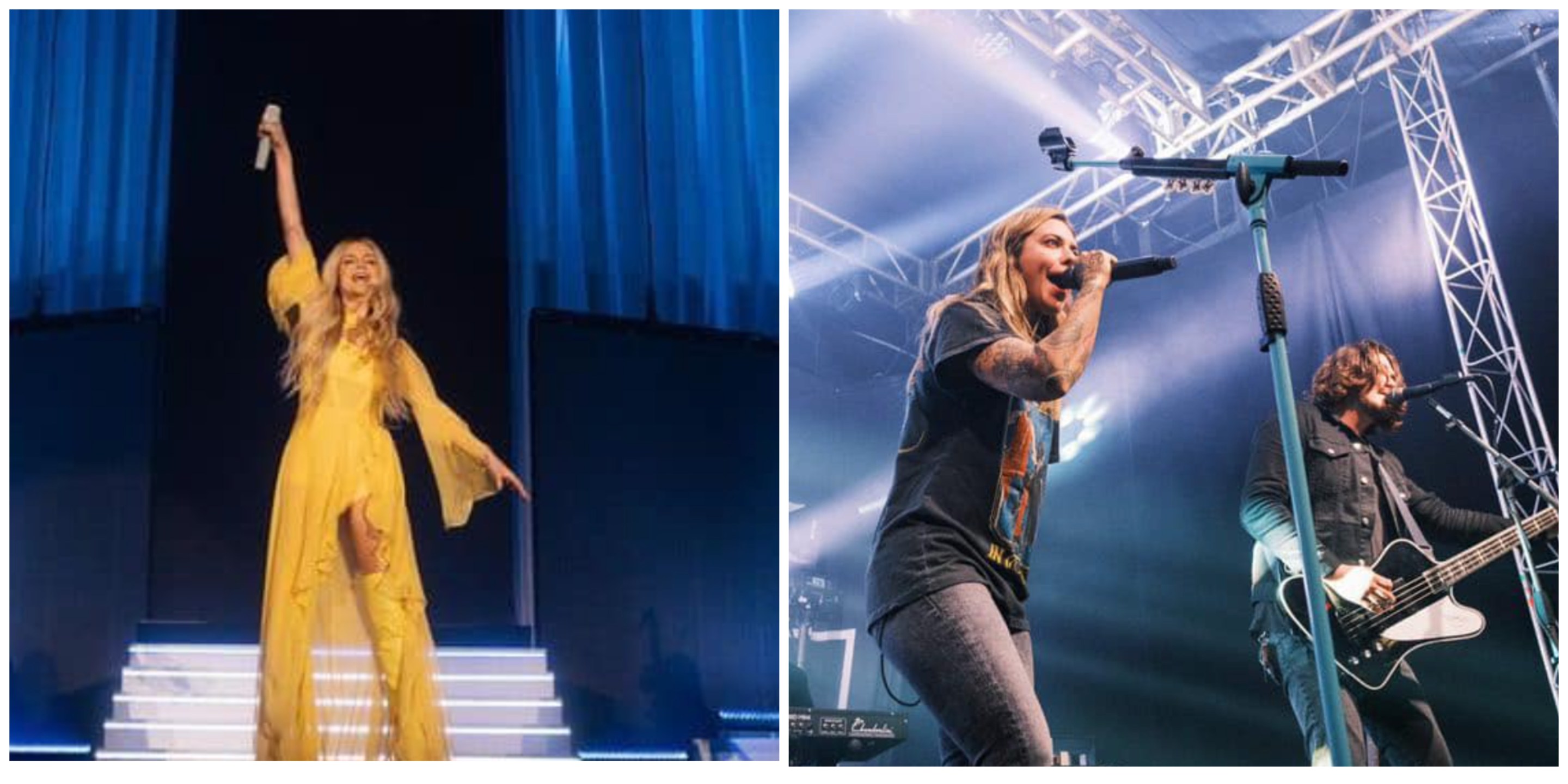 I have a terrible habit of wishing that people would listen to music that they'd probably rather ignore. I can't help it—so many listeners are out there yinning, and so many others are yanging, and I just want them all to get some chocolate in their peanut butter.
So I half-wondered what everyone at the Armory to see Kelsea Ballerini on Friday night and the people at First Ave on Saturday for Morgan Wade (absolutely not to be confused with M. Wallen) would have thought if they'd swapped places. Not that the 8,000-person crowd at "the biggest show in my headlining career" (as Ballerini announced with the assurance of a Nashville star whose job is partly to know her stats) could have squeezed into Wade's also sold-out 1,550-cap Mainroom show. I can't say for sure I was the only person at both, but our numbers couldn't be many. If you were, let me know and maybe also marry me? (PS: Jon Bream doesn't count, he was working at least one of the nights.)
Then again, I should talk, because while I've always enjoyed the light craft of Ballerini's broad-based pop for what it is, I wouldn't have been at the Armory if not for Rolling Up the Welcome Mat, a great new EP about her recent divorce from country singer Morgan Evans. (He'll be opening for Brett Young at the same venue on April 8, and I predict it'll be much less fun.) "Pop star wins over critics by getting introspective and autobiographical" is the oldest hook in the book, I know—if I'm a mark, I'm a mark. 
Before the show, Shania Twain's "Man! I Feel Like a Woman!" was blasting, and then Ballerini's voice delivered one of those little pre-recorded speeches about growing up and learning from your mistakes and whatnot with which country-pop stars enrich our lives while a screen flaunted her flowing blondeness. In a yellow dress with billowing sleeves, Ballerini began the show with three songs from her 2022 album Subject to Change, all boomier and so a little less ingratiating than the original recordings, all mixing professionally turned phrases like "going from zero to obsessed" with Instagram-worthy generalities about life and love. Pop-country at its most expedient, homiletic, and frictionless.
From there, Ballerini reminded us where she came from with a throwback medley of her early hits—"Love Me Like You Mean It," "Yeah Boy," and the forever adorable "Dibs"—from back when Nashville half-hoped she'd fill the hole Taylor Swift left when she went pop and half-resented that they'd have to let a woman on the radio. She was perched on a stool in a spangly number for "Love Is a Cowboy" (is it though?), then segued into "Cowboy Take Me Away." A woman near me holding two beer cans in one hand and a plastic water bottle in the other sang along enthusiastically to her befuddled boyfriend before she just shouted "Dixie Chicks!" at him in justified exasperation. (Girl, dump him.)
Ballerini knows how to work a crowd. "I'm not just gassing you up," she assured us—Minneapolis really is her favorite place to play. At one point after the applause died down after a song she just said "Y'all," and that was all she needed to say. She offered to take a selfie with a fan but said BeReal makes her feel old. (Of course it does—she's 29, the age at which humans may feel older than they do at any other point in their lives.)
Introducing "Half of My Hometown" (not exactly a song about how great hometowns are), Ballerini said, "This is for everyone who calls Minneapolis their hometown." "WHOO!" the crowd lied in response. "Who is here with the Thelma to their Louise?" she asked before the fiddly friendship number, "If You Go Down (I'm Goin' Down Too)" about committing to a "Goodbye Earl" if ever necessary. ("I've known you since Brad and Angelina/We go back like Pontiac seats.") After the straight country drinking song "Hole in the Bottle," as trad as Ballerini gets, she waxed Shanian with "You're Drunk, Go Home," about a barroom player who don't impress her much. 
Then came the ballads. Ballerini brought out opener Georgia Webster to duet on "Homecoming Queen," about how even beautiful, successful people have to cry sometimes. (I'm not making fun, though I did enjoy a woman near me commenting, "I didn't even go to the prom.") She did play five of the six newer songs I came for, including "Penthouse," with its chorus more Swiftian than anything Ballerini recorded in her poppiest early days. (She did not do my favorite, though—I should've brought a big "KELSEA PLAY 'JUST MARRIED!!!'" sign.) The new stuff was well-received, and confirmed my belief that Ballerini nails the mood of a certain kind of breakup in its lyrics—not bitterness or regret or even sadness, but the difficulty of leaping from the safe familiarity of even a bad relationship after you realize how rickety its foundations are.
The night showed that Ballerini is a traditionalist in her own way, just Twain-Maines-Swift, rather than Haggard-Nelson-Cash. For her encore, she went into twang-disco overdrive with "Muscle Memory," about auto-boinking an ex every time you run into them, and "Miss Me More," a dancefloor kissoff. Then she ended with a little speech about about how she was fighting her "people-pleasing" ways before closing with the modestly self-approving "Doin' My Best." Aw, yeah you are, Kelsea.
---
Morgan Wade's set at the First Avenue Mainroom on Saturday night was preceded by a dance thump worlds away from Shania's: Nine Inch Nails' "Closer," with which the 28-year-old singer/songwriter has a little bit in common carnally if not musically. But the borders between country music's different worlds are always blurry, and even Wade, whose style has absolutely no pop glitz, semi-quoted Twain ("The woman in me/She needs the lover in you") during "Take Me Away," maybe the most slow-burning song about banging on the kitchen floor ever written.
Wade was born barely a year after Ballerini (the same year The Downward Spiral was released, incidentally) and her well-inked arms and neck (150 tattoos in total, I've seen reported) plus her casual outfit (a slightly oversized white Purple Rain T-shirt and black leather pants) announced her personality as surely as Ballerini's spangles and billows. Unlike Ballerini, Wade is no natural entertainer, though with a little fine-tuning, her fixed resistance to animation could register as an intensity to match the desirous brooding of her songs. And she was plenty personable: When someone shouted something at her from the crowd, she replied, "I play music for a living. I can't hear shit," in a thick drawl you might expect from a daughter of Floyd, Virginia, pop. 425 and, from what Google Maps shows me, truly the sticks.
Without between-song chatter to place them in context, Wade's songs stood or fell on their own merits. Fortunately her 2021 album Reckless bats 10 for 10, and maintains a consistent mood throughout. There's a romantic longing that comes from the heart and then there's the kind of need Wade sings about, that kind that Wade's voice makes clear she's singing about. The sex-as-addiction of "Last Cigarette," the frankly utilitarian "Baby can I use you right now?" of "Matches and Metaphors," the gargantuan and swaying need of the chorus to "Mend"—we're talking about lust here, people, and often unfulfilled lust, and it soaks through every track.
Wade rounded out her set with some newer material. The straightforward "Fall in Love With Me," written with megapop topliner Julia Michaels, was much sharper than its generic title suggests, though I'd have rather heard "Want" (now there's a real Wade song title) written with Ashley Monroe and Angaleena Presley of the Pistol Annies and teased on Instagram recently. Less successful were any of the tracks that padded out the deluxe edition of Reckless—none dreadful but mostly also-rans, hobbled by the occasional duff lyric. (Wade's better than "Like June and Johnny/Like Clyde and Bonnie" from "When the Dirt All Settles.") 
The one brilliant exception is "The Night," about Wade's bouts with depression and alcoholism, her finest confessional moment and certainly a possible direction for her to pursue. Yet as her Michaels cowrite suggests, Wade has also got one ear on pop. Not that she's quite figured out what to do with that. She owned a version of Miley Cyrus's (and Joan Jett's) "Bad Karma," well-suited to her unrelenting drawl. (It concluded with an odd musical quote from the band: Stone Temple Pilots' "Plush.") But her set ended with a medley of the Outfield's "Your Love" and Rick Springfield's "Jesse Girl" that, obsessively Wade-like as both songs are, felt lightweight compared to her own songs.
Wade loosened up some during her encore, which she began solo with an acoustic guitar. She spoke the longest she had all night, acknowledging her CMT nomination for Breakthrough Video, reminiscing about how Miranda Lambert's "Kerosene" changed her life, and questioning whether her grandma would have approved of her complicated black boots, which I'd have to know much more about footwear to describe, let alone Identify. 
Wade closed with the prying "Wilder Days," which may offer an ever greater insight into the limitations of youth than she realizes. "I wish I knew you in your wilder days," she sings to an older lover, not taking into account that he may well have been as much of a dope as all the boys her age are now. "You got a secret," she tells him, trying to break through, even though learning it would remove the mystery that makes him so attractive.
Wade then strolled out into the photo pit in front of the stage to get closer to the audience, instantly shrinking as she left hit the floor. She never went onstage again, and the show ended strangely, with her bassist singing Tom Petty's "Runnin' Down a Dream" and the band teasing the riff from Lit's "My Own Worst Enemy." It took us all a while to realize we were expected to leave. 

Kelsea Ballerini Setlist
Subject to Change
The Little Things
Heartfirst
Love Me Like You Mean It / Dibs / Yeah Boy
Love Is a Cowboy/Cowboy Take Me Away (Chicks cover)
Half of My Hometown
If You Go Down (I'm Goin' Down Too)
Hole in the Bottle
You're Drunk, Go Home
Homecoming Queen (with Georgia Webster)
Mountain With a View
Weather
Penthouse
Blindsided
Peter Pan
I Guess They Call It Fallin'

Encore
Leave Me Again
Muscle Memory
Miss Me More
Doin' My Best
Morgan Wade setlist
Don't Cry
Last Cigarette
Reckless
Alanis
When the Dirt All Settles
Matches and Metaphors
Fall in Love With Me
The Night
The Night (Part 2)
Bad Karma (Miley Cyrus feat. Joan Jett cover)
Mend
Run
Take Me Away
Northern Air
Your Love / Jessie's Girl (The Outfield/Rick Springfield
Encore

Kelley's Drive
Met You
Wilder Days
Running Down A Dream (Tom Petty cover)
Stay in touch
Sign up for our free newsletter