In Hey, What's the Deal With… we're tackling everyday oddities, random curiosities, and what-the-actual-fuck mysteries about life in the Twin Cities. Got a pressing but somewhat trivial Q about something you saw, heard, or thought about while stuck in traffic? Email jay@racketmn.com, and our crack investigative team just might try to figure it out.
You've walked, biked, or driven past it dozens of times. Ghostly and dilapidated, the old newsstand at Hennepin & Franklin has stood unused for decades, only attracting fresh graffiti and minor curiosity.
For Minneapolitans of a certain age, however, it'll always be Arne's News.
Around Christmas 1963, cabbies, truckers, and other regulars at Little Andy's Uptowner Cafe pooled cash to buy a newsstand for friend and fellow regular Arne Paulson. Months later, a fire burned the little newspaper and magazine shop from the inside.
Was Paulson discouraged?
"Oh, no," the legally blind salesman succinctly told the Minneapolis Morning Tribune in '64.
By 1978, Paulson's newsstand had become a local landmark, according to Minneapolis Star columnist Ruth Hammond.
"The more you can do for yourself, the better off you are," Paulson told Hammond in a sweet little profile. "You may have a physical handicap, but you don't draw attention to it some people harp on it, but my friends don't think of me as blind; they're just friends… I consider myself pretty rich that I've got friends."
Here's a look, circa 1980, of Paulson's shop courtesy of Facebook group Old Minneapolis and Warren Johnson: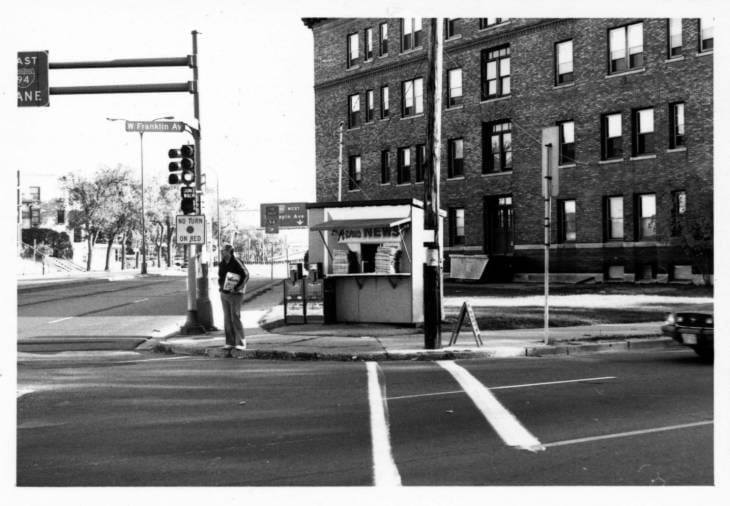 Susan McAloon got to know Paulson while her father, Robert McAloon, built the inverted metallic obelisk sculpture behind the newsstand.
"He had a girlfriend who was blind as well," McAloon, who was around 10 at the time, tells Racket. "I remember asking why he had the TV on because he couldn't see it, and they stated the obvious: Of course he could still hear it."
Paulson later got a job washing dishes at the Calhoun Beach Club, McAloon recalls, and by the late '80s the newsstand had been reimagined as a flower shop by new ownership.
Jim Gray, owner of Irving Properties, purchased the adjacent apartment complex a few years ago. He inherited the abandoned shack, which sits on the lot. "It's full of crap; it's tiny—I don't know how anyone ever sat in there," Gray says. The stand gets hit with graffiti "all the time," he says, so he regularly spray paints it back to white.
When she was younger, Gray's daughter fell in love with the shack. She nicknamed it the Kenny Cafe and hatched plans to one day sell lemonade from it. That sentimental attachment will keep the old newsstand upright for the foreseeable future.
At an intersection that's seen so much change this year—Burch Steak & Pizza gone after eight years; Liquor Lyle's gone after 58 years—that's really saying something.
"I never would take it down," Gray says.