Growing up, Eva Slattery never associated her grandfather's house with fun. 
Grandpa Vern, a devout Baptist who forbade dancing and drinking, built churches for a living, and he constructed his Stanchfield home with leftover materials in 1980. The beams and soaring ceilings are unmistakably churchy.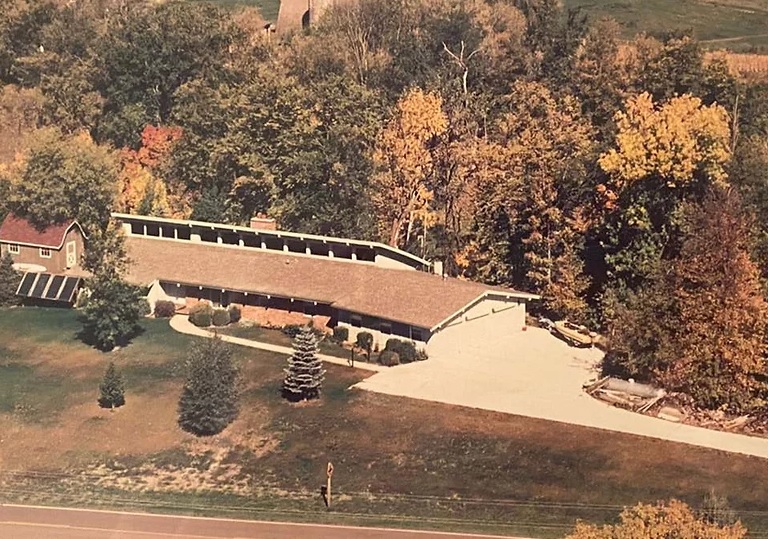 Slattery's grandparents lived in their custom home–which features ahead-of-its-time geothermal HVAC, solar-heated pool, and passive solar elements–until Vern and grandma Gin died about five year ago. Located an hour north of the Twin Cities, the property sat vacant for two years before Slattery purchased it from her uncle in 2020 for $175,000.
"It was very rundown, nobody was looking to take on this huge project," Slattery says with a laugh. "I went through eight 30-yard dumpsters; my dumpster budget was like $5,000. They were Depression-era hoarders–every church bulletin, every Christmas card they ever got, canceled checks. Straight-up junk."
The pool hadn't functioned in 25 years. The geothermal system needed an overhaul. Mice and chipmunks had taken over, and the stench of rodent pee was unavoidable.  
"Everything was nasty," Slattery says. "I had to start fresh."
Slattery, who worked for 13 years in mortgage financing, was determined to make running grandpa's home as a vacation rental into a full-time job. The pool, unique architecture, and woodsy creekside setting were obvious draws. She just had to tackle… everything else. 
The ambitious renovation began in late 2020, with Slattery and a team of tradespeople restoring the place to its retro glory–new flooring, siding, lighting, and a whole lot more. The throwback décor is almost entirely sourced from Facebook Marketplace; every bed frame, couch, chair, mirror, etc. is secondhand, Slattery says. In fact, entirely by chance last summer, this reporter sold her a pair of mauve swivel chairs that now reside somewhere inside. 
"I've always liked the vintage-y look," says Slattery, who lives in St. Paul. "And I also love partying and playing dress-up. I wanted a space that's meant for that."
At least $250,000 in reno costs later, Grandpa's Pool House was born. Now, for around $2,000 per weekend, up to 14 guests can escape to a five-bedroom, three-bathroom wonderland of '70s and '80s kitsch. 
Among the many partying amenities: a fully restored heated pool, karaoke machine, movie projector, tiki bar, and sound system. There are racks of vintage clothing for dressing up, as well as wigs, masks, mannequins, and a whole lotta wacky props. You can pose with a genuine low-rider motorcycle that's bolted to the basement floor or, if you wish, an honest-to-god set of taxidermized deer nuts that hang on the wall. Out back, there's a panoramic deck view of the tube-ready creek, fire pit, and basketball hoop.
Stanchfield isn't exactly a nightlife hub, Slattery says, meaning most guests–typically birthday partiers or bachelorette crews–tend to stick to the grounds. "I've not had any 20-year-olds; it's been awesome, it's never been trashed," reports the now full-time innkeeper. On weekdays, the Boogie Nights-ian space attracts photographers who can rent the home, by the hour or day, as a photo set.
For guests, the Instagram potential is through the vaulted roof.
"It was quite literally the best birthday ever," one review raves. "I thought every detail was on point!"
"I felt like I was on the set of Dynasty," adds another. "My vintage-loving heart was bursting."
Let's take a groovy photo tour: