Welcome back to "Five Things," Racket's recurring rundown of new, new-to-us, or otherwise notable Twin Cities restaurants.
Today we're taking you inside Farmers Kitchen + Bar, the first restaurant owned and operated by the Minnesota Farmers Union. Open as a daytime cafe since late August, this "farmer-to-table" restaurant recently started serving its farm-focused fare all day long, with nightly supper and weekend brunch.
Here are five things to know before you go.
1. They're keeping it local. (Still.)
Farmers Kitchen + Bar is located in the old Spoonriver space (750 South Second St.), which closed at the tail end of 2019 after 14 years of championing the same kind of local, sustainable food this newcomer trades in.
Where they differ is that Spoonriver also emphasized healthy, "feel-good" food. And while the menu at Farmers Kitchen left us feeling good, it definitely didn't have anything to do with the vitamins and minerals therein. The food is fresh, but this menu boasts a lot of capital-c comfort food, from the Fried Cheese Curds to the Field Hand Burger.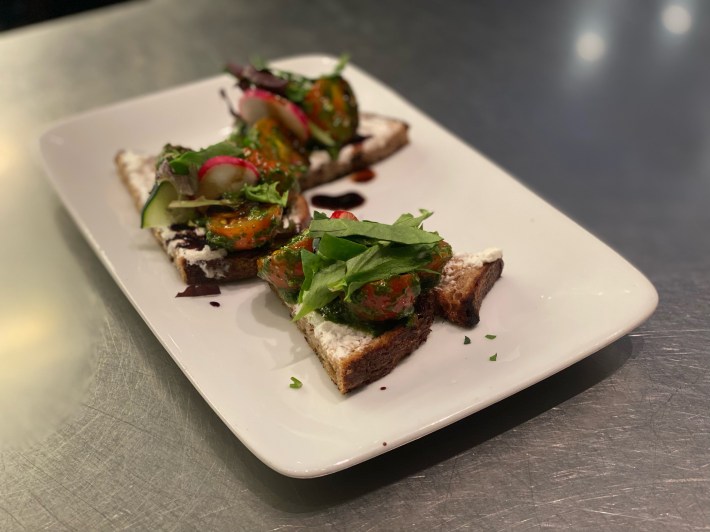 2. OK, OK—it's not all fried and cheesy.
Should you choose the veggie-forward route, you've got a lot of options. Starting at 5 p.m., when Farmers Kitchen serves supper—not dinner, which I love because it makes me feel like a hobbit—a number of salads and veggie dishes appear on the menu. We started our sup with the Seasonal Bruschetta ($14), which piled halved cherry tomatoes on crusty bread smeared with goat cheese and drizzled with balsamic. There are several salads as well, and for my main, I opted for the positively vegetable-packed Garden Melt ($14), with zucchini, yellow squash, sweet peppers, and mixed greens—plus fromage blanc, tomato jam, and herb pesto.
3. …but back to the decadent stuff.
There are some heavily Minnesotan dishes on this menu I don't think I've seen anywhere else in town. Take the Walleye "Tots" ($13), rotund little kegs of fried fish served with a wedge of lemon and a tartar-ish dipping sauce. I wish the texture had been more flaky than chewy—these guys were dense—but they were tasty, and the creamy sauce was zesty and light. Next time I think I'd spring for the Bison Wild Rice Meatballs ($16).
My dining partner went with the Roast Chicken and Dumplings ($23)—and that, I can heartily recommend. The meaty hunk of chicken was seasoned to perfection, drizzled in a plucky au jus, and nestled alongside herb dumplings and a pile of potatoes and carrots and other fresh veggies.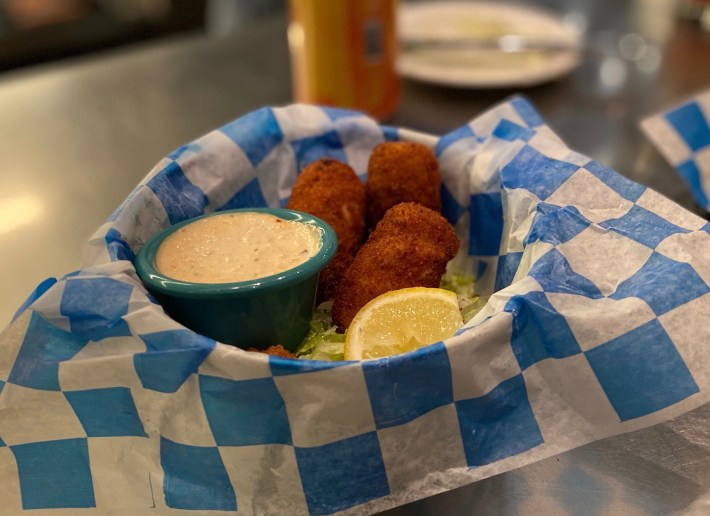 4. You've got options.
Farmers Kitchen is a real choose your own adventure. I've stopped in for a quick iced latte on a bike ride and sat down for a dinner—sorry, supper—that left me stuffed. It's open all day, which means it can be your morning coffee spot or your lunchtime grab-and-go or the place to eat before you catch a show across the street at the Guthrie. You can order at the counter to the right and pick up your food when it's ready, fast-casual style, opt for full table service, or grab a seat at the bar. And soon, they'll offer online ordering.
5. Farmers Kitchen is still growing, like so many vegetables.
After opening for daytime service in late August, Farmers Kitchen has expanded its hours to 7:30 a.m. – 9 p.m. Wednesday through Sunday. On the day we visited in mid-November, they'd just launched their cocktail program. And more changes are likely on the way: The seasonal menu means a focus on what's fresh, meaning someday soon they might get creative with dishes like that bruschetta.
What would a winter root vegetable bruschetta—with carrots and kale, say, or collard greens—look like? I don't know, I'm not the chef! But I look forward to checking it out.
Farmers Kitchen + Bar
750 S. Second St. Suite 100, Minneapolis
7:30 a.m. – 9 p.m., Wednesday – Sunday
farmerskitchenandbar.com