We know a lot about the northern Minnesota wolf you see above, known as Wolf W0C, thanks to the Voyageurs Wolf Project. Her death, likely at the hands of a poacher, remains murky, though the public outrage over her killing is unmistakable.  
"Our project is really committed to sharing a factual, objective picture of what we do, and what goes on in a wolf's life," says Thomas Gable, the project leader at VWP. "And getting killed illegally is something that happens pretty much anywhere you have wolves and humans interacting."
That's why Gabel's team shared images of W0C's corpse on Wednesday, setting off a tidal wave of horrified, angry, and saddened reactions on social media. Animal lovers and conservation-minded hunters were equally appalled, Gable reports. The DNR is investigating the death; the agency didn't respond to our requests for updates. 
Seeing the vacant, gorgeous yellow eyes of something resembling your pet packs an emotional wallop, sure, but many VWP followers were also familiar with W0C. The three-year-old wolf had appeared in previous posts, and her activity was observed closely by VWP, whose publicly funded mission is to study wolves and their prey around Voyageurs National Park.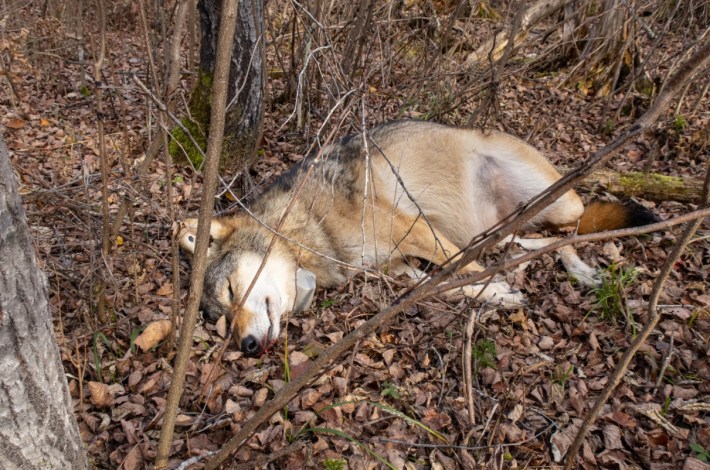 Her short life was incredible. 
VWP first collared W0C in 2019, when she was a yearling with Sheep Ranch Pack (see the fascinating pack names/boundaries here). When Huron Pack booted Sheep Ranch from their territory W0C became a lone wolf, which is not uncommon, Gable reports. For six months, she wandered alone until, in May 2020, her collar fell off. 
"When that happens with lone wolves, we kind of assume we'll never hear from this wolf again," Gable says. "But then this winter we saw trail-cam videos of the Huron Pack, and there was an ear-tagged wolf that didn't have a collar." 
That wolf stood directly in front of the camera, allowing VWP to read her ear-tag number: It was W0C. She'd joined the same pack that dispersed her old one. Researchers were able to re-collar her in April, and they studied her behavior throughout the summer until Huron Pack dissolved and W0C became a lone wolf yet again this fall. (Gable assured our reporter this is normal and not sad.) 
When VWP's 13 collared wolves visit any spot for more than 20 minutes, the biologists visit the area to study it. That's how they discovered W0C's fate. 
"Almost every year we've had collared wolves getting killed; this isn't surprising," Gable says, noting that poachers tend to avoid shooting wolves with visible GPS collars, like the one worn by W0C. "We're thankful that with this wolf, we could recover the carcass, learn from it, and share it with other people." 
Connecting biology with everyday people, Gable says, is a pillar of the project. 
Wolf hunting and trapping has been, for the most part, illegal in Minnesota since the '70s, though the emotionally charged question of whether it should be permitted remains persistent and divisive. Racket's stance is apparent in this story's headline.