Events
Art Shanties, Pond Hockey, Best New Bands at First Ave.: This Week's Best Events
Plus comedy, movies, and a 'Dr. Who' convention.
11:36 AM CST on January 16, 2023
Welcome to Event Horizon, your weekly roundup of the best events in Minneapolis and St. Paul.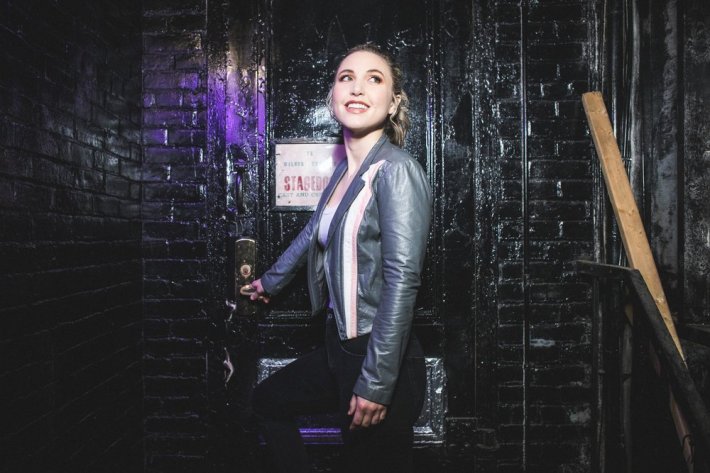 WEDNESDAY 1.18
Taylor Tomlinson 
Orpheum Theatre
At just 29, Tomlinson has already been performing standup comedy for almost half of her life. The native Californian was fast-tracked for success ever since appearing on Last Comic Standing in 2015, and she's since racked up a career's worth of accolades and credits. Conversational, confident, and relatable, her comedy caters to millennial and Gen Z sensibilities, so it's not surprising she maintains a massive TikTok following. Tomlinson gets real about bipolar disorder in her latest Netflix special, last year's excellent Look At You. Her star power is obvious the second she speaks into the mic. $29.75-$69.75. 7 p.m. Wednesday through Friday; 10 p.m. Friday. 910 Hennepin Ave., Minneapolis; find more info here.—Jay Boller
Raanan Hershberg 
Acme Comedy Co.
Last month, esteemed NYT comedy critic Jason Zinoman named Raanan Hershberg's YouTube special, Jokes From the Underground, one of the year's best. That special "finds him plumbing comic aggravation more deeply, this time sparked by a sentence spoken by his mother: 'I can't believe it's already April,'" Zinoman writes in a profile of Hershberg from last fall. "This sends the comic, a Comedy Cellar regular with a growing reputation, into a head-swiveling frenzy, spitting consonants. Of all the things to disbelieve? Hershberg, 37, launches into an operatic tour of the bizarre events of the past few years… What began as a skewering of a cliché culminates in the baroque comedy of a man unhinged." The comic Hershberg's act most resembles, Zinoman writes with obvious trepidation, is Louis C.K. Given C.K.'s fall from grace, it's easy to forget what a massive compliment that would've been in 2014. A more contemporary comp might be a less button-pushy Shane Gillis—both comedians are conventional, road-tested club comics who manage to infuse excitement into that old-school genre. $22. 8 p.m. Thursday; 7 & 9:30 p.m. Friday and Saturday. 708 N. First St., Minneapolis; find more info here.—Jay Boller
THURSDAY 1.19
Out There 2020: Sarah Michelson, /\ March 2020 (4pb)
Walker Art Center
For nearly 20 years, U.K.-born, NYC-based performer Sarah Michelson has created pieces often performed outside of traditional stages, tumbling about the Walker's galleries and even the Minneapolis Sculpture Garden. She works hard to create movements that may look impromptu or off-the-cuff, but are typically planned and practiced down to the breath. But her latest work, "Sarah Michelson: /\ March 2020 (4pb)," is an exhibition, not a performance piece. Here guests will be able to peruse a variety of ephemera, all laid out with the Walker in mind (the pieces are now part of the museum's permanent collection). At the opening reception, which will take place from 6 to 9 p.m. during the Walker's weekly Free Thursday Nights party, Michelson will discuss her work with Kristin Van Loon and Arwen Wilder of the two-woman dance troupe HIJACK. 725 Vineland Pl., Minneapolis. Through April 23–Jessica Armbruster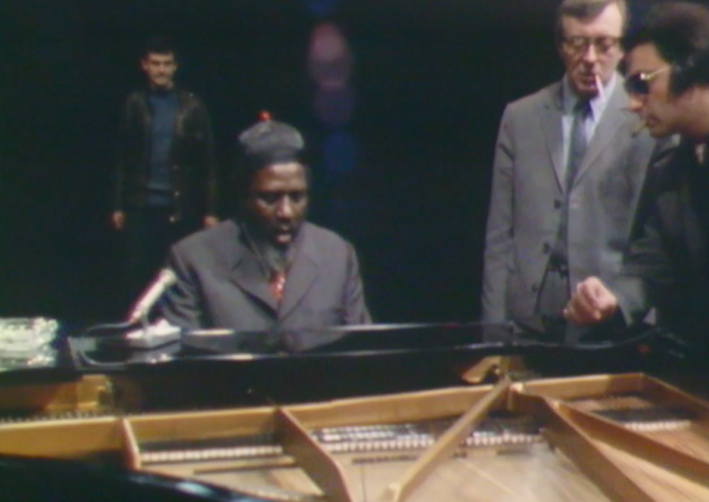 FRIDAY 1.20
Rewind & Play
Walker Art Center
Thelonious Monk visited Paris in 1969, relatively late in his performing career, and was filmed for a French TV program. Senegalese director Alain Gomis re-edited the footage for this 2022 film, which shows what it could be like for a Black artist in Europe at the time. The highlights are Monk, alone at the piano, sweating with concentration under the stage lighting, visibly devising new harmonic and dynamic possibilities to songs he's played countless times. The low points come courtesy the French TV presenter, whose interactions with the recalcitrant jazz great are at best unprofessionally awkward and at worst casually racist. There are also some nice shots of Monk traveling with his ever-supportive wife, Nelly, and noshing on hard-boiled eggs at a French bar. Twin Cities drummer and Hamline professor Davu Seru will be on hand Friday night to discuss the film. $12/$10 for Walker members/free on Friday for students. 7 p.m. Friday and Saturday. 725 Vineland Pl., Minneapolis; find more info here.—Keith Harris
Best New Bands of 2022
First Avenue
Don't get out to the clubs as much as you used to? Well once again First Avenue provides your live local music cheat sheet with its annual best new bands lineup. This year the honorees are the prog-acoustic Brotherhood of Birds, sister-fronted indie-rockers creeping charlie, folk-rockers Harlow, hardcore rockers killusonline, moody electropopper Mike Kota, Nigerian-born Afro-fusionist Obi Original, and poppy genre-bender Raffaella. If these musicians aren't all you need to know about the Twin Cities scene in 2022, this show will still fill in a lot of blanks for you. Don't worry, we won't tell anyone you're faking it. $12/$15. 7 p.m. 701 First Ave. N.; find more info here.—Keith Harris 
CONsole Room 2020
Hilton MSP Airport/Mall of America
For the past 10 years, CONsole Room has been bringing Dr. Who fans together for three days of fun. There will be artists and makers in the artist alley, there will be table top gaming, there will be talks and meet-and-greets with actors from the show, and there will be karaoke, because there is always karaoke. Folks will be screening rare Who episodes, and panel talks range from reflections on past Doctors to making your own Dr. Who scarf, to off-topic talks on things like The Sandman, House of the Dragon, and Star Wars. Like many events, CONsole has had to adapt during COVID; this year's event will offer both in-person fun as well as online meetups. Find the complete schedule at console-room.com. $30-$50 day passes; $60-$90 weekend pass; online events are free or $35 for an all-access pass. 3800 American Blvd. E., Bloomington. Through Sunday–Jessica Armbruster
Drone Not Drones
Cedar Cultural Center
One defining aspect of drone music is its length, which is why this annual 28-hour showcase may be the ideal way to experience this subtly modulating, hypnotically repetitive, infinitely malleable style of experimental music. Initiated 10 years ago to protest the U.S. war machine, as its name suggests, the event is a benefit for Doctors Without Borders. The lineup is too long to mention (we're talking over a full day's worth of live music here) but you can get a sense of it here. Stop by to check out a few hours' worth, or bring a pillow and camp out for the duration. And if you can't make it, you can always hear the simulcast on KFAI. All ages. $30/$35. 7 p.m. 416 Cedar Ave. S.; find more info here.—Keith Harris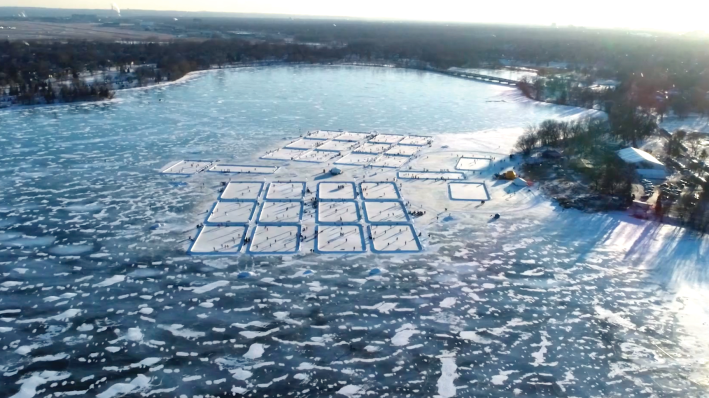 SATURDAY 1.21
U.S. Pond Hockey Championships
Lake Nokomis
Every year, in the dead of winter, hockey teams convene to compete in one of the most epic amateur sporting tourneys in the nation. Players come from all walks of life and backgrounds; some are retired professional athletes, others have simply been playing for years at their local pond. Some are from the Twin Cities, and some are from outstate, Canada, and beyond. Divisions include youth, men, women, and rink rat, with the winner taking home the Golden Shovel. For those not competing, a warming tent offers beer, hot bevs, and eats, and there's always a rink set aside for all ages open skating. For complete game schedules and more info, visit uspondhockey.com. Free. 5001 Lake Nokomis Pkwy. W., Minneapolis. Through January 29—Jessica Armbruster
Art Shanty Projects
Bdé Umáŋ/Lake Harriet
One of the most unique festivals in Minnesota, the Art Shanty Projects returns this winter for wacky, wholesome, creative fun on a frozen lake. Actually, scratch that. This year's unseasonably warm weather has made the ice too thin for the shanties, so they're moving things to the beach and bandshell area of the lake. "We started off the new year celebrating 13" of good, clear ice," says operations director Kerri Jamison via release. "Unfortunately the recent snowstorm created a warm cozy blanket over the whole lake, acting as insulation." This year's happening will feature 15 new shanties with three returning structures. Installments are leaning towards music and movement in 2023, with Booom Box providing DJ tunes, Klezmer on Ice doing just that, and tons of concerts from local artists. The Free Store Shanty will be back; pick up some free gloves or bring something warm to donate. The Winterized Chicken Coop will feature feathered friends and fortune-telling eggs, and American Ice Theatre will present ICE. COLD. JAZZ!, a modern ice skating show. If you're 18 or older and looking to get hitched, the Chapsicle of Love will wed you and your beloved for free (and yes, it is a real, legal marriage). Walk-ins are welcome (very Vegas!). Other fun to be had includes frozen yoga, artsy parades, an ice sculpture garden, and climate walks. Find more deets about this rad event at artshantyprojects.org. Free; $10-$20 suggested donation. 10 a.m. to 4 p.m. Saturdays and Sundays. 4135 W. Lake Harriet Pkwy., Minneapolis. Through February 12–Jessica Armbruster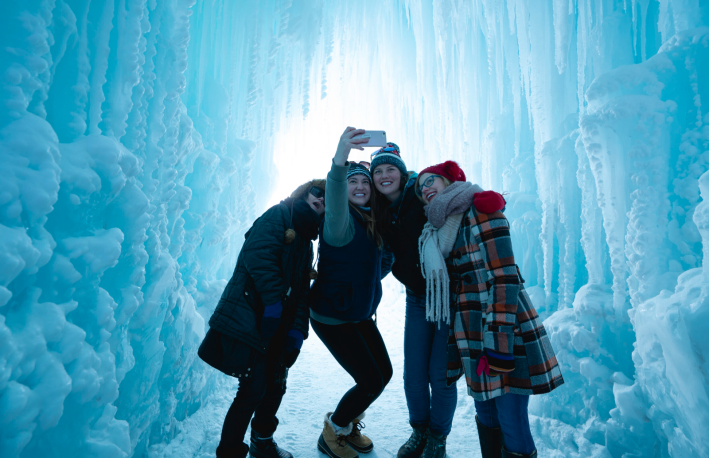 ONGOING
January Music Residencies 
Various venues
'Tis the season for residencies. In the fallow winter nights, when coastal cowards are spooked by our robust climes, local musicians pick up the slack, settling in at local clubs for a month at a time, with special guests every week. As usual, the Turf Club hosts weathered troubadour Charlie Parr (on Sundays) and harmonizing sibs the Cactus Blossoms (on Mondays). If your tastes are less rootsy inclined, you can check out the restlessly experimental Dosh at Icehouse; he's been entrusted with January's "Jazz Mondays" series, which the venue sets aside for one artist each month throughout the year. Next week, on January 12, Alex Schaaf's Yellow Ostrich starts its own Thursday night residency at Icehouse. And the White Squirrel, which hosts Tuesday night residencies every week, turns its stage over to Labrador Wild in January. Did I miss anyone? Possibly—there's a whole mess of these out there. Check our music calendar every Tuesday for the full picture.–Keith Harris
Into the 21st Century Dystopias
Trylon
What's dystopia like these days? The Trylon is offering up 12 variations on that theme this month, with a look at the grim futures some 21st century films have imagined. The series started yesterday with briskly selling anime standout Ghost in the Shell, which continues through tomorrow. From there on in, they'll cover Japanese horror (Pulse), contemporary classics (Children of Men, Mad Max: Fury Road), a couple Spielbergs (War of the Worlds, A.I. Artificial Intelligence), and plenty more. Looks like they've got a punch card for anyone who plans on catching the whole series, with unrevealed prizes for the diehards. (Perhaps a ticket to the off-world colonies, where a new life awaits you?) Depending on your outlook, this series can be an opportunity to look on the bright side: Things could be worse! Or you could look on the darker side: They probably will be! $8. 2820 E. 33rd St., Minneapolis. See here for full schedule and showtimes. Through January—Keith Harris
the bull-jean stories
Pillsbury House Theatre
Although it got its start as a novel, Sharon Bridgforth's the bull-jean stories is a piece that was made for the stage. It's a fusion of storytelling, spoken word, history, and fiction. It's also a love story, following the titular character as she navigates Black queer life in the Deep South of the 1920s. Bridgforth is known for shows that are much more than they appear to be; Pillsbury's 2018 production of dat Black Mermaid Man Lady/The Show was part book, part performance, part oracle deck/reading sessions, and part collaboration with Powderhorn Park Neighborhood Association to mentor several artists toward homeownership. The return of Bridgforth's work to the Pillsbury Stage, this time directed by Signe V. Harriday, is an excellent addition to the venue's 30th season lineup. 3501 Chicago Ave. S., Minneapolis; pillsburyhouseandtheatre.org. Through February 5–Jessica Armbruster
The Minnesota Ice Maze
Viking Lakes
Getting lost in a pile of ice and snow in nature? Potentially deadly! Getting lost in an ice maze during this ongoing party in Eagan? Potentially a lotta fun! This year, Vikings Lakes has brought in over one million pounds of ice to create an epic maze that will take guests through a half-mile of disorienting twists, turns, and beautiful icy spectacle. Oh, and there's also a slippery ice slide, of course. Once you make it out, you can enjoy the trappings of Winter SKOLstice, a free festival featuring a warming house with drinks and food from Omni, plenty of bonfires, and free ice rinks for skating, curling, and pond hockey (just bring skates). Special events scheduled during the winter include trivia nights, live music, a winter princess gathering, and a Cry Baby Craig's hot sauce night where the maze will be lit red and orange and a special spicy menu will be offered. Find tickets and more info here. $14.14-$26.14. 4-10 p.m. Mondays through Fridays; 10 a.m. to 10 p.m. Saturdays and Sundays.  2645 Vikings Circle, Eagan. Open daily through February 19–Jessica Armbruster
Minnesota Ice Castle
Long Lake Regional Park
Folks, this is the big one. This is the ice castle that has more square footage than your own home. It starts as a single icicle, but by the end of construction it becomes an epic thing you can wander through and enjoy. There are architectural marvels, sparkling caverns, slick tunnels that funnel you to more adventure, and slides made of ice. In addition to the big frozen structure, there's also an illuminated trail to explore and an ice bar serving up wintery adult beverages. The castle was supposed to be ready in mid-January, but our weather sucks so hard this year that the event was able to open a few weeks early. Lucky us! Find dates, times, and tickets here. $11-$15 weekdays; $15-$20 weekends. Wednesdays through Mondays in January; Thursdays through Sundays in February. 1500 Old Hwy. 8, New Brighton. Now through February 23'ish–Jessica Armbruster
Paul Chan: Breathers
Walker Art Center
Can those inflatable tube guys used to drive people to sales be art? If it's in the Walker Art Center then, yes, it can. But that would be oversimplifying the work of Paul Chen, a Hong Kong-born, Nebraska-raised, NYC-based writer, publisher, and artist. In the '90s and '00s, Chan garnered attention releasing videos, animations, fonts, and more, often for free on his website, nationalphilistine.com. These pieces explored pleasure, war, politics, and human interactions. But by 2009, he had burned out, tired of looking at a screen. Relatable. Five years later, after a brief, you know, "breather," he found a new way to explore movement and meaning without a computer, instead using physics, fabrics, and fans to create shapes that move about in interesting ways (and, thankfully, won't try to sell you a car). You can see these kinetic sculptures at the Walker; the show will also include some video installations as well as pieces from his publishing company, Badlands Unlimited, which releases poetry, erotica, artists' writings, and more. 725 Vineland Pl., Minneapolis. Through July 16, 2023—Jessica Armbruster
Stay in touch
Sign up for our free newsletter