Ernie Fliegel and Max Winter acquired an old downtown Minneapolis pool hall in 1934.
Fliegel, whose family came from Romania in 1910, enjoyed a pro boxing career, both as a fighter and, later, promoter. A native Austrian, Winter and his family immigrated to Minneapolis in 1913; he'd go on to build the Lakers dynasty of the '40s as GM and help launch the Vikings in 1960. 
Together, right in the middle of the the Great Depression, the two buddies established the 620 Club at 620 Hennepin Ave. 
In a Minneapolis Star ad, the grand opening of the "Twin Cities' Smartest Nite Club" teased a fan dancer, Chinese revue, and blues singer "direct from New York." Here's a photo from opening night, courtesy of Fliegel's son, Bob: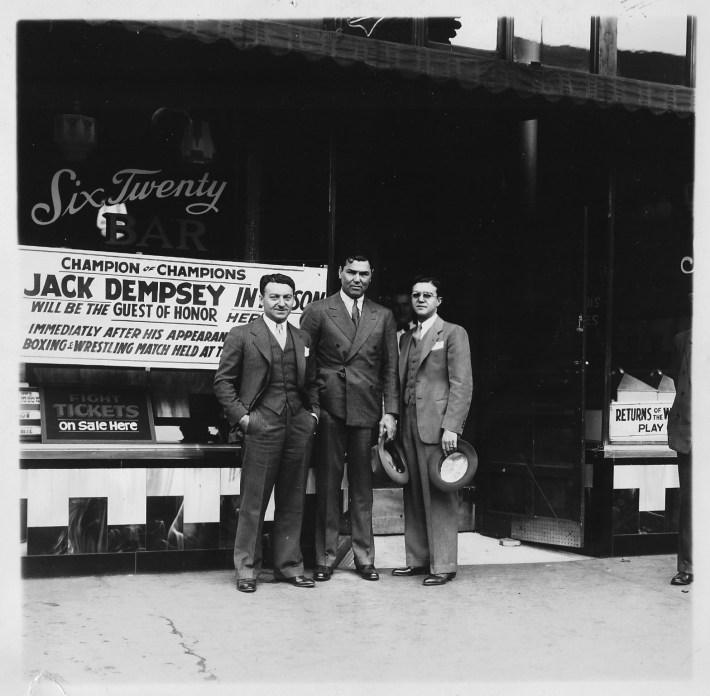 By 1941, the turkey-roasting prowess of chef Roy McLaughlin was making headlines. A big, beautiful bird sat by the front window of the two-story club, where it'd get carved up to the delight of customers. The tagline "Where Turkey is King" had taken hold by 1957, with the restaurant touting itself as "the turkey center of the nation" in a newspaper ad for its 25th anniversary. Minnesota, after all, is the top turkey-producing state—and we're not just talking about at the capitol! Folks!
"On an ordinary day [at 620 Club]," the Minneapolis Tribune wrote in 1954, "you might find boxers, wrestlers, baseball players, basketballers, football figures, coaches, referees and managers, as well as bankers, FBI agents, newspapermen, Chamber of Commerce officials, clothiers, auto salesmen, lawyers, legislators, entertainers, doctors, truck drivers, insurance men, theater men, and representatives of various other occupations." The club was grossing an estimated $350,000 to $400,000 yearly at this point, Fliegel and Winter told the paper—around $4 million in today's dollars. 
Bob Fliegel told Old Minneapolis that his dad's restaurant was moving 250,000+ pounds of turkey per year by the '60s, so the menu below, which touts 241,105 annual poundage, is likely from that era.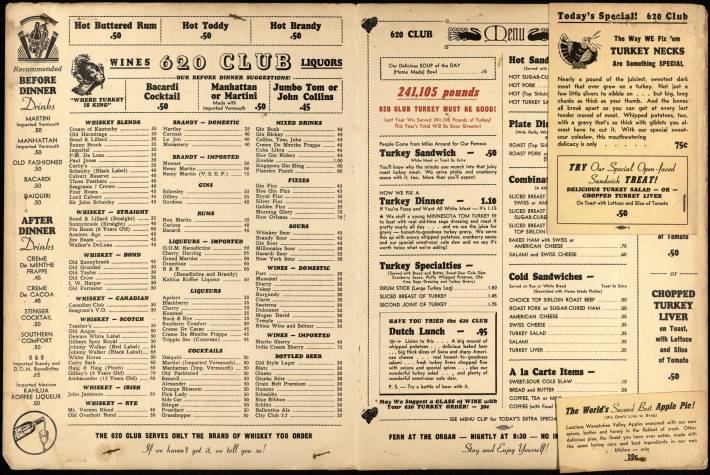 ---
Drinks: 620 Club touts an expansive list of brown liquors. Staples of Midwestern supper club dining get prime billing for ahead of dinner (martini, Manhattan, old fashioned) and after (crème-based cocktails, Kahlua). Modest by modern standards, the beer list would appeal to today's blue-collar hipster with Hamms, Grain Belt, and PBR.
Meals: The restaurant's motto and the menu's procession of illustrated turkeys spoil this one. Turkey is, indeed, king at the 620, where it's carved into sandwiches, dinners, and served by the part. "Fussy" diners can gobble all-white meat dishes for an added fee.
Oddities: The so-called Dutch Lunch seems like a strange mid-century relic: "Listen to this…" the menu reads before rattling off a dish that includes whipped potatoes, baked ham, sliced cheese (swiss and sharp cheddar), "honest-to-goodness salami," chopped turkey liver, and onions. Huh. You also got turkey salad and coleslaw; a beer pairing is suggested.
Goofy copy: "The Way WE Fix 'em TURKEY NECKS Are Something SPECIAL," the 75-cent daily special exclaims, "Nearly a pound of the juiciest, sweetest dark meat that grew on a turkey. Not just a few little slivers to nibble on… but big, long chunks as thick as your thumb. And the bones all break apart so you can get at every last tender morsel of meat."
Prices: Tweaked for inflation, the cocktails are around $4.50, the beers $3, the sandwiches $4.50, and $10 for the turkey dinner. You are not finding prices that fair at CRAVE and Fogo de Chão. To hear the menu copy tell it, the generous signature meal is "worth twice what we're asking," so there's also that to consider.
---
In 1967, Winter and Fliegel sold 620 Club to a group of new owners with dreams of turning the brand into a national turkey franchise; the Minneapolis Star reported the space on Hennepin would remain "substantially unchanged." That held true for four years. The restaurant changed hands again in 1971 and became infamous dive bar Moby's Dicks, where rumor had it you could exchange an AA token for a drink. But that's a story for another day.
In 2011, beloved Strib columnist Barbara Flanagan addressed the reeling Block E redevelopment of the '00s, suggesting that the return of "the dandy" 620 Club—"where turkey was king and sports heroes and Minnesota poets hung out"—could save the place. 
A history-reviving pivot from Hooters, AMC, Applebee's never happened. Instead, we've got the bloodless, corporatized Mayo Clinic Square complex of today. Not a damn prizefighter or turkey dinner in sight.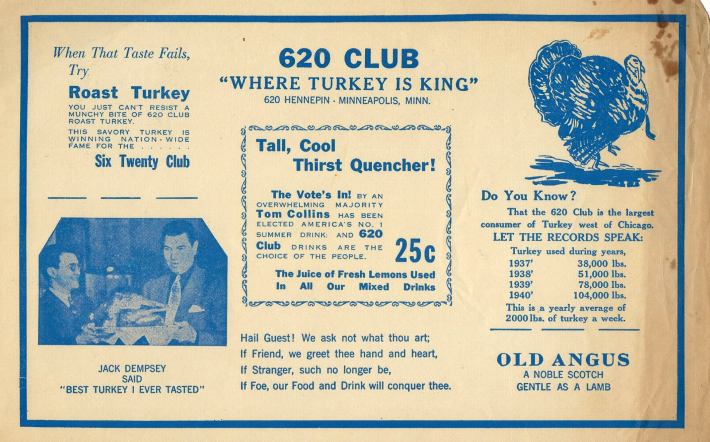 Better Know a Retro Menu grabs community-sourced menu photos from the indispensable Facebook group Old Minneapolis and takes 'em on a historical deep-dive. Got a suggestion? Sent it our way!