In February 2020, my closest friends and I walked into the Fine Line for one bizarre show. 100 gecs, the St. Louis-born duo with genre ADHD, shambled through a 28-minute set, unplugged, and sent us all home before 8:30 p.m.
The whole affair only added to the band's mystique. Dylan Brady and Laura Les burst out of obscurity in mid-2019 with singles "money machine" and "ringtone," captivating some and freaking out others. Questions abounded. What is a gec? Why are there 100? What is the nature of these gecs, and how would one definitively rank them? 
I was enamored, as was much of the City Pages editorial staff. Editors Jay Boller, Em Cassel, and Keith Harris had all attended the show with me, following weeks of gecs-related tweeting that must've been largely indecipherable. We started a group chat with the intention of cooperatively review the show. The effort quickly collapsed—a failed attempt to match 100 gecs' maximalist genre-melding. The story never ran, but the group chat persists to this day, a lifeline during a malignant stretch of time.
"WHY ARE OUR DUMB LIVES SO FUN?" Harris exclaimed, gleeful even after the review fell apart.
You know what happened next. COVID ripped through everyone's dumb lives (fun or otherwise). Venues shut down. The Dipshit President caught the virus, City Pages had a laugh, and then Glen Taylor took away all my friends' jobs. My wife had a baby, who grew so much that she now wakes up demanding cheese every morning. (OK, you might not know that happened.) Boller, Cassel, Harris and fellow CP castoff Jessica Armbruster started the website you're currently reading. And 100 gecs announced they were coming back to Minneapolis.
When last night's First Ave show finally rolled around, it had been over 81 weeks since I'd been at a live concert. I'd watched gigs roll through with skepticism, forgetting the night we'd spent at the Fine Line marveling at Brady and Les as they ripped through the only 10 songs they had and said goodnight. The world changed fundamentally in that time. We got a new Dipshit President. 100 gecs' sophomore album 1000 gecs got pushed back. The group chat kept the same name, though it felt less relevant by the day.
But while the world was turning in on itself and the internet was churning out new, even more flitting, fascinations, Brady and Les were sharpening their approach. The crowd at First Ave knew it. They were chattering at an excited hum when I showed up alongside Cassel. When the curtain lifted, the sold-out Mainroom came unbolted. Brady and Les stomped out in felt wizard costumes and spewed new, more grotesquely Auto-Tuned songs. 
Until suddenly it died.
After the opening song, the speakers went mum. Brady fidgeted with his crooked keyboard, messing impatiently with knobs as techs came out to assist. The crowd was chanting "GECS GECS GECS" with fervor, but to no avail. It felt like an all-too-perfect metaphor for the pandemic—a dumb life interrupted. Les let herself down into the photo pit and began talking with fans, even stoking up an a capella version of "Happy Birthday" for one. By the second verse, the monitors were up and running again, and the two set out to regain their momentum.
And they quickly did, playing the distorted pop-punk favorite "stupid horse" among a smattering of new material. If there was one cogent criticism that came from the doomed 2020 group chat review, it was that the gecs lacked stage presence. The songs were perfectly recreated from the record, but Brady and Les were more or less limited to four or five flailing dance moves. They barely addressed the crowd, hiding beneath hats and hair. But nearly two years later, in a room double the size, they were fully inhabiting the cacophony of their music. 
They banged against a xylophone on the floor. They broke the set in half, pulling out stools and acoustic guitars for a stripped down version of "gecgecgec." Les took out a Fender and screeched noise-rock over Brady's thumping dubstep lines. 
I lost myself in the crisscrossing genres, peering over the balcony to watch elated teens gasp while the gecs played a song best described as a Rob Zombie Jock Jam. Screamo gave way to Nintendo. The gecs did that thing that only they can do, interweaving ska with European techno.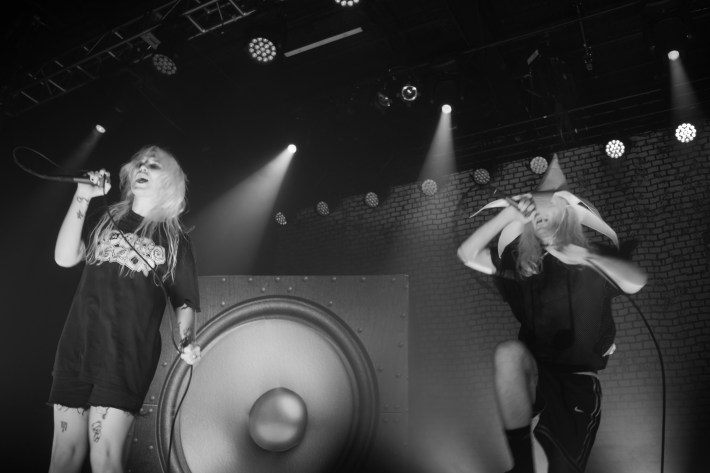 This deep into my pandemic isolation, I was only trying to reclaim what I'd lost. Starting over at my last save point. But suddenly the world was teeming around me, alive and new. A band I'd sworn had outlived its novelty was on stage, unraveling my cynicism at 120 BPM. They re-emerged for an encore, opening with "what's that smell." Cassel leaned over and said, "It's like the Ying Yang Twins made a song about farts," right before a nu-metal breakdown. My brain was sparking by the time "800db cloud" kicked in, its singalong appeal undulled by the passage of COVID time.
I left in a vibrating swarm of young fans. Cassel and I rode our bikes home together, debriefing with the kind of slack-jawed awe we'd tried to capture in that original group chat. 
This is what sustains 100 gecs, even after weeks, months, days in storage. It's what's allowed Brady and Les to emerge at this stage of the pandemic with the same kind of nonsensical magic they had at the beginning. The band is enduringly curious, and they're growing in allure as they explore new mashups and even more ridiculous ways to present them. No matter how long it's been since you've seen them.