Drugs
Weed is Legal in Minnesota. Let's Go Shopping!
Your guide to local THC shops, boutiques, and small-scale makers.
6:04 AM CDT on August 2, 2023
Did you hear? Weed went legit this week when Minnesota became the 23rd state to legalize recreational cannabis.
That means you can smoke it (if you're at least 21 and in an approved area), you can grow it (in a private space inside your home), you can automatically expunge its bullshit legal ramifications, and you can buy it... sort of. Licensed cannabis dispensaries might not appear until 2025, considering retail locations will need to jump through TBD regulatory hoops, though at least two tribal nations have gotten a jump start.
In the celebratory spirit of legalization, however, we still wanted to take readers on THC shopping sprees.
Since certain edibles went legal in July of '22, I've been buying, trying, and reviewing products for Racket. And, as far as I know, I'm the only one in town doing it. So needless to say, I've visited a lot of shops this past year, both online and in person. The following is my guide outlining the main destinations, from the wholesale sellers to the folks making cookies in their kitchens. While I assume my list is far from complete, as you will see I have made my way through a lot of key places. 
Did I miss your fav? Are you a shop that hasn't made it on my radar yet? Feel free to let me know in the comments, or send me an email at jessica at racketmn dot com.
Happy weeding, everyone. Stay safe and stay hydrated.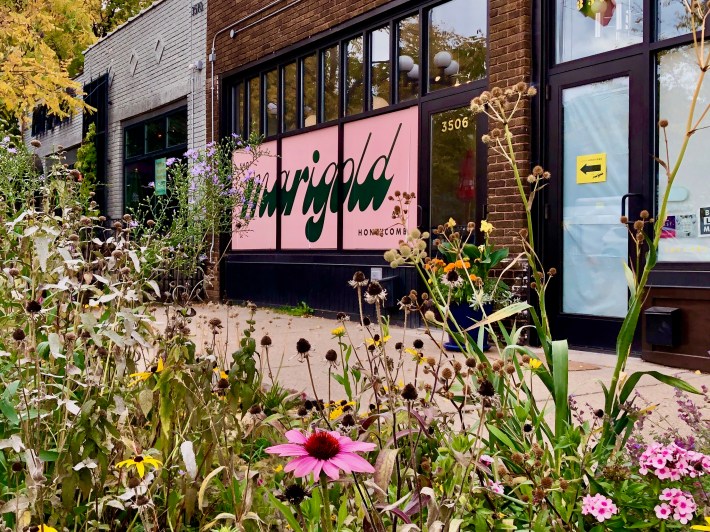 The Budding Chains and Boutiques
Weed bodegas are popping up in neighborhoods, offering niche products that will get you high. These charming shops often have a boutique-feel and friendly staff, and we expect them to benefit greatly from being early to the weed boom.
Marigold
The lore: Last year, Honeycomb Salon owner Erin Flavin opened up a alcohol-free drink shop in the other half of the building. "I had a few people kind of laugh at the idea—'OK, so you're going to have an NA store with a salon, and you're connecting them?'" she told Racket in October 2022. Seven months later, business was so bangin' that she announced another shop would be opening in St. Paul. 
What they offer: There's no alcohol for sale at Marigold, where you'll find a ton of ingredients for mocktails, including spirit replacements that look like the real thing, tinctures to power-up a bevvy, and ready-made drinks, as well as alcohol-free beer and wine. But for the weed dabblers out there, THC drinks are where Marigold really blooms. There's a wall of 'em, actually, with tons of local options, and it's fun to mix and match your own six-pack to try as many things as possible in one go. A few gems I have found there recently: Kite Soda, Minny Grown Canned Cocktails, and Cycling Frog.
Vibe: California sober, baybeee! The original Minneapolis location is a sunny little shop, with a focus on drinkables. The dude who helped me on my first visit was able to walk me through a giant wall of THC bubbly; if you're more of an independent shopper you can easily do that here, too.
Where you can find it: 3506 Nicollet Ave., Minneapolis; Marigold Milton Square, 2236 Carter Ave., St. Paul.
Can you also shop online? Yep! 
Dabbler Depot
The lore: You probably know the Dabblers as the folks who've been putting on Beer Dabblers, a craft beer sampling event, since 2008. (They're regulars at Pride Fest and the Winter Carnival, and they usually host something beer-tastic in the summer as well.) When edibles became legal, they started carrying products in their liquor store and just-opened coffee shop, but they knew they needed to start looking for a space to focus on weed-only vices. "We were excited about the donuts, we were excited about the coffee—we didn't realize there was gonna be this huge announcement in July," Lance Asher, director of business development and partnerships, told us in April.
What they offer: Around 100 different drinks, from local brew pubs to national brands that have been on the scene in other states for years, as well as gummies and other treats.There are a lot of products, and it's kind of amazing. "I would argue that we have more variety in beverage than any THC [retailer] in the Midwest," Asher tells us. "That's the claim that I'm willing to make."
Vibe: It's a lot like a liquor shop with an excellent beer selection, only the beer is THC. Asher says he tries everything before it makes it to the shelf, and staff certainly know their shit when I stop by.
Where you can find it: 2817 Hennepin Ave., Minneapolis.

Can you also shop online? You sure can.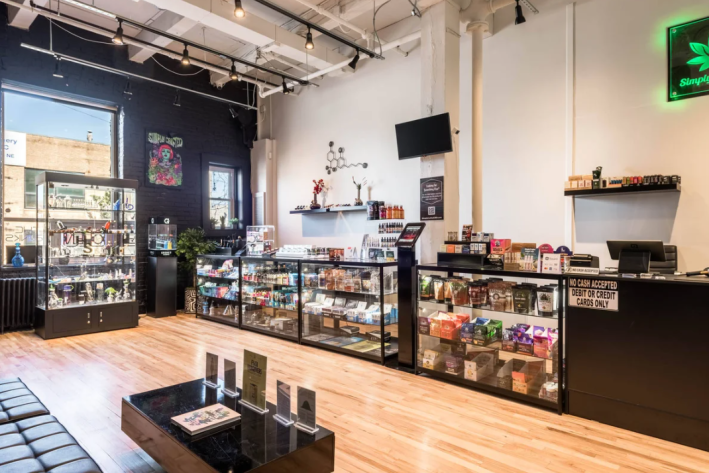 Simply Crafted
The lore: These guys started as a CBD store, then powered up once THC-related stuff became legal in Minnesota. It looks like they are gearing up to be ready for legalization, as they now have buds for smokin'.
What they offer: A lot! They have all kinds of seltzers and sodas, many  locally made. Edibles range from sweets like gummies, mints, freeze-dried ice cream, and chocolates to salty treats like Granny's cheddar pretzels. They also have a ton of smoke-related items, which I have yet to see elsewhere. (I'm sure that's all coming soon.) You can buy CBD strains with fun names like Pop Tarts. You can buy Delta-8 and HHC blunts (I had to Google HHC–it's a psychedelic of some sort). You can buy vapes. Are you looking to start a weed garden now that it's legal? They have seeds for sale.  
Vibe: Modern headshop. Everything is neatly placed behind glass cases. You'll be making small talk here as you have to ask them to open cases.
Where you can find it: 726 Central Ave. NE, Minneapolis.
Can you shop online? Yup! They do pickup, mail, and speed delivery if you're nearby.
Stigma Cannabis 
The lore: When Stigma opened in 2019 in the Jeromeo spa/homegoods space, it was the first CBD store in town. Then Covid hit, and it closed. But owner Josh Maslowski had a feeling that this CBD/THC biz could be a hit in the North Loop, so he returned this summer, sharing a space with Rise Bagels. So it's bagels by day, THC in the afternoon/evening. "The entire country's coming, all the big corporate conglomerates and all that," he tells the North Loop blog. "We can't stop that from happening, but what we can do is try to build a name and a customer base now that trusts us."
What they offer: Gummies, bubbly, candies–the gang's all here. Stay tuned though: Stigma has plans on opening up a dispensary down the street in the near future. They also have a good in-house brand of the same name.
Vibe: Unless you live or work in the area, this is probably not going to be your regular weed shop. But North Loopers can think of them like your neighborhood corner store, the one you run to when you need chips or an ATM. Only, for weed.
Where you can find it: 250 Third Ave. N., Minneapolis (in the Rise Bagel space during off hours, 4-8 p.m. Thu.-Sun.). 
Can you shop online? No.
Zerø Proof Beverage House
The lore: "I got super into this nonalcoholic movement through my life and career in the alcohol industry," Zerø Proof CEO Logan Fleischman told Racket back in May. His background is in wholesale wine and spirits, but as he and his wife started drinking less, they shifted their interests to bevvies with adaptogens–herbs, mushrooms, and other natural ingredients meant to heighten brain function (like caffeine), aid in relaxation (like marijuana), or just make social gatherings feel special (like booze).
What they offer: These shops are more focused on the mocktail and alcohol-removed movements, so expect to see a lot of NA wine, beer, and spirits. But they also have a bunch of THC drinks in their big cooler, which often includes Canna, Flora, Foundry Nation, and Long Coast.
Vibe: This store is super airy and light, down to the white IKEA shelving units housing a variety of canned goods. 
Where you can find it: 2516 Central Ave. NE, Minneapolis; 844 Grand Ave., St. Paul
Can you shop online? Not yet, but coming soon.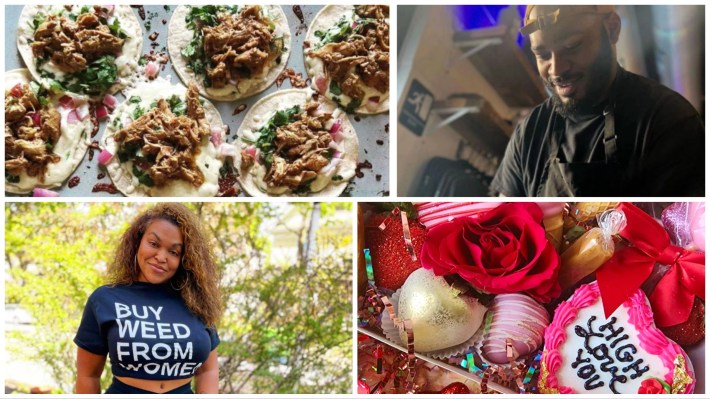 A Few Cottage Bakers and Folks on the Pop-up Market Circuit
This list is by no means complete, but I wanted to give a shoutout to a few local folks making food truck fests, brewery nights, and pop-up markets around town weed-friendly. Behold these makers, who are getting us high as a one- or two-person business. 
NattyKakes
The lore: "I was in the corporate world for 13 years, designing and art directing, and it was not creatively fulfilling for me at all," owner Natasha Givens tells Racket. "So I had these hobby outlets and I would bake... It was a dream of mine to be able to leave the corporate world and own a little bakery one day." 
What they offer: Giant themed cakes (both infused and weed-free), chocolate-covered fruits, cookies, cupcakes, bars and more, usually decorated to the max.
Vibe: Woman- and POC-owned and proud. "I know that the cannabis industry is run by mostly white males," she says. "I am always advocating for more women in cannabis, and for more women to be heard in cannabis. Because it's one thing to be, 'Okay, sit me at the table.' But you're still not hearing me."
Where you can find it: You can (and should!) follow NattyKakes' fabulous Insta, @nattykakes where you can place orders and enjoy the esthetics. While she takes orders online, she also posts her upcoming schedule here. 
Bald Head Bakery
The lore: Former Gophers running back Rodrick Williams started baking in high school as a way to pay off a speeding ticket. Turns out, he's pretty dang good at it. So after college, he got back into baking… and baking. Last April, he bought a trailer pop-up for $200 and started making eats for the masses. 
What they offer: Williams is both an edibles baker and a pop-up food maker. Think (weed-free) pork tacos topped with mac 'n' cheese, nachos, and other delights, as well as THC-loaded caramels, cookies with icing dunkers, cakes, and other treats. "I'm primarily an edible baker, but when we go to breweries I do tacos, loaded mac and cheese," he tells Racket. "A lot of the regular food that we make now are considered our munchie items."
Vibe: Munchies for all, plus edibles for the weed dabblers. 
Where you can find it: Follow them on Instagram at @baldheadbakery_. These guys like to park their food truck at brew pubs around town and at special events. 
Caked and Baked
The lore: "Our female-owned and run business is dedicated to crafting delicious and potent THC and CBD treats that are perfect for anyone looking to add a little something extra to their snacking experience."
What they offer: Lots of caramels, hot chocolate "bombs," lollipops, truffles, filled chocolates, gummy worms, and even cotton candy.
Vibe: It's a queer-friendly baked goods business owned by two women, one of whom is BIPOC. So, good vibes, for sure. 
Where you can find it: Their official website, cakeandbaked.com. They can also be found in quite a few local shops. You can follow them on Instagram, @cakeandbakededibles, for an idea on what's available as well as any upcoming events where you can pick them up in-person.
Can you order online? You sure can.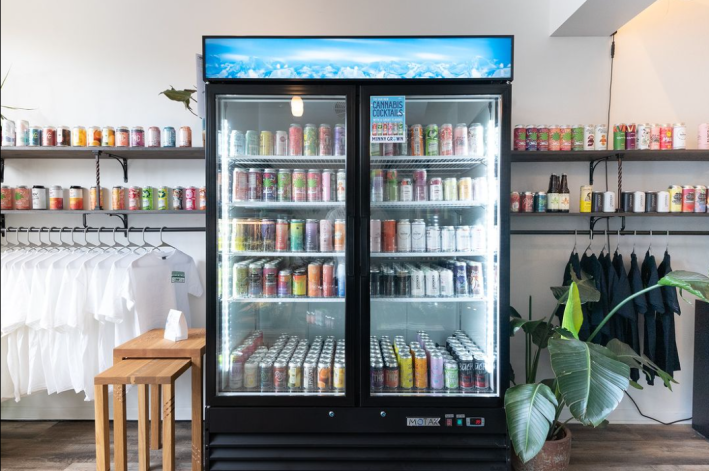 The Big Shops
Okay, so, honestly? None of these are big big stores. You're not going to find the THC equivalent to a liquor warehouse in this state—not yet, at least. THC is a relatively new product to Minnesota with a lot of upcoming legislation, and it's unclear if a mega-shop would even be sustainable. But these are the big players around town who are established, can move lots of product, and will generally get it to you in mere hours. 
Love Is an Ingredient
The lore: That name is eye-catching, right? These shops started as a CBD destination, and you'll still find tons of creams, tinctures, and pet supplies for sale here. But they also have lots of locally made gummies, prepackaged baked goods, chocolate, and more.
What they offer: Love Is an Ingredient doesn't carry a wide variety of brands, but they do offer a wide variety of consumption methods. That includes some of the "wackier" stuff I have reviewed in my column, like weed sugar, caffeinated weed sugar, and weed oil. This is a good spot to pick up items from Retro Bakery, which puts out a variety of super tasty chocolates, candybars, and cookies. Love Is an Ingredient also carries a beautiful collection of pipes from Empire Glassworks. (OMG, this ramen noodle pipe is amazing.)
Vibe: As a car-free person since the pandemic, I haven't made my way to the 'burbs to check out their shops. But I will say, I absolutely love ordering delivery from the Columbia Heights location. There's something delightful about watching a little car on an app make its way to your place a la DoorDash. Hilariously, this option is automatic if you're ordering big from certain local areas, so I am sure it has been a pleasant surprise for a lot of shoppers. 
Where you can find it: 4110 Central Ave. NE, Suite 210B, Columbia Heights; 6276A Boone Ave. N., Brooklyn Park; 8505 Jefferson Ave. N., Brooklyn Park; 13953 Grand Ave., Burnsville. 
Can you shop online? You sure can. All four stores have pickup and free shipping options, and the Columbia Heights location has quick delivery options that will get to you about as fast as a pizza delivery.
Hemp House
The lore: These guys are pretty much the biggest local chain in town and their same-day delivery reach is hands down the best in the area.
What they offer: All kinds of stuff! Bevvies, gummies, drops to add to food and drink, mints, CBD, CBD for your dog–pretty much everything except vapes and other inhalables. They also carry No Coast, one of my favorite gummy brands right now. 
Vibe: This is another one I haven't made it to yet. But the delivery had good vibes. It's always funny when you get a "your weed is coming for you!" text, and my order came in a cute little shopping bag. 
Where you can find it: 6015 Lyndale Ave. S., Minneapolis; 1995 Burns Ave., St. Paul; 719 W. 26th St., Minneapolis. Coming soon: 3510 124th Ave. NW, Coon Rapids.
Can you shop online? Yes! And they do same day/speedy-fast Jimmy John-style delivery if you're nearby. And by nearby, I mean pretty much anywhere in the metro, including outer-ring 'burbs. It's $6.99 for orders under $50 and free for over, plus you often get freebies for orders over $100. 
Nothing but Hemp
The lore: CEO Steven Brown has been a major advocate for hemp-derived THC and CBD products for years, showing up in features from High Times and pretty much every local media source in town. He's also a co-founder of the Minnesota Hemp Association.
What they offer: Pretty much everything but the smokeables (at least, right now). They often have pretty good sales on the site, with good stuff for half-off. Their in-house Nothing but Hemp brand is also a good buy. They also sell a locally made elderberry syrup.
Vibe: "Nothing But Hemp has served over 40,000 people nationwide." These guys are the McD's of the local weed industry, but I mean that is a good way. They're probably the biggest player in town, with their hands in lobbying, wholesale manufacturing, sales, and all kinds of things both public facing and behind the scenes in the THC industry.
Where you can find it: 742 Grand Ave., St. Paul, plus locations in Bemidji, Tower, Forest Lake, White Bear Lake, and in Nevada and Florida.
Can you shop online? Hell yeah, and since these guys specialize in wholesale and delivery, I would say this is the recommended way to go with them. They also do same-day delivery to a huge swath of locations, from Burnsville to Hugo. You looking to get high, Little Canada? They got you.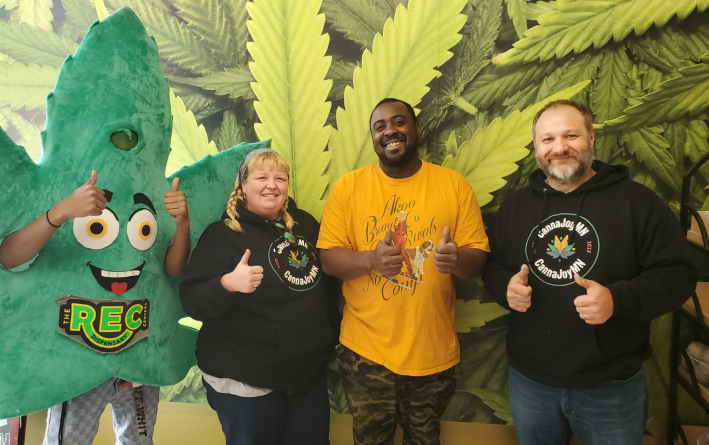 Honorable Mentions
I am but one humble weed sampler. Below are some shops that I haven't visited or ordered online from yet, some I have been to but they don't quite fit into what I'm covering here. Either way, I feel I would be remiss to not include them somewhere in this roundup. 
You can find these guys in Uptown and the North Loop (inside spa/lifestyle store Jeromeo). This is another place I'm planning to check in with soon.
I haven't shopped here, but they're on my radar. They seem to be farming-focused, with a seed bank and other resources for growers. It looks like they also sell gummies and seltzers. 
This is another growing-focused shop that sells edibles as well as starter plants, and hosts a variety of gardening classes. Neat! 
I have shopped here! They usually carry a small, but solid collection of THC gummies and sodas, and their staff is friendly (including a shop dog that was hanging out the last time I visited). This is a great place for paraphernalia, too, should you need a pipe or a grinder, for example. They also showcase and host some of the most amazing glass pieces. 
Stay in touch
Sign up for our free newsletter