Kaitlyn Luhm creates perfectly imperfect food: a half-eaten pan of brownies is lined with icing remnants and crumbs, a slice of pizza glistens with grease, avocado toast looks less Insta aspirational and more like something you'd make in your kitchen. But don't worry, it's not for eating, it's for wearing. Specifically, on your ears. Luhm is a master of tiny food jewelry, one of the most adorable/smile-inducing/dazzling art forms.
"Imperfections are a key to realism," she explains. "I want my work to look like food from the real world. When playing with dollhouses as a kid, I always thought everything looked too unrealistic. Usually it's poorly painted and manufactured with visible seams from the quick molding process."
Though she's always had an interest in miniatures, Luhm, a Twin Cities based artist, says she "got serious" about experimenting with polymer clay in high school, selling her creations with her dad at flea markets. Now, at 25, she's creating mind-boggling, hyper-realistic marvels she sells via her online shop and on Instagram.
While many miniature food artists excel at making tiny waffles and cupcakes (and yes, Luhm makes those, too), it's the more unusual choices, like raw chicken marinating in a bag of juices and lemons, that really stand out.  
"There were some bags of chicken in my freezer that I knew I should probably cook soon and I thought, 'That would actually be really funny for earrings,'" she says. "So I sculpted them more as a funny thing, because of how random and absurd it would be." 
To create her pieces, Luhm uses a mix of oven bakeable polymer and liquid clays. Colors are mixed by hand, and things like sandpaper, needles, and nail tools are used to add texture. Items are often topped with translucent clay to make them less harsh/cartoonish looking, followed by more painting and varnishing.
It can be a tedious and complex process. Her food nemesis is rice. 
"It's hard to make the grains not look too big, or too squared off," she says. "I add a general base layer and make Every. Individual. Grain. A single pair of earrings can take me days because of how tedious it is."
Pickle jars are also a challenge:
"I sculpt the herbs and seeds that you usually see settled at the bottom and throughout, which takes a lot of time," she says. "Trying to place and position all the ingredients with a needle through the thin opening at the top of the jar gets really frustrating after a couple pairs!"
Luhm finds inspiration from foods of the season, recent cravings, and leftover pieces from other projects. ("Leftover food in the clay world can be used again, just like in the real world.") She also takes commissions from clients; projects have included replicating family meals and recreating a restaurant dish from a first date. 
"I am currently working on a request for dinner plates and one with small bits of leftover mac and cheese and nuggets with the veggies left behind, because that's how her kid used to eat it," she says. "I think it could be fun to sculpt a framed piece with multiple iconic MN dishes from small local restaurants. I was going to do that during the pandemic, but it was short lived when I got called back to work."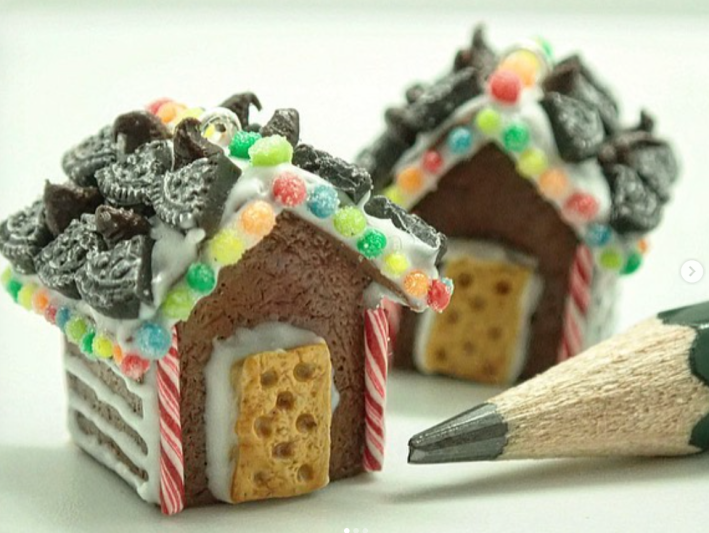 That day job is working at various art stores. But these days Luhm has started focusing on her art, taking classes and building a portfolio (she additionally works in gelli and cyanotype printing, as well as mixed media). She also recently joined the International Guild of Miniature Artisans (yes, it's as amazing and adorable as it sounds).
"All my art tends to be less than 6-by-6 inches, but I do branch out, such as painting pairs of shoes or creating work for NEMAA's 10" x 10" fundraiser," she says.
Another really cool thing about her food jewelry? Ten percent of the profits benefit Community Kitchen Minneapolis.
"I also plan to make some more exclusive pairs that I will donate 100% of profits to Community Kitchen," she says. "I did that with the 'chili and cornbread' earrings this holiday, and I hope to rotate other designs this year."