That thing where someone needs you to stand up so they can squeeze past you to their seat — and they apologize like they're asking you to donate a kidney? It's back. Those murmurs of appreciation that ripple through the theater as viewers pick up on an unsubtle topical reference? Back! The asks for audience participation? To paraphrase Bill Withers, it feels so good getting used.
Of course, "back" doesn't quite mean back to normal. Nearly 19 months after the COVID shutdown, after multiple tentative comeback plans were derailed, the Guthrie Theater has finally, officially, been able to launch a new show. 
The national tour of What the Constitution Means to Me opened Wednesday night in a venue still visibly haunted by the relentless pandemic. The Guthrie's bars and refreshment stands were empty; instead, stanchions marked a line snaking past the Target Lounge for masked theatergoers to get their vaccine cards checked before making their way to the McGuire Proscenium Stage.
Heidi Schreck's memoir play opened in 2017, when the Trump administration's Constitutional stress-test was just beginning. As national attention has increasingly turned to the document's flaws, What the Constitution Means to Me has been part of the conversation. The show played on Broadway in 2019, earning two Tony nominations, and a filmed performance was released last year on Amazon Prime Video.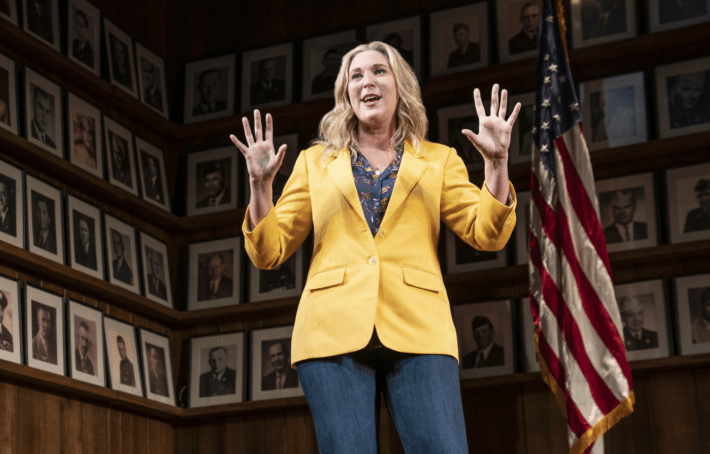 As the playwright explains, she became a teenager adept at winning American Legion speech contests centered on the Constitution. On Rachel Hauck's set, an only slightly exaggerated depiction of a typical Legion hall lined with endless 8×10 headshots of greying men in uniform, Schreck—in the person of actor Cassie Beck—takes a podium and attempts to reconstruct her successful speech. Things inevitably unravel, despite the stern presence of a timer-wielding Legionnaire (Mike Iveson). Eventually, an actual teen shows up (Jocelyn Shek on Wednesday; Emilyn Toffler also takes turns in the role) to debate the Constitution's merits with Schreck/Beck.
The McGuire stage is a lot bigger than the average Legion hall, but this confident production successfully plays to the entire house. Much of it is a well-honed monologue, with Schreck detailing just how concretely the seemingly esoteric ninth and fourteenth amendments have affected the lives of American women—including those in her own family, where two generations faced a domestic abuser and had to rely on our damagingly biased legal system to protect them.
The show's concluding debate may not be, dramaturgically, the most compelling way to wrap, but wrapping in a conventional sense was never the point. Under the direction of Oliver Butler, the show strives to meet the moment and emphasize personal connection, complete with a closing gambit where Beck and the younger actor take turns asking one another audience-submitted questions. On Wednesday, one of the queries for Beck was whether there was anything she genuinely enjoyed doing on Zoom.
"On Zoom?" she asked incredulously, then answered definitively: no. The audience responded with deeply-felt applause, live and in person.
What the Constitution Means to Me is at the Guthrie Theater through October 24. Find tickets here.