Welcome back to The Flyover, your daily midday digest of what local media outlets and Twitter-ers are gabbing about.
The Good, the Bad, and the Kinda Weird Parts of the New Weed Bill Proposal
Can weed become more legal? Yes! On January 3, states leaders were sworn in for new terms. Two days later, we've got a draft for a new marijuana bill, sponsored by Rep. Zack Stephenson (DFL-Coon Rapids) and Sen. Lindsey Port (DFL-Burnsville), and there's a hearing scheduled at the House Commerce Committee next Wednesday. Gov. Tim Walz has already said that he would sign off on a new bill should it come his way (presumably while Jesse Ventura tokes in the background). Damn, who says politics is slow? Things could easily be amended or taken off the table before a bill becomes law, but here's a rundown of what's on the line here.
Important:
Prior marijuana records would automatically be expunged.
An Office of Cannabis Management would be created, and would include a Division of Social Equity, which would prioritize licenses for people in low-income areas and military vets who were impacted by weed-related offenses.
Coooool!
Liquor stores would be able to carry THC inventory.
Cannabis delivery services could become a thing. Like ordering pizza!
Specifically licensed events expressly allowing weed consumption would be a-okay. (This is already happening, but great to get it on the books, right?)
Folks could be able to grow up to eight plants in their home, and could have up to five pounds of weed at their residence. 
Municipalities would not be permitted to ban THC businesses in their area. (Take that, Stillwater!) But, like strip clubs, they could control the location and hours of operation.
Kinda weird, but okay!
Counties could run their own dispensaries. 
We knew this was coming:
THC retail would be taxed at 8%. Liquor retail is at 6.875% sales tax and, according to MN Revenue, "cigarettes [are] 3.46 cents per cigarette, 69.2 cents per pack of 20 cigarettes, or 86.50 cents per pack of 25 cigarettes." Hey, 'dems the breaks when you're dealing with "sin taxes."
Showtime's Documentary About North High Football Looks a Little Shoddy
"That is off limits," North High football coach Charles Adams III says as he drives past George Floyd Square. "They done blocked it off to where they don't even let people come in there." This information is presented without clarification in Peter Berg's new four-part documentary series on Showtime, Boys in Blue (premiering this Friday), which focuses on the North High Polars football team. Adams's statement will come as a surprise to anyone who's spent time at 38th and Chicago over the past three years, which is many people—pretty much anyone who wanted to, in fact. 
Berg, the guy behind Friday Night Lights, doesn't even clarify that Floyd was murdered in south Minneapolis, or that this is where the greatest concentration of protests and riots were. Instead he implies that North High is somehow around the corner from these events. (He also includes a clip of a woman in L.A. slapping a cop for some reason.) And when North High principal Mauri Friestleben talks about the problems that north Minneapolis faces, we again get a quick visual tour of south Minneapolis. 
Another complaint? Berg's pervasive use of what YouTube's closed captioning calls "edgy music," even to soundtrack casual conversations between students, transforming the everyday lives of North Side teens—who, as the doc attests, have enough problems—into melodrama. This is all in the first episode (the only one we've seen), so maybe Boys in Blue may get better from there. But from the evidence available, it looks like a sadly unnuanced take on a topic that deserves better. 
Oliphant Moving Into LynLake Brewery Space
That header above is… about all the information we have so far regarding Oliphant Brewing's apparent takeover of LynLake Brewery. Southwest Voices reports that someone "familiar with the deal" says staffers learned about the change roughly six weeks ago, and a liquor license for Oliphant at that address (2934 Lyndale Ave. S.) was approved this week. But both breweries are non-disclosured up, so we don't know much else. Oliphant is based in Somerset, Wisconsin, which would explain why LynLake became a Packer bar during the 2022-23 NFL season. We'll see what happens!
Cheers Intro Featured 'Rootin' Tootin'' MN Lumber Town
You sickos craving yet another local angle? Thank The Forum of Fargo-Moorhead for this one: One of the old-timey tavern photos in the opening credits montage to Cheers is from none other than Craigville, Minnesota, circa 1937. 
Here's the original, courtesy of the Library of Congress: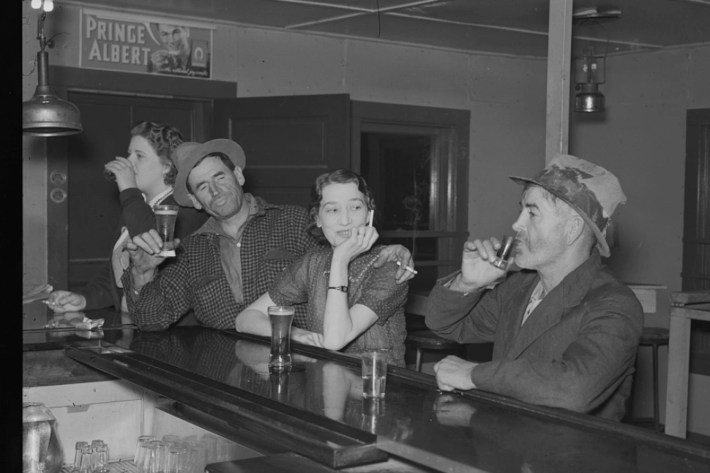 And here's the colorized version used by Cheers: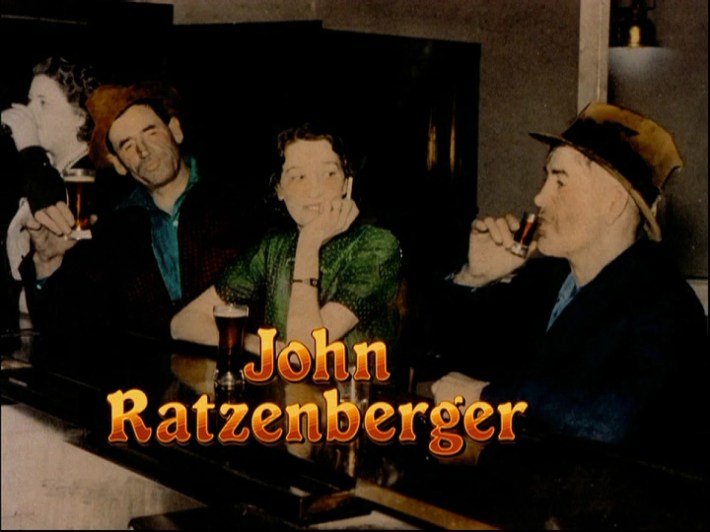 Drinkers in the tiny, northern Minnesota logging community may well have known your name, the newspaper reports, but there's no certainty they'd be glad you came. "In Craigville, you were more likely to find hooligans, troublemakers, and felons" than Sammy, Norm, and the gang, writes journalist Tracy Briggs. The rest of the piece is light on Hollywood intrigue but heavy on the intriguing history of a Koochiching County town that was "wild and untamed, and largely outside the reach of authorities," according to writer Aaron Brown. For a deep-dive history on the origins of the Cheers theme song, consult this recent/fun article from American Songwriter.