Looking at nature is pretty rad, right. Right now is prime peepin' season for birdwatchers, flower enthusiasts, and cottagecore Instagrammers. So pop that Claritin-D, we're heading into nature!
Bakken Museum
Explore three gardens–a medicinal garden, a healthy heart vegetable garden, and a Dakota native plants garden–on the West side of Bde Maka Ska, all maintained with green practices (no pesticides or chemicals). Access is included with museum admission. Visitors can bring a picnic to enjoy at tables on our rooftop lawn. 3537 Zenith Ave. S., Minneapolis; 612-446-3107; thebakken.org/exhibit/gardens.
Como Park Zoo and Conservatory
Conservatory features hundreds of plants from throughout the world. Inside you'll find rooms dedicated to orchids, bonsai, tropical plants, and ferns, while outside you can stroll through water gardens, the Japanese garden, and more. 1225 Estabrook Dr., St. Paul; 651-487-8200; comozooconservatory.org.
Eloise Butler Wildflower Garden and Bird Sanctuary
This 15-acre preserve is great for birdwatchers. Take a trail hike and try to spot all 600 plant and 130 bird species in Theodore Wirth Park. 1 Theodore Wirth Pkwy. (south of Glenwood Ave.), Minneapolis, 612-370-4903; minneapolisparks.org.
Franconia Sculpture Park
This 50-acre outdoor museum features a variety of sculptures in a natural setting, and hosts events throughout the year, including festivals, iron pours, movie screenings, and live music. 29836 St. Croix Trail, Shafer; 651-257-6668; franconia.org.
JD Rivers' Children's Garden
Kids and teens learn to grow produce inside this garden in Theodore Wirth Park. Shop from the garden during open hours. 2900 Glenwood Ave., Minneapolis; 612-499-3071; minneapolisparks.org.
Longfellow Gardens
Featuring downtown views, a gorgeous arbor often used in prom and wedding photoshoots, and plenty of flora and fauna living their best–pesticide-free!–lives in Minnehaha Regional Park. 3933 E Minnehaha Pkwy., Minneapolis; 612-230-6400; minneapolisparks.org.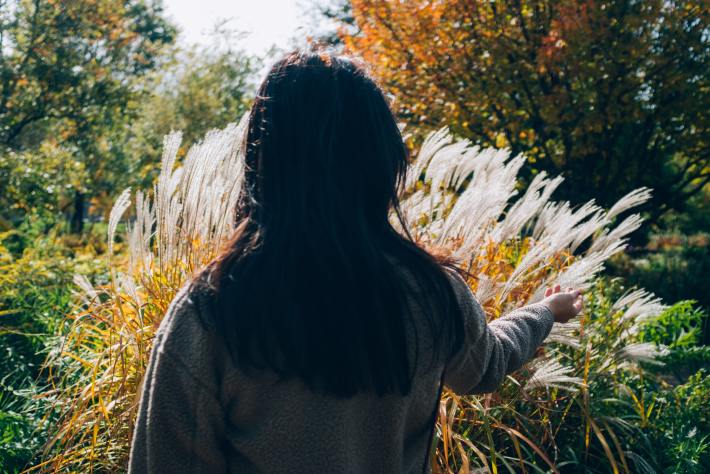 Loring Park Garden of the Seasons
This circular garden features native trees and shrubs, a rainbow of flowers, and plenty of green in this deceptively large downtown park that's on the way to a variety of bars, restaurants, music venues, and museums. 1382 Willow St., Minneapolis; minneapolisparks.org.
Lowry Nature Center
Fun fact: This was the first nature center built in the Twin Cities metro. The prairie preserve is home to deer, raptors, beaver, otters, butterflies, trumpeter swans, and osprey, and Lowry offers nature programs for children, school groups, and families. Carver Park Reserve, 7025 Victoria Dr., Victoria; 763-694-7650; threeriversparks.org.
Lyndale Park Gardens
This 61-acre park features an historic, 120-years-old rose garden with 250 varieties of roses, a perennial garden, a bird and butterfly garden, and the Peace Garden, built from stones recovered from Hiroshima and Nagasaki, Japan. 4124 Roseway Rd., Minneapolis, 612-230-6400; minneapolisparks.org.
Maplewood Nature Center
This park includes nature trails, an educational visitor center, wetland viewing stations, and outdoor natural play area. 2659 E. 7th St., Maplewood, 651-249-2170; maplewoodnaturecenter.com.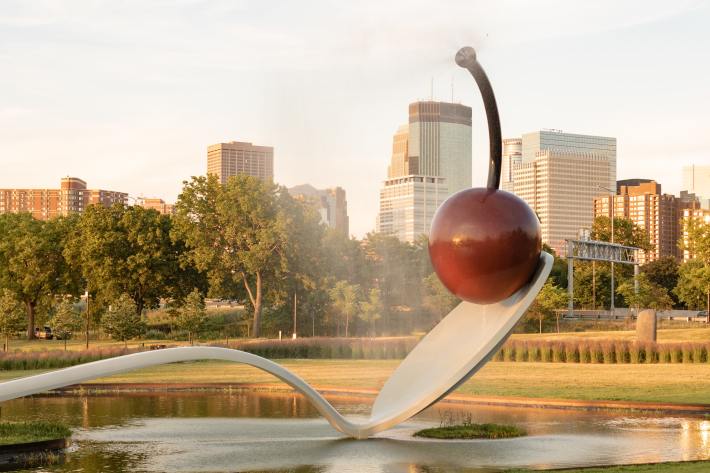 Minneapolis Sculpture Garden
You guys know this one. This is the one with the iconic Spoonbridge and Cherry. The outdoor sculpture and topiary park is open 365 days a year from 6 a.m. to midnight, and has been known to host a variety of concerts, yoga sessions, kid-friendly activities, and more. It's also a popular photo stop for tourists and locals alike, and managed via a partnership between the Walker Art Museum and the Minneapolis Park & Recreation Board. 726 Vineland Place, Minneapolis; minneapolisparks.org.
Minnehaha Falls Pergola Gardens
Aw yeah! Who doesn't like walking through a plant-covered structure like you're a magical fairy? This garden is right by Minnehaha Falls, and features plants native to our regions. 4801 Minnehaha Ave., Minneapolis; minneapolisparks.org.
Minnesota Valley National Wildlife Refuge
This 34-mile preserve is home to fish, coyotes, foxes, beavers, and a variety of birds and amphibians, with open trails throughout the refuge. 3815 American Blvd. E., Bloomington, 952-854-5900; fws.gov.
Noerenberg Memorial Gardens
Formal flower gardens along the shore of Crystal Bay on Lake Minnetonka, featuring a blend of perennials, annuals, trees, shrubs, and vines. Open from 8 a.m.-sunset May through October. 2865 Northshore Dr., Wayzata; 763-559-6700; threeriversparks.org.
Nokomis Naturescape Garden
This 4-acre garden at Lake Nokomis Park features native plants and is a big hit with local butterflies. 5001 E. Lake Nokomis Pkwy., Minneapolis; minneapolisparks.org.
Normandale Community College Japanese Garden
This two-acre suburban oasis features a waterfall, lagoon, strolling paths, and landscaping. 9700 France Ave. S., Bloomington; 952-352-8200; normandale.edu/japanesegarden.
Richardson Nature Center
Featuring raptors, amphibians, and reptiles, plus hiking trails through a variety of habitats. Highland Lake Park Reserve, 8737 E. Bush Lake Rd., Bloomington, 763-694-7676; threeriversparks.org. 
Song of Hiawatha Garden 
This circular garden is right by the falls, and includes seating amongst natural grasses and flowers. 4801 S. Minnehaha Dr., Minneapolis; minneapolisparks.org.
Tamarack Nature Center
This 320-acre habitat is for heron, turtle, mink, and muskrat with outdoor trails throughout the grounds, plus a kid-friendly hands-on zone for little ones. 5287 Otter Lake Rd., White Bear Township; 651-407-5350; co.ramsey.mn.us.
University of Minnesota Landscape Arboretum
A thousand acres of public gardens, including annual and perennial display gardens, plants developed for northern climates, natural and native areas, and demonstration gardens. Visit their website to reserve a reservation. 3675 Arboretum Dr., Chaska; 952-443-1400; arboretum.umn.edu.
Related: