Guatemala-born, Chicago-based artist Adrian Stein has truly blessed the Twin Cities with a new project called Quantum Mirror.
Quantum Mirror—an immersive art experience that involves a "reality-bending infinity room"—was brought to life with the help of REM5 Virtual Reality Laboratory in St. Louis Park. Just a short ride from the cities, it's truly worth the trip to go on this… well, trip. 
Before entering the Quantum Mirror experience, your "Quantum Concierge" will give you a brief overview of the project, and let you absorb all the info before actually going into the mirrored room. When we entered the waiting area, our guides asked us to think about three things while we experience this: our digital selves, our physical selves, and our infinite selves. 
This was already blowing my mind. They were saying so many words, and there was just so much going on. I was fully under the impression this was just gonna be a cute place to take some selfies. It is very much that, but it's also so much more.
In the waiting room there are six seats. You're given a VR headset to put on to experience your virtual self first. The entire VR visual experience was really incredible, and my favorite part was stretching my arms out in front of me and seeing them entirely in chrome, similar to the chrome arm doors located in the space. There are other parts during this VR section of the tour that you'll just have to see for yourself. Some of this shit is nearly impossible to explain.
After the VR headsets come off, your group (which is always a party of six or less, if you want a private experience you're encouraged to reach out to REM5 directly) is carefully escorted into the Quantum Mirror. In the middle of the room is a console that acts like a heart; it's what makes the room come alive and assists with connecting your digital self with your physical self while inside the Quantum Mirror. 
The room is made entirely of mirrors, from top to bottom. So for the love of god, please wear socks. Don't just roll up to the place in crocs like I did. (Since the floor is also mirrored they provide single-use booties to walk around in.) 
The 30-minute experience goes by fast. The Quantum Concierge mentioned they've had folks come back multiple times already, and I can totally understand why: It's engulfing, and a complete sensory overload—in a good way. It encourages you to look and think about yourself reflected back in so many different ways thanks to changes in the lighting, and the sizes and angles of the mirrored surfaces. It's truly mind blowing. 
Just like with any piece of art, Quantum Mirror is there to make you think beyond the world around us. How do we navigate the physical and digital words? Are we the same in both? While there's only one physical version of us, in these mirrors there are hundreds of us. As Chuck Palahnuik once wrote, "You're a different human being to everybody you meet." This experiential exhibition speaks to that truth, and is a great reminder that who you think you are isn't always what people see you as.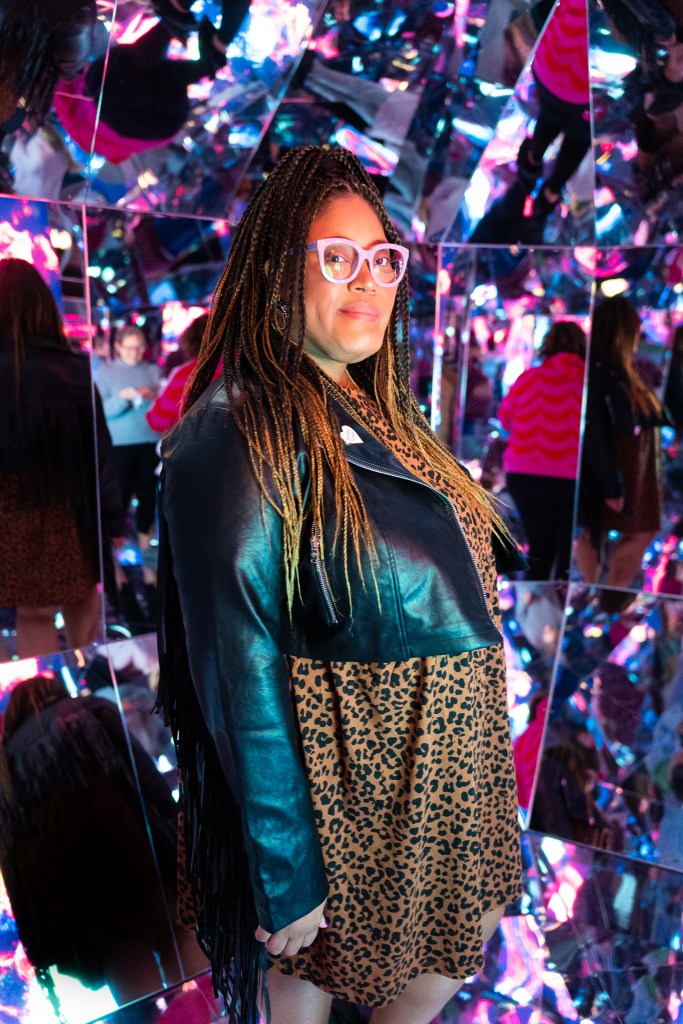 It also made me think about social media and the ways we present our digital selves online. Which of us is real? Is any of it real at all? Each of us has a variety of answers to those questions, and that's what makes Quantum Mirror so great. 
After the experience, guests are invited to leave a note for their digital selves. What did you gain from this experience? What's one thing you want to share with your digital self? People can scan a QR code and save it on their phone, not only as a memory of this amazing installation, but also so they don't forget the connection they had with their digital selves. 
I wrote that I wanted to be nicer to myself. I feel like we're way too hard on ourselves—especially now, with the pandemic, the holidays, and everything going back to "normal" when it really isn't. Quantum Mirror made me think about how I see myself now as well as how I will see myself in the future, and it was a reminder to be kind to every version of me that exists. 
Quantum Mirror Minneapolis
REM5 Virtual Reality Laboratory
4950 W. 35th St., St. Louis Park