Sometimes it gets melted away at a corn feed. Other times it's gifted to friends or food shelves. Several contestants have saved their faces for decades, and at least one is rumored to have her entire 50-year-old butter head still resting, dead-eyed and creamy, inside a freezer.
For 68 years, the Princess Kay of the Milky Way contest has delighted Minnesota State Fair attendees, its butter-head sculptures serving as deeply Minnesotan markers of our state's agrarian culture that coastal elites couldn't possibly wrap their non-buttered heads around. But one element of the industry awareness event eludes even the most die-hard fairgoers: Finalists and winners are sent home with their 90-pound butter sculptures.
"You actually seatbelt it into your passenger seat," Brenna Connelly, the 2020 Princess Kay winner, tells us of her statue's journey from Falcon Heights back home to Byron, Minnesota. There's zero waste when bringing home the butter, as two five-gallon buckets of artistic detritus accompany the shrink-wrapped, boxed head.
Connelly's reign as Minnesota's royal dairy ambassador was novel for two reasons.
"Usually people see the likenesses being sculpted at the Minnesota State Fair, and during my reign we did not have a Minnesota State Fair [due to COIVD-19]," the current U of M junior points out. "So mine was definitely very different, but it was still the thing you dream about as a little girl."
Connelly was also the first winner since 1972 to not be carved by Linda Christensen, who made national headlines when she retired following this year's fair. Christensen's apprentice, Gerry Kulzer, manned the refrigerated butter booth last year. Each carving session—one winner, nine finalists—lasts between six to eight hours.
"You're constantly waving to people, but the booth itself is soundproof," says Theresa Reps, a 2011 finalist who now oversees the Princess Kay event for sponsor Midwest Dairy. "It's almost this indescribable experience because you're sitting in this booth with this tremendous artist as she's sculpting your likeness out of butter."
It took the Reps family almost a year to eat through just the scrap buckets. The following summer, determined to unload their chest freezer, the dairy-farming Olmsted County family hosted a massive corn feed for friends, relatives, and neighbors.
"We slowly started chipping away at the back of the sculpture to melt down butter for the sweet corn," Reps remembers. "My brothers were anxious to start scraping away—dunno if it was years of frustration with me as an older sister." (Connelly's brothers went right for the nose, she reports.)
Reps describes the community of past Princess Kay finalists and winners as a sorority, a network of lifelong friends forever bonded by their buttery immortalization. Most ladies freeze their sculpture, she says, and many have found creative ways to work through that war chest of butter: community bake-offs to support the troops, whole-head donations to food shelves, and lots and lots of holiday baking.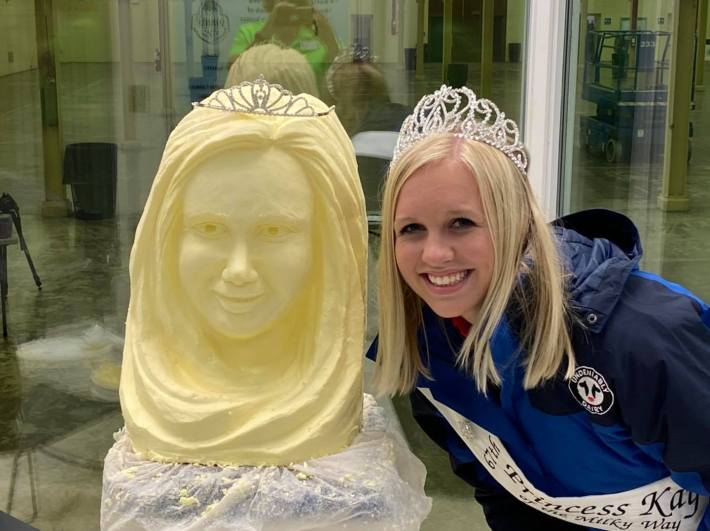 Connelly's family divvied out the scraps to family and friends as thanks for their support, but waited a whole year before pulling the head from their chest freezer. Like Reps before her, she began slicing from the back, "where the hair is." Connelly, who's majoring in animal science plus agricultural communications/marketing, doesn't have any grand plans for the disbursement and consumption of her head. Large portions will be given out to family and friends for Christmastime baking, she says, and whatever is left will be headed to the food shelf.
One important question remains undecided.
"I haven't decided if I'm going to keep a little portion of the face," Connelly says, noting that one past winner has kept her face on ice for 15 years and counting. "I haven't dug into the face yet, I feel like that'll be a little weird; but it's such a special tradition, so just to be a part of it is so cool."
That earnestness about the Princess Kay competition comes up again and again with Connelly and Reps, both of whom patiently humor this reporter's irony-soaked obsession with the absurdist reality of eating one's own butter head. But, reliably, they both default to a noble Midwestern appreciation for what their shared princess heritage means.
"While the butter head is a really unique part of it, it's so much more than just that," Reps says. "It's sharing your love for dairy, your farm, and representing your family and county."