In Hey, What's the Deal With… we're tackling everyday oddities, random curiosities, and what-the-actual-fuck mysteries about life in the Twin Cities. Got a pressing but somewhat trivial Q about something you saw, heard, or thought about while stuck in traffic? Email jay@racketmn.com, and our crack investigative team just might try to figure it out.
You've seen them sitting atop the hill along the 5000 block of Nicollet Avenue in south Minneapolis. Six shining examples—figuratively and literally—of an experimental mid-century modern home style with a dramatic, tragic backstory. They're Lustron homes, and only about 25 exist in Minnesota today.
"They exist because 3.5 million G.I.s came home from World War II with the G.I. Bill in their pockets, so there's this huge demand for housing," explains architectural historian/writer/bassist Dick Kronick. "Carl Strandlund came up with the idea of a steel-paneled house that could be shipped on one flatbed truck and constructed in a couple days."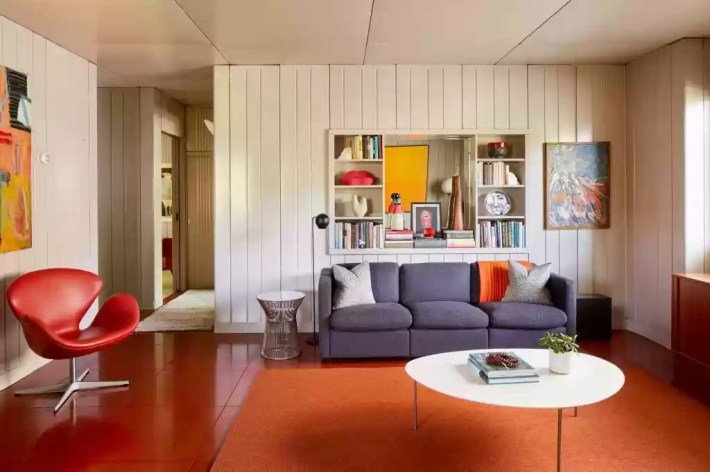 Strandlund made his name in business at the Minneapolis-Moline tractor company, where he'd help secure 100+ patents related to farm tech. The native Swede was a brilliant tinkerer, WOSU Public Media reports, and his obsessive eye for detail even led to him sharing gambling-gleaned insights with the coach of the University of Minnesota football team.
Strandlund would later work in the development of everything from appliances to Army tank plates. Porcelainized steel panels, in particular, captured the businessman's imagination. Texture-wise, think of your stovetop. That technology would form the backbone of Lustron Corp., Strandlund's prefabricated homebuilding company, which aimed to solve the post-WW2 housing crisis.
The assembly of Lustron homes has been likened to an Erector Set: 3,000 pieces ready to be constructed over a cement foundation. The ranch-style homes came in four basic 2- and 3-bedroom configurations, along with a variety of color options: Surf Blue, Dove Gray, Maize Yellow, or Desert Tan. Wanna hang a poster commemorating the 1949 World Series champion New York Yankees? You'd use magnets, since nails wouldn't penetrate the steel walls. At around 1,000 square feet each, the houses were designed for peak efficiency—except for a ceiling-routed radiant heating system that presented obvious, physics-rejecting drawbacks.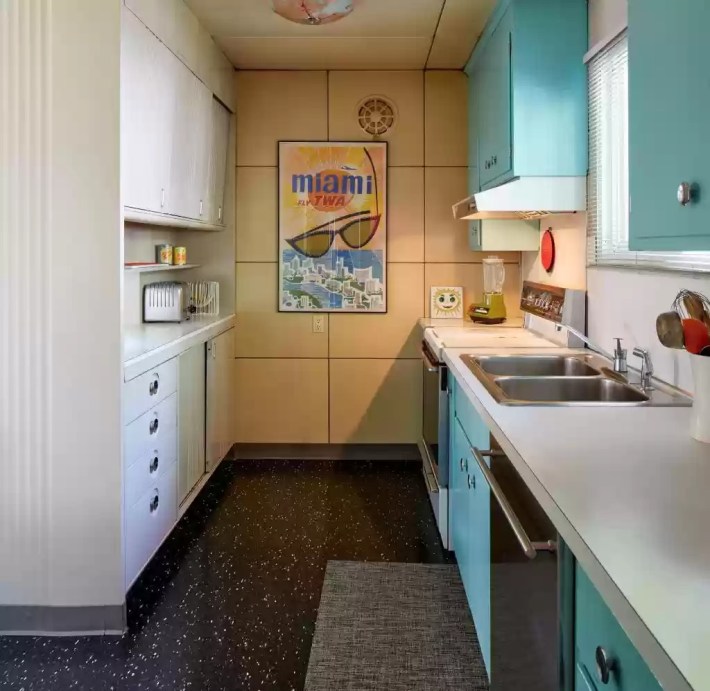 "They're cheap, simple housing; they were made to fit a certain market situation," says Kronick, who serves as a board member with historical preservation group Preserve Minneapolis. "They're not at all energy efficient, but they're efficiently designed–all kinds of built-in cabinets, pocket doors, drawers, all steel. The steel panels are all porcelainized, so they don't rust or rot. They're really long-lasting."
The business behind them wasn't.
Regarded as a spirited salesman, Strandlund secured $37 million in government loans and grants to produce his home of the future, CNN reports. He told Washington his Ohio production plant could churn out 100 Lustrons per days, and sell 'em for around $9,000—roughly $108,000 in today's dollars. At its peak, however, the factory was only able to produce 26 homes in a day, and quickly fell far behind on orders. The feds foreclosed on Strandlund's loans in 1950.
"Strandlund got screwed," Kronick says. "People who were muckety-mucks in the Federal Housing Administration saw that he was doing great, and they wanted their buddies to get a piece of the market. So they sabotaged him."
Western Michigan University history professor Kristin Szylvian agrees, telling WOSU that Strandlund's failure "had nothing to do with great ideas and everything to do with politics."
The Lustron dream was dead just three years into production. Strandlund died "bitter and broke" in 1974.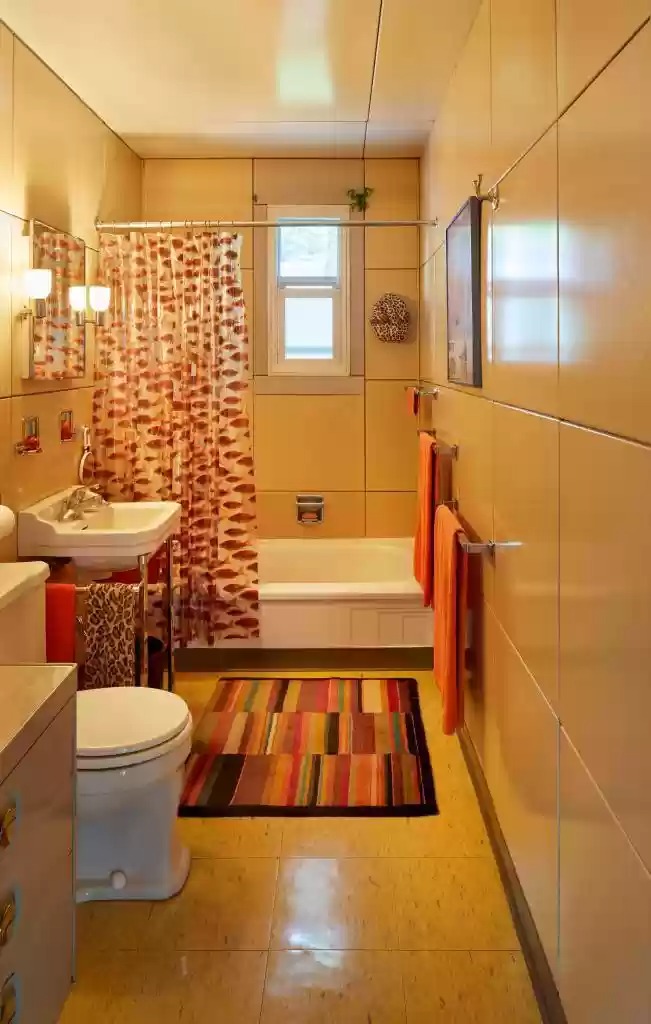 "His last years were pathetic," Strandlund's widow, Clara, told the Star Tribune from her Twin Cities home in 1982. "He told me at the time he was in Lustron that 'This takes so much out of me it will kill me.' They made him out to be a big plunderer of the country's money. He actually died of a broken heart."
Adds Kronick: "It's really a horrible story, it could be a Hollywood movie."
The 3,000-ish completed Lustron homes would prove to have enduring legacies throughout the U.S. Today, at least 50 of the remaining 2,000 are protected by National Register of Historic Places designations, and their pop-modernist, time-capsule design excites buyers whenever they land on the market, as 5009 Nicollet Ave. did in late 2019.
Enjoy this 2011 video tour of Buck Holzemer's on Nicollet.