Some of Liz Larner's sculptural pieces have already damaged the walls of the Walker Art Museum. And, if you visit, you can damage the walls, too.
Corner Basher is a steel tower with a whirling rod that swings back and forth, flinging about a chain with a metal ball attached to it. And when it bashes into things, it is loud. This is a machine built to unsettle—even startle—as it bangs into the walls in the corner of the museum. But whether it sits innocently still or causes a big ruckus is determined by how far guests choose crank up the controls.
"Visitors can decide how aggressive they want to be about that, and how they want to interact with the work and the institution and the walls," curator Mary Ceruti explains during Thursday's media preview. 
"It becomes this thing with people in the room. If someone is overdoing it, you can just come over and shut it off," says L.A.-based artist Liz Larner. 
Corner Basher is one of many playful pieces featured in "Liz Larner: Don't Put It Back Like It Was," a delightful playground of a show that opens to the public this Saturday.  
Although this survey exhibition, featuring over 30 works spanning over 30 years, is a first for Minnesota, you might already be familiar with Larner's X, a Sculpture Garden piece that was installed in 2013. (She says she made sure to visit it first before heading into the museum this week.)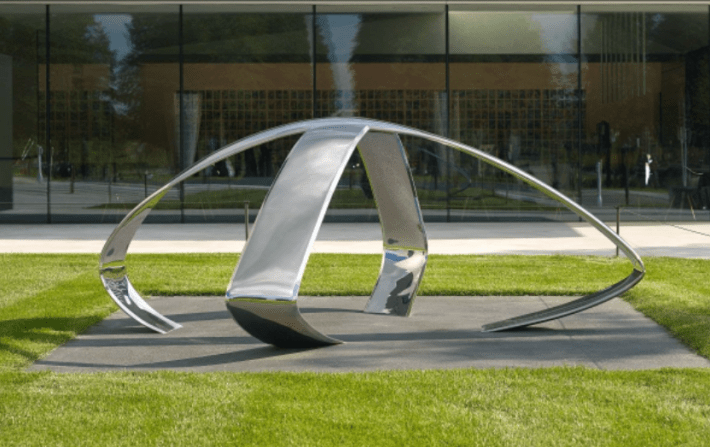 "Don't Put It Back Like It Was" is a great reminder that sculpture is a varied medium. While Larner frequently works with metals, she also employs things like medical gauze, tiny heads from newspaper clippings, ceramics, and mold. 
While it may be hard to ignore the metal (and sometimes kinetic) machines featured in the galleries, there are also small, quiet pieces. In one such work, Orchid, Buttermilk, and a Penny, a petri dish becomes the canvas and biology is the paint.
The work features two petri dishes. Both contain the eponymous trio of ingredients, but one is from a previous show, and has had time to stew into fuzzy bits. The second is freshly made, though it will soon face a similar moldy fate.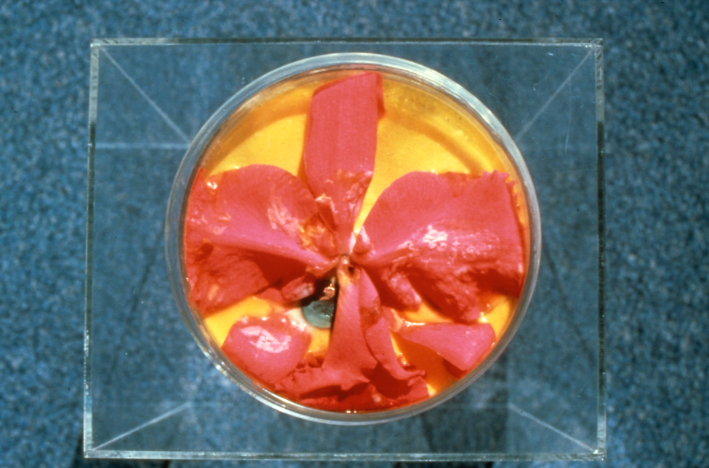 With Larner, what goes into a piece can be a bit of a wildcard.
"The ingredients—it's a long list of ingredients—it's everything you need to make a bronze sculpture and everything you need to make a bomb," Larner gleefully informs us as we approach Used to Do the job, a mysterious cube resting atop a lead base. 
A few steps away is Lash Mat, a banner of sorts created from leather, false eyelashes made from human hair, and glue. There's something oddly lush about it.
No M, No D, Only S & B is probably the most ubiquitous piece used in promo material for the show. Though it may look familiar to you, know that when it's installed in a space it never looks the same way twice. 
"Whoever installs it can install it as they want," explains Ceruti, who did the honors this time. "The only rule is that each piece touches the others. But it looks different every time it's installed."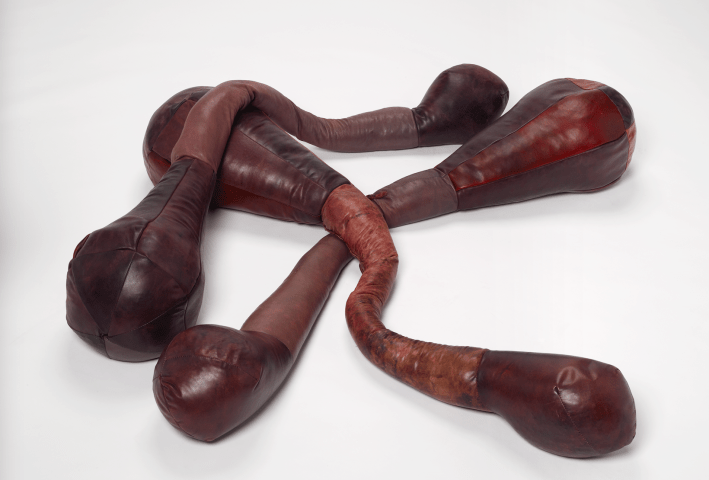 The piece, made from sewn leather and filled with sand and bark, is now part of the Walker permanent collection, but it has an amusing history.
"One thing about this piece that I love is that it was sold at the show it was in, and it went to this family in Orange County," says Larner. "They had this in their living room for 30 years." 
When the father passed, they brought it back to the gallery the bought it from to sell as part of his estate. 
"I love the idea that this weird fucking sculpture was in this family's home," she says. "And now it's at the Walker."
You can see this piece and many others at the Walker when the show opens this Saturday. Larner will also give a free artist's talk with curator Ceruti at 3 p.m. in the Walker Cinema. The show runs through September 4.