More and more people across the U.S. are going vegan, a trend driven by millennials and members of Gen Z. (They're killing… killing animals?) And the only thing greener than their eating habits is the sweet, sweet money lining their wallets—money fast-food companies are increasingly happy to take.
Brooklyn Center-based Caribou Coffee is the latest brand to plant a literal and metaphorical flag in the vegan eats field: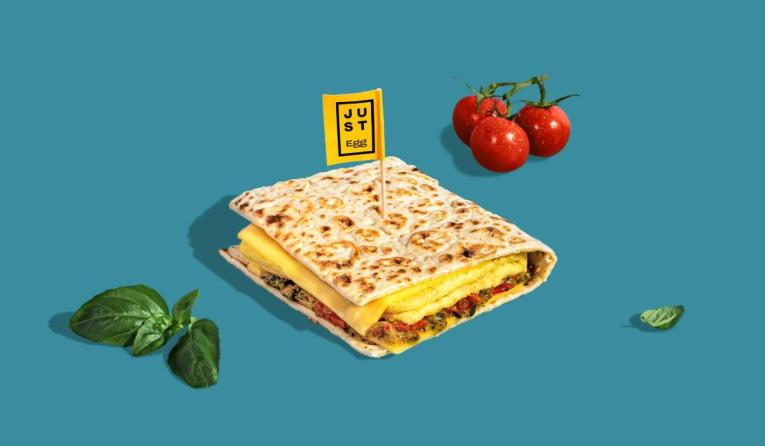 That's the JUST Egg™ Roasted Tomato & Pesto Flatbread, which hit Caribou locations across the U.S. on Thursday. Made with JUST Egg™'s eggless and dairy-free egg substitute, smoked vegan provolone, tomatoes, and a veggie pesto spread, it's the very first vegan offering the Panera Brands-owned coffee chain has popped on its menu.
"This garden-fresh new arrival is packed with plant-based flavors," Caribou's social copy promises. "JUST Egg™ Roasted Tomato & Pesto Flatbread is perfect for sunny weekends and lunch breaks alike."
The JUST Egg™ sammy is now available at nearly 400 Caribou Coffee locations—this much we know to be true. But as for whether it's "packed with plant-based flavors" and "perfect for sunny weekends and lunch breaks alike"? We'll be the judge of that.
Like a lot of fast-food photos (and everything else on Instagram), a little something gets lost in translation between the flatbread's online presence and IRL presentation. And as some of the folks in the Vegan Minnesota group I lurk in have pointed out, it hits you with the "vegan tax"—at $6.49, it's a bit pricier than items like the Sausage, Egg, & Cheddar ($4.99) or Chicken Chorizo Burrito ($5.19).
It's also really good!
I've had my fair share of Beyond burgers and sausage patties before—you can find the latter on some of Caribou's existing vegetarian sandwiches—but this was my first experience with JUST Egg™, the eggless ovo-substitute that hit the market in 2019. In a press release, the company says their nationwide distribution makes them the largest coffeehouse chain using JUST Egg™. And that's a welcome menu inclusion, since industrial egg production—as Glue Girl recently taught us via egg villain Glen Taylor—is the stuff of nightmares.
How convincing is JUST's non-nightmarish faux egg? So eggy that I honestly think, if I didn't know it'd never been near a chicken, I'd have assured you it was the real thing—in texture and in taste, it's much more egg-like than whatever you get on a McMuffin (which I also love, to be clear).
The pesto is lightly applied and brightly acidic, almost becoming one with the cheese—a smoky vegan provolone (prov-almost?) from Violife. You wouldn't quite mistake it for the stuff from cows—it still has a little bit of that vegan-cheese taste—but it's savory and rich and melts beautifully into the warm, gooey sandwich. With a splash of Cry Baby Craig's, the whole thing goes down deliciously.
"It's actually good, and I'm not a vegan!" the friendly fellow who prepared the flatbread had promised, and I agree with him.
Interestingly, Caribou is marketing the Roasted Tomato & Pesto Flatbread as a limited release, presumably to see if vegans and curious omnivores like it enough to make it a year-round menu staple. As a millennial increasingly plagued by meat guilt, I hope it sticks around.