Freeloader Friday is your weekly guide to having fun no matter what your budget looks like. Each week we have a list of 100% free events like gallery parties, music, and films in the park, as well as free admission events like special happy hours, markets, and more.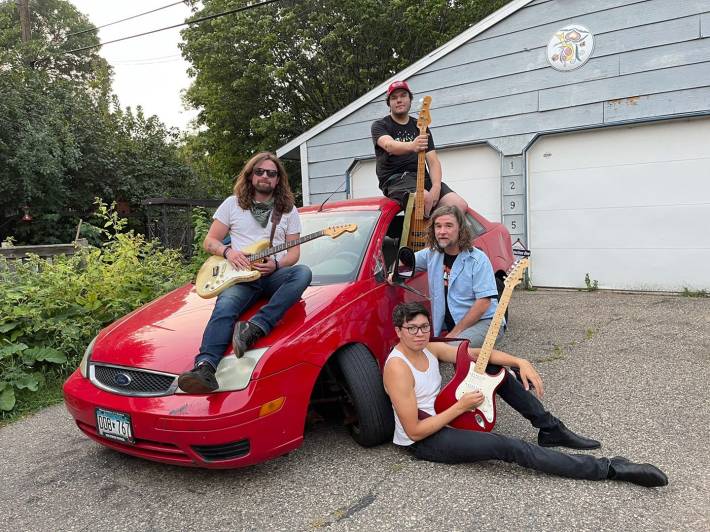 FRIDAY
Catfish Troy Band
6 p.m. 11 Wells Spirits, 704 Minnehaha Ave. E., St. Paul.
Justice for Amir Locke
Rally at the courthouse. 5-7:30 p.m. Hennepin County Government Center, 300 S. Sixth St., Minneapolis.
MLB Opening Day
Featuring the launch of West Coast pale ale Leafy Greens, baseball on seven TVs plus the Jumbotron, $2 hot dogs (vegan available), and free peanuts. Noon to 10 p.m. Eastlake Craft Brewery, 920 East Lake St. (Midtown Global Market), Minneapolis.
Red Eye Ruby, Ben Cook-Feltz, Elour
21+. 9:30 p.m. 331 Club, 331 13th Ave. NE, Minneapolis.
The Right Here, James Eugene Russell, Loser Magnet 
8 p.m. White Squirrel Bar, 974 W. Seventh St., St. Paul.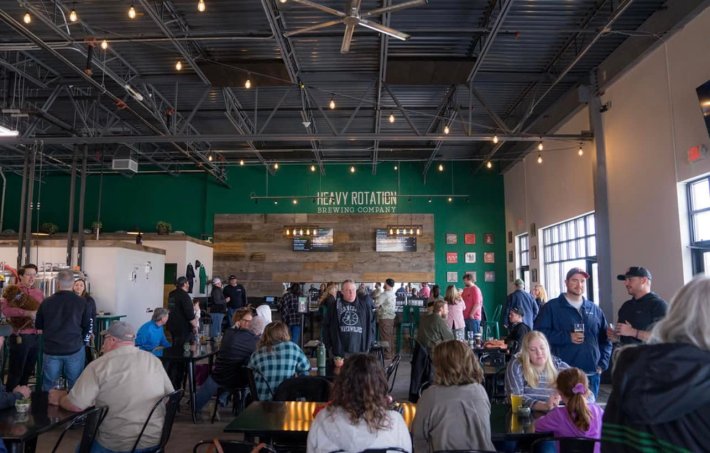 Heavy Rotation Brewing Co.'s Grand Opening
Try some opening day beer. Noon to 10 p.m. Heavy Rotation Brewing Co., 9801 Xenia Ave. N., Minneapolis.
Adult Game Night
Featuring drunk specials, DJ tunes, and games, including giant Jenga, Uno, Connect 4, dominoes, and more. There's also karaoke every 1st and 3rd Fridays of the month. Hyde Kitchen & Cocktails, 24 University Ave. NE, Minneapolis. 
RuPaul's Drag Race Viewing Party
Hosted by B. Louise. 6:30-8:30 p.m. Black Hart of St. Paul, 1415 University Ave. W., St. Paul.
Friday Night Open Mic
21+. 10 p.m. The Comedy Corner Underground, 1501 S. Washington Ave., Minneapolis.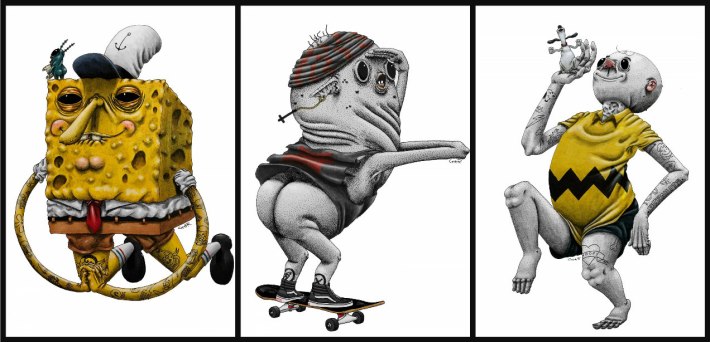 SATURDAY
M U L T I V E R S E
The kooky characters created by Charbel Abuxapqui are a little unsettling, a little uncanny. But know this: They come in peace. And they are coming here soon. The Mexico City artist will be in town this weekend to share his friends with Minneapolis, all while creating a trippy mural for La Doña. Though his pieces can be seen throughout Mexico and he has traveled the world with his art, this will be his first exhibition in the U.S. His work, which explores things like alien lifeforms and multiverses, the theory that there are infinite parallel worlds coexisting aside ours, will be on display in La Doña's Gallery space through May 7. This Saturday, however, you'll be able to watch Abuxapqui work live as he paints a new piece for the restaurant. 4-7 p.m. La Doña Cervecería, 241 Fremont Ave. N., Minneapolis. –Jessica Armbruster
Pryes Paradise
Forget summer. In the Twin Cities, it would be great just to get a little spring. This weekend, Pryes is inviting guests to skip both seasons and just go straight to equatorial vibes. The main draw here is the release of Magic Hour, billed as a tropical smoothie IPA with orange, guava, passionfruit, marshmallow notes. The patio grills will be fired up during the day, serving brats of the beer and Impossible variety, and jerk chicken skewers. Live music starts up around 2 p.m. with electro artist Trent Campbell. 11 a.m. to midnight. Pryes Brewing Company, 1401 W. River Rd. N., Minneapolis. –Jessica Armbruster
Daunte Wright Angelversary
Featuring diner, dancing, and performance celebrating the life of Daunte Wright, who was killed by a police officer during a routine traffic stop. 6-10 p.m. Earle Brown Heritage Center, 6155 Earle Brown Dr., Brooklyn Center.
The Black Market: BBIB Market
Shop clothing, beauty items, jewelry, food, and more from local BIPOC-owned businesses. Reserve a free ticket at theblackmarketmpls.com. 2-6:30 p.m. The Lab – Pilot Facility and Taproom, 767 N. Eustis St., Minneapolis. 
Dinosaur Hampton Clothing Launch Party
Featuring a new, vintage-inspired clothing line by Benjamin Kelly aka Dinosaur Hampton. The party features a raffle, refreshments, and music by Buffalo Function Music Band. 5 p.m. (music at 7 p.m.). 2114 Washington St. NE, Minneapolis.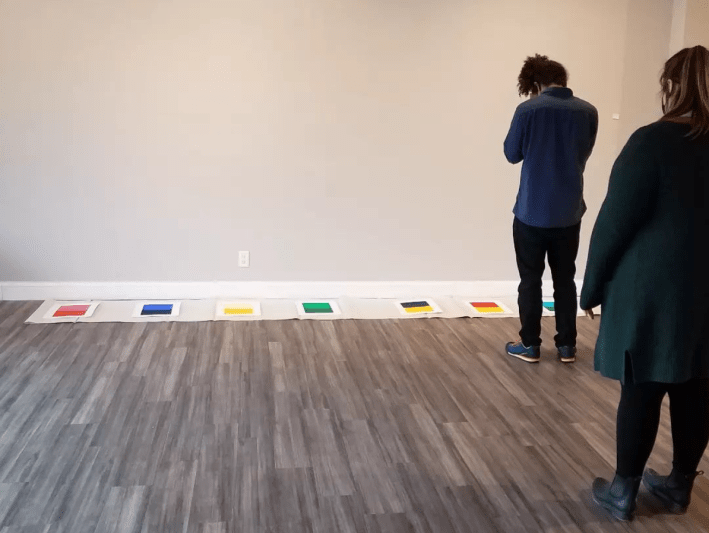 Austin Nash: Variable Edition
Featuring an opening reception 11 a.m. to 7 p.m. with the artist present 4-7 p.m. Burnet Fine Art & Advisory, 775 Lake St. E., Wayzata.
Christian Michael Filardo and Lee Noble
Spoken word, synthesizer, and projected images by the two artists. 8:30 p.m. Find free tickets here. Dreamsong, 1237 Fourth St. NE, Minneapolis.
Kitsch 'n' Kitchen Pop-Down & Church Basement Bake Sale 
Hosted by Junket: Tossed and Found. Some proceeds will benefit the Evansville Arts Coalition. 9 a.m. to 1 p.m. 3751 17th Ave. S., Minneapolis.
Eden Prairie Sale
Featuring housewares, electronics, clothing, sporting goods, toys, games, jewelry, DVDs and VHS, local crafts, and more. 10 a.m.-7 p.m. Friday and Saturday; 9 a.m.-7 p.m. Sunday (plus 50% off on items with a star on the tag this day). 6868 Washington Ave. S., Eden Prairie.
Forest Lake Spring Craft & Vendor Show
Featuring crafters, artists, and food trucks. 10 a.m. to 4 p.m. Saturday; 10 a.m. to 2 p.m. Sunday. Forest Lake Century Middle School, 21395 Goodview Ave. N., Forest Lake.
Voltage Controller Vol. 4
With mount curve and Dean Inman. 3 p.m. 331 Club, 331 13th Ave. NE, Minneapolis.
Kill Palace, Brat Sounds, Rigby
10 p.m. 331 Club, 331 13th Ave. NE, Minneapolis.
Free Saturday Yoga at Union Depot
Bring a yoga mat, water, and towel if you need them. 9 a.m. Union Depot, 214 Fourth St. E., St. Paul.
Second Saturdays
With music from Northern Gale. 7 p.m. Merlin's Rest Pub, 3601 E. Lake St., Minneapolis. 
Mill City Farmers' Market
With local farmers, artisans, ceramics, giftables, food, and more. 10 a.m. to 1 p.m. Mill City Museum, 704 S. Second St., Minneapolis.
SUNDAY
Minneapolis Vintage Market
Featuring vintage clothing, accessories, and home goods, plus food trucks, tunes from DJ Buster Baxter, and coffee, beer, and wine on tap. It's free after noon, but you can buy early-bird tickets at Mplsvintagemarket.com. Noon to 4 p.m. (pay $10 to get in earlier at 11 a.m.). Machine Shop, 300 Second St. SE, Minneapolis.
East Saint Paul Food Truck Festival
Featuring over 20 food trucks. 11 a.m. to 6 p.m. 1669 Arcade St., St. Paul. 
Family Day: Supernatural America
Featuring hands-on activities and freebies. 10 a.m. to 5 p.m. Minneapolis Institute of Art, 2400 Third Ave. S., Minneapolis.
Salsa Sundays
With free lessons with Rene Thompson. 11 a.m. to noon. Midtown Global Market, 920 E. Lake St., Minneapolis.
Level Up Game Day
Play a variety of board games with the neighborhood gaming store. 5 p.m. Lakes & Legends, 1368 Lasalle Ave., Minneapolis.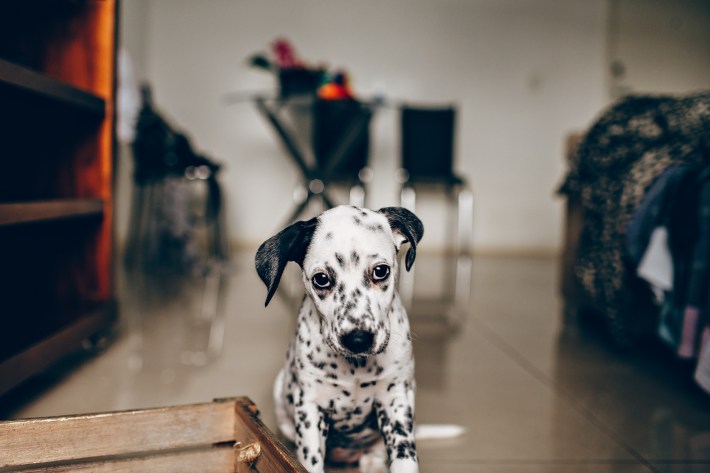 Dalmatian Meetup
Noon to 10 p.m. Lakes & Legends, 1368 Lasalle Ave., Minneapolis.
Minnesota Mandolin Orchestra
1-3 p.m. Landmark Center, 75 Fifth St. W., St. Paul.
Austin FC vs. Minnesota United
6:30 p.m. Brit's Pub, 1110 Nicollet Mall, Minneapolis.
Market Collective MN Makers' Market
Local maker Chingona Goods organizes a market featuring BIPOC and queer vendors plus allies. 1–4 p.m. Lake Monster Brewing Co., 550 Vandalia St., St. Paul.
Indoor Crafter, Antiques, Collectibles, Vintage, Makers Market
Featuring coins, knives, WWII Military collectibles, repurposed items, and handmade stuff. 9 a.m. to 3 p.m. 2421 Fourth Ave., Anoka.
Game Night
Chris H. stops by with board games. Or bring your own. Noon to 5 p.m. LynLake Brewery, 2934 Lyndale Ave. S., Minneapolis.
Open Mic Night
Music, poetry, comedy, whatever is welcome. Sign up at 4:30 p.m. The Cave at Keg and Case Market, 928 W. 7th St., St. Paul.