Former Hennepin County Sheriff Dave Hutchinson isn't what you'd call a non-messy man.
There is, infamously, the 2021 DUI crash that saw Hutch total a police vehicle while driving 126.2 mph from a Brassholes show/law enforcement conference; the wreckage was littered with banana bread, menthol smokes, weed gummy packaging, vape cartridges, and chocolate milk. "Yeah, I didn't drive," he slurred to responding officers. Hutchinson, whose blood alcohol level was .13%, reportedly called around at 1:20 a.m. asking if any Alexandria bars were still open before the crash. He avoided any jail time and was fined $610.
We learned a lot more about Hutch last year, including: his charging $17,588 to a county-issued credit card for Perkins food, Uber rides, and white-noise machines; his racist, sexist, and bullying workplace behavior ("Did I say that? Probably," Hutch acknowledged); and his ability to dodge any meaningful consequences. Hutch's $188,775 salary was docked $500 per month to repay the county for his destroyed '21 Ford Explorer, which cost taxpayers $67,665.13. Earlier this month he got his old job with the Metro Transit Police Department back, for which he'll be paid $115,000 per year.
But all of that has been rigorously reported. Less attention has been paid to Hutch's various social media channels. Through Facebook and Instagram, the disgraced sheriff has loudly posted through his numerous ordeals, displaying little contrition, lots of perceived slight, and a general tone of meme-heavy defiance. For armchair psychologists and/or Hennepin County taxpayers, it's truly a sight to behold.
Let's start with last week's icy, ham-fisted metaphor:
Don't let that nod toward accountability soften you. Mere hours later, Hutch let his followers know exactly much of a fuck he gives:
Via Insta, Hutch weighs in on the reactionary culture wars (keep away from his gas stove, libs) and, while claiming no bitterness, makes routine, obvious meme-nods to those who wronged him. You'll see selfies with his husband one moment, and Minneapolis-is-burning screengrabs punctuated by #NewWorldOrder hashtags the next. His account is a bizarre funhouse where Jungian quotes exist next to low-rent inspirational content you'd typically see from a #VanLife influencer. Standard-issue conservative grievances are voiced (Gov. Walz facilitates rampant crime, COVID-19 isn't a big deal), but the most consistent messaging relates to his fall-from-grace saga:
(That particular post summons the energy of my all-time favorite Trump tweet.)
Over on Facebook, Hutch delivers that energy with more longform panache, though the resulting posts are just as head-scratching. Consider this missive he authored on Christmas Eve:
"The holiday season brings cheer!

Some of you may have read the silly report my subordinates doctored up.

Anyways one joke I allegedly said was "how do

You know your girl friend is getting fat? She fits in your wife's cloths"

As a guy who could benefit greatly from mixing in a salad more often! it wasn't meant to be cruel to heavyset people as I'm by no means "slim thick" and I'm thiccck with 3 c's

I thought why did they complain about that joke I allegedly said!?!?!?

Then it came to me…… more than 3 staffers had issues with their husbands cheating on them (one had to get a restraining order, one had a police report filed on them for retaliation) However it's not a  sexiest issue!

A few of the male staffers had similar issues with their wife's/significant others. Not to the extreme of having police reports filed and needing the court to step in… but issues at least.

Why do I write this? To be mean? No!

I wrote this to say I'm sorry!

Merry Christmas "
Uh huh…
Elsewhere Hutch tells a rambling anecdote about meeting a dementia-stricken millionaire during a Vikings game. Post-game, the fellas reportedly kicked it for an hour in a parking ramp, where tear-filled tales of woe and hope were exchanged. Hutch concludes the would-be heartfelt story with a threat and a hashtag proclamation: "Ps-to the liars and the woke mob-SMD, you didn't break me-you made me even stronger! Y'all dumb-I'm a warrior. Watch your six
. As you were #cantcancelme."
This extent to which liars and the woke mob are responsible for Hutch's downfall is… questionable. More certain are the lessons we, the Hennepin County voters, can glean from the Dave Hutchinson era, chief among them being that identity posturing (Hutch is gay, ergo progressive) is no match for the cop within (Hutch posts like this). One wise lesson Hutch could learn from his predecessor, the lock-'em-up, Reefer Madness-evoking crank Rich Stanek: never, ever post.
But post he does. (God only knows what's lurking behind that protected TikTok account with 2,070 followers.) So we must ask a question that's loaded like a .13 BAC reading: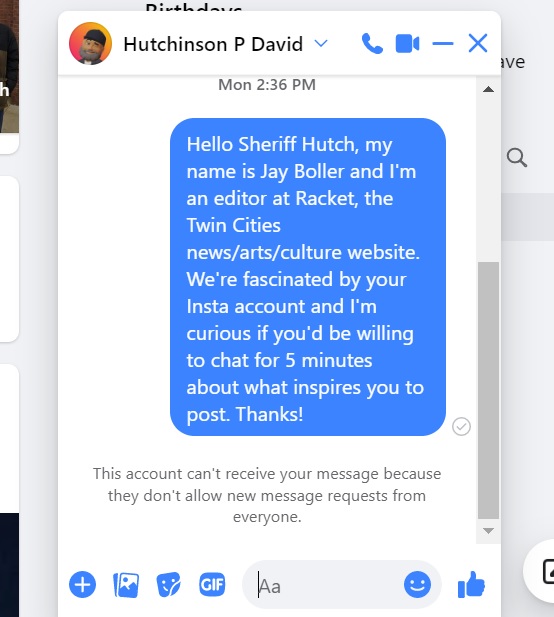 No luck.
We'll keep monitoring his mesmerizing feeds, searching for meaning among the memes.