Welcome to "Five Things," Racket's recurring rundown of new, new-to-us, or otherwise notable Twin Cities restaurants.
This week we're taking a look at Malcolm Yards Market (or "the Market at Malcolm Yards"), the Prospect Hill food hall that opened earlier this month and had been in the works since 2017. Located a few blocks off of University Avenue and easily accessible by the Green Line, it's an obvious fit in a neighborhood full of college students who need somewhere to take their visiting parents and folks who don't want to wait an hour for a table at Surly.
This is a food hall in the hall-iest sense: Vendors line the perimeter of the space in food court fashion, with tables in the middle and a huge outdoor seating area. And it was packed inside and out when Team Racket dropped in last Wednesday evening. Here are five things to know about Malcolm Yards Market.
1. Leave the cash at home
At the market entrance, you'll encounter a host stand, where staffers take your credit card and transfer the info to a Malcolm Yards charge card. You'll use the card to pay for everything you eat and drink during your visit and drop it off before you leave. (That's how the cruise lines get ya.) The card is also how you pay at the serve-yourself beer wall, which charges you down to the ounce for your pour: $6 or $7 for most pints, $4 if you panic at the taps and get a glass full of foam.
2. There are lots of familiar faces
Like food trucks before them, food halls often serve as a lower-stakes way for new restaurants to try their concept—but roughly half of Malcolm Yards tenants are already established. BaGu Sushi's been around since 2006. Del Sur Empanadas opened in 2018 after four years running a food truck. Bebe Zito brought its cult-status small-batch ice cream to Uptown in 2019. And Malcolm Yards is the second food-hall home for Wrecktangle Pizza, the Detroit-style pizzeria with a location in the North Loop Galley, and Joey Meatballs, which has an outpost in Keg and Case West Seventh Market.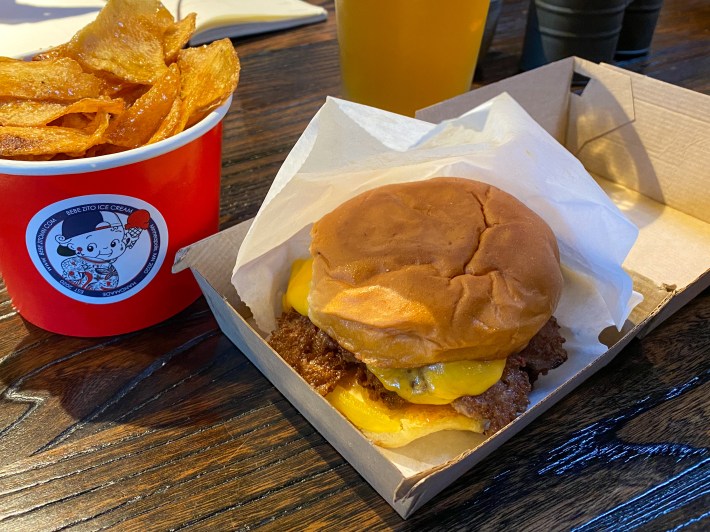 3. It's a great place to share a little of everything
The prices and portions are pretty reasonable at every stand, so you can try a few things (or at least steal a bite or two from your buds). That Bebe Zito burger rings in at just over $6; BaGu Sushi's outstanding sake ceviche is a steal at $12. Get both, and you can use your chop sticks to scoop out the last of Bebe's gooey honey butter chips from their carton.
4. You can drink a "Gabagool Spritz"
The Boxcar Bar serves up signature drinks for every vendor in the market—and they're batch cocktails, so they're ready fast. There's the Grapefruit Shredder (Wrecktangle), the Mumbai Mule (Moma Dosa), and the Gabagool Spritz (Joey Meatballs—who else?). The standout was Del Sur's Argentine Sour, with fernet, Bolivian brandy, sugar cane, lime, prickly pear, and guava essence.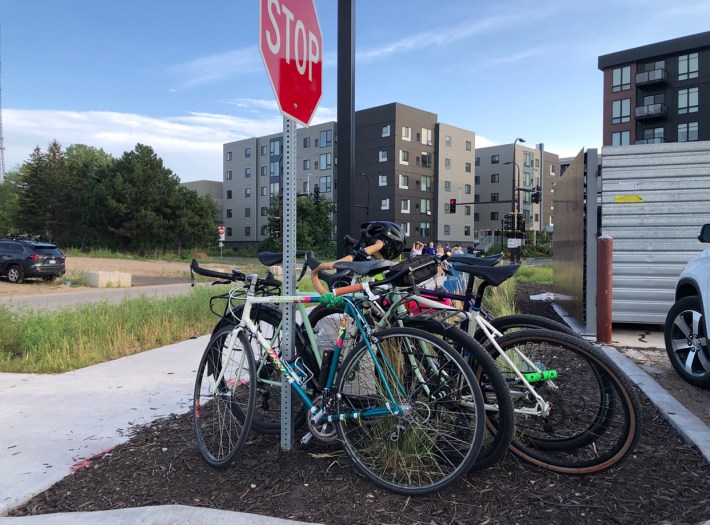 5. You'll have to get creative with your bike
The most baffling thing about Malcolm Yards was the complete lack of bike parking. It's in a super walkable, bikeable, accessible area… why are there no racks? Why does every street sign have between two and four bicycles locked to it? Apparently, as with innumerable other little frustrations, the answer is COVID—the hall heard from so many irritated cyclists that they addressed the parking problem in a recent Facebook post, and racks will arrive next month. (Again, this food hall has been in the works since 2017.) Until then, you'll either need to find a friend who lets you lock up to them or commandeer a rack at Surly.