Before the Delta variant got the globe in its grip, many of us started to gather again for outdoor birthday parties, graduations, and other celebrations, a lot of which centered around grilling. And those of us who bought houses (in spite of intense competition) wanted to introduce friends to our yards. 
That's how our household ended up buying 10 pounds of hot dogs.
At our housewarming party, our pals helped us guzzle down some of those dogs, but as we rubbed the crust from our eyes the following day, we realized our household of two was still rich in tube meats. What the fuck were we going to do with all of those hot dogs? 
Well, Racket friends, let me tell you: We got creative. (Also, we ate hot dogs for breakfast, lunch, and dinner.)
Let's start with the basics.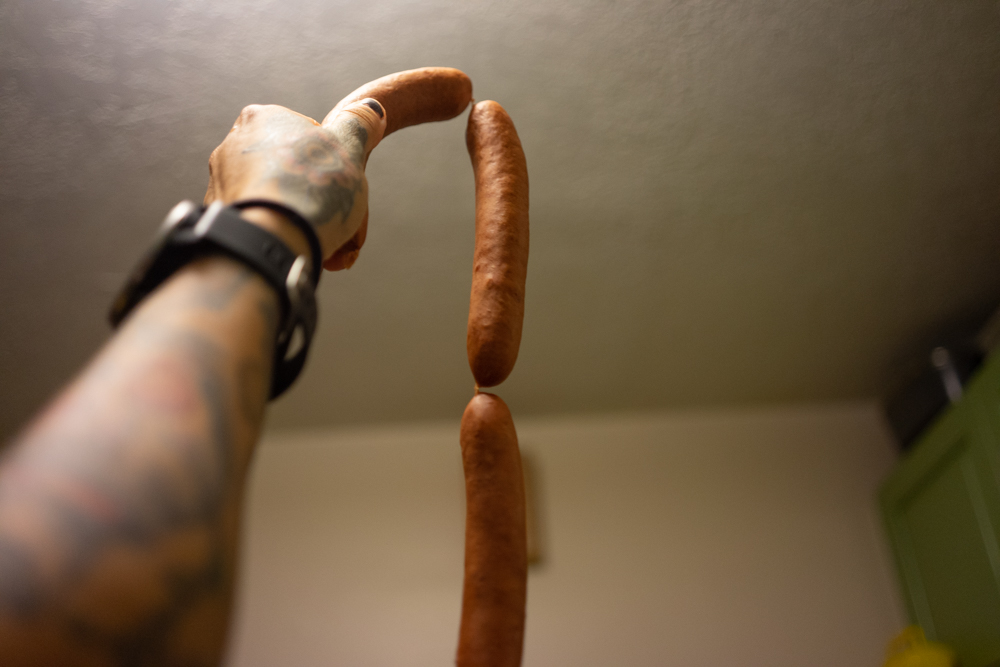 The Wieners
Every hot dog-eating feat begins with a good wiener. Ours were locally purchased from old-school Robbinsdale butcher Hackenmueller's. They've been cutting meat and making sausages since 1939, and their "Old Fashion Wiener" was our weapon of choice. This is a wiener you can trust for many applications, with a snappy casing, a satisfying grind, and a perfectly salty, savory flavor. It's definitely worth supporting your local butcher whenever you're able. (Looking at you, Kramarczuk's and Everett's.) If you must stock up on grocery-store dogs, Ambassador Old Fashioned Wieners can't be beat, and their mascot is a hot dog in a tuxedo complete with top hat, spats, and a drum major baton. That hot dog is GOING places, probably at least to Flavortown, and is absolutely worth following.
Advanced Hot Doggery
Mac 'n Weenies
It works because it's a classic, folks. I'm sure some of you ate this as kids or have made it for your own kiddos with Kraft macaroni and Oscar Meyer wieners, but you can take it to the next level by upgrading to a fancier boxed mac like Annie's. Brown the butter before you mix in the powders, add your hot dogs, and top with freshly grated parmesan, black pepper, and a drizzle of truffle oil if you've got some on hand. The dogs add texture and smokiness to the soft noodles, and pairing it with browned butter makes for a very rich dish, so keep those Tums handy.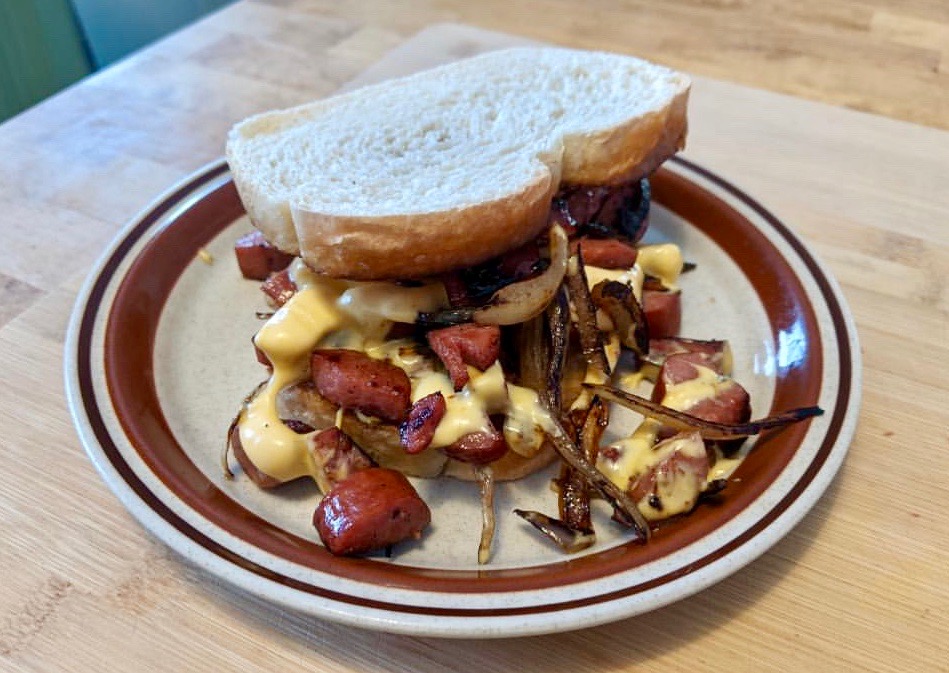 Hot Dog Chopped Cheese
My spouse dreamed up this toothsome little treasure. It's messy and indulgent—two qualities he possesses that tricked me into marrying him, so I guess I have a type. He started by toasting the inside of two slices of bread, a trick he picked up from Binging with Babish's Andrew Rea that introduces crunch to your sandwich but doesn't scrape the hell out of the roof of your mouth when you bite into it. Top the bread with coarsely chopped hot dogs fried on a skillet with onions and peppers and topped with melted cheese.
Breakfast Dogs
I know some of y'all may be squirming at the idea of having a hot dog on your breakfast plate, but I assure you it's fantastic. (If it helps, imagine your hot dogs as the baby cousin of kielbasa.) My favorite prep is butterflying the dog to get a good stovetop sear. Pair with a runny-yolked egg for dipping the dawg and a big breakfast salad on the side to balance out the aorta-clenching tube meat and egg yolk combo. If you have time, I'd suggest a small stack of these cornmeal pancakes, too. The subtly sweet corn cakes offset the saltiness of the hot dogs, especially when drizzled with some high-quality maple syrup.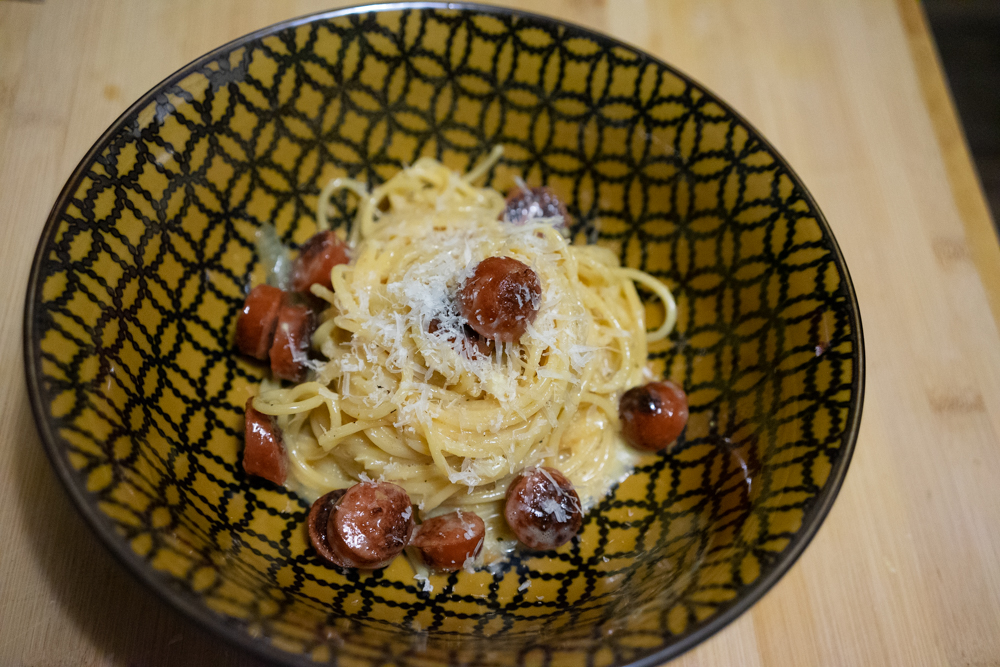 Hot Dog Carbonara
Carbonara, to me, is a perfect comfort food. It calls for guanciale, pancetta, or bacon as the base for a silky, eggy sauce that lusciously clings to each noodle. Fortunately for those with a frankfurter excess, sliced up hot dogs make a fine stand-in for any of the aforementioned meats since they give off a little bit of fat and meat juice. Be prepared to add a drizzle of oil into the pan if your wieners aren't rendering off much fat. If you've never made pasta carbonara before, this NY Times recipe is an excellent place to start. People may crucify me in the comments for this because it's not "traditional," but I think adding some thinly-sliced onion and a few cloves of minced garlic to the pan while cooking the hot dogs is delightful, as well as finishing the carbonara with freshly grated nutmeg.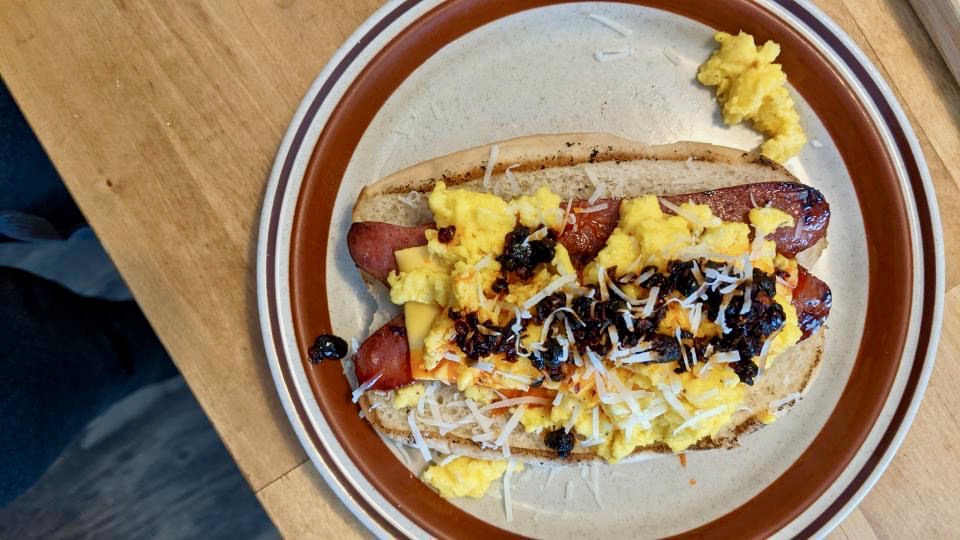 The Umami-Dog
I'll be honest… I came up with this one while mildly hungover and I think it shows. That said, it's delicious and easy for a mildly hungover person to make. Butterfly and sear a hot dog on the stove. Top with half of a slice of American cheese and let it melt under a pillow of buttery soft-scrambled eggs. Finish it off with chili crisp (Laogonma is my favorite) and grated parmesan. The rich soft-scrambled eggs and meaty hot dogs are offset by the mouth-warming heat of the chili crisp.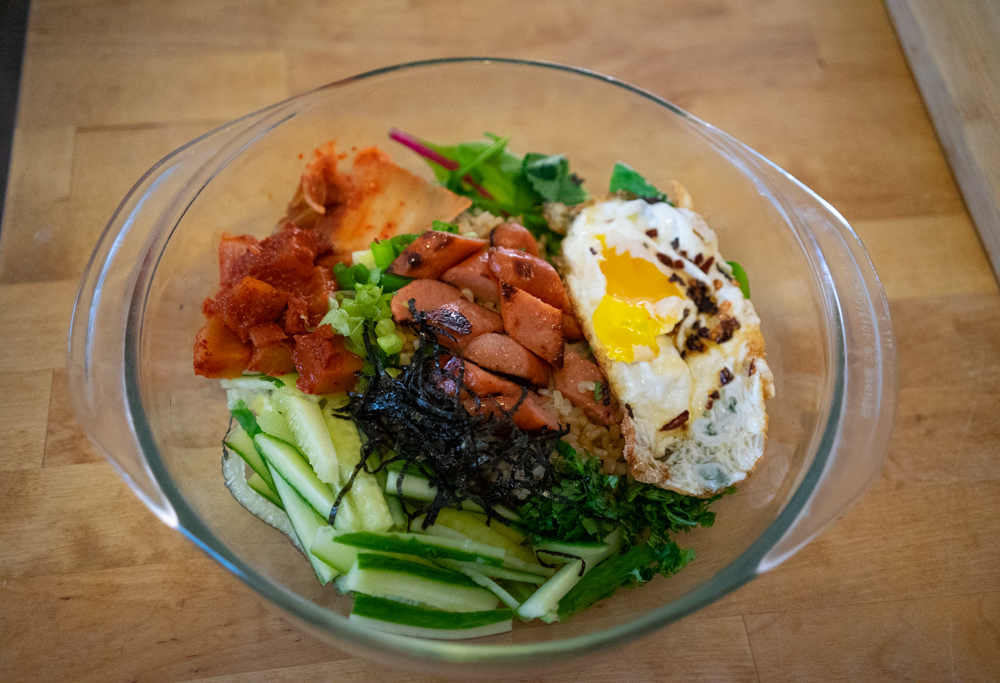 KkakDoggi Rice Bowls
Kkakduggi is an easy-to-make radish kimchi that I learned how to prepare from angel-on-earth Maangchi's YouTube channel. I had a jar in my fridge, but you can sub in whatever kimchi you have on hand to make these fresh and flavorful rice bowls. Pile steamed rice on top a handful of mixed greens, seared and diagonal-cut hot dogs (a new hot dog shape for flair), and top it all with thinly sliced cucumbers, green onions, spicy-sour kimchi, seaweed, and a crispy fried egg. Drizzle with sesame oil, sweet soy sauce, and regular soy sauce, and enjoy. Pat yourself on the back for making something somewhat healthy with a truly ridiculous amount of hot dogs… and remind yourself to consider freezing some the next time you over-purchase hot dogs.