If you read Jay Boller's recent Racket piece on recycling PackTeks, then you may already know this, but recycling is a Byzantine process.
Just because something seems recyclable doesn't mean it is, and even things that explicitly are recyclable often get processed as trash. Da Bollman did a great job getting into the intricacies of how those colorful plastic can holders do and don't get recycled and reused, but the cans in those four- and six-packs are also a gigantic pain in the ass.
It's been said a lot before, but the labels on craft beer cans often keep the cans from being recycled. Want to make sure your 16-oz. aluminum tubes get processed correctly? If the label is stickered on, you gotta peel that bad boy before it hits the blue bin. If it's shrink-wrapped, cut the plastic off first. 
OK? OK. Onto the beers.
BlackStack City Pages Best IPA
Hazy IPA, 7% ABV, n/a IBU
City Pages never gave a "Best IPA" designation as part of the annual Best of the Twin Cities awards. But in 2020, I did write a Minnesota's 10 Best IPAs list, which was topped by Barrel Theory Rain Drops, something BlackStack apparently took some umbrage with. The St. Paul haze factory has spent the last year proving they've been the top dogs in the IPA game since they opened in 2017. And since there is no City Pages anymore, they took it upon themselves to designate their latest juice bomb City Pages Best IPA.
First question: Does this drippy, Mosaic-heavy IPA live up to the standards once held by Minnesota's bygone alt-weekly? I'll be goddamned, it does. So it makes the top of this list. City Pages Best IPA is the kind of beer that made milkshake IPAs obsolete. The Nelson Sauvin gives it a succulent pear/pineapple blend, and the barely-thick body drinks with the ease of a piña colada. Second question: Is it better than the Press Check Sour IPA that the ol' Pages released with 56 Brewing in 2019? Well, it's not a sour IPA, so yeah.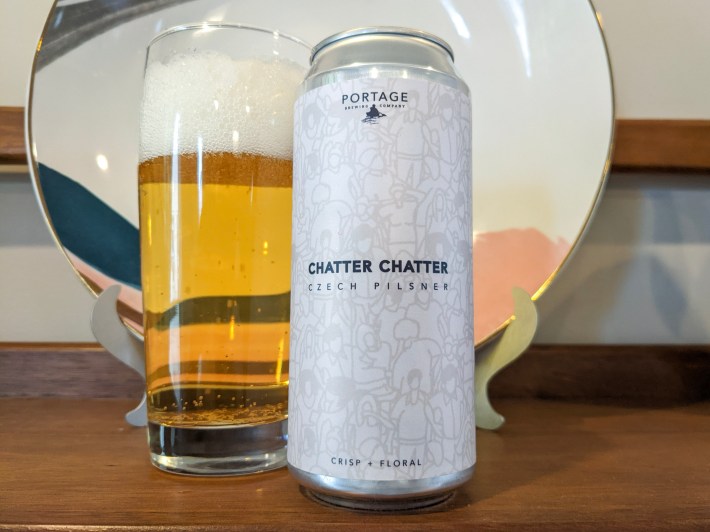 Portage Chatter Chatter
Czech Pilsner, 4.8% ABV, 35 IBU
Somehow, I've gone eight years in Minnesota without ever trying a beer from Portage. The now-resurrected Walker brewery has existed in my periphery for years, but I've never bought the beer, much less visited the lakeside Cass County city. When I saw their house pils Chatter Chatter sitting on the shelf, I decided to change that, and I could not have picked a better beer to prove how ignorant I'd been all these years. Chatter Chatter is a blissful beer, stuffed with floral Saaz hops and brimming with pastoral esters. Each sip breaks off clean as a biscuit—a dreamy beer for pilsnerds.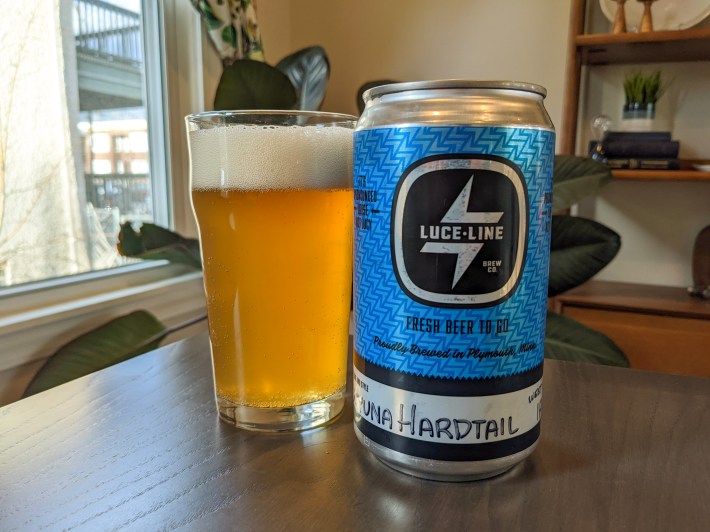 Luce Line Cuyuna Hardtail IPA
West Coast IPA, 7.1% ABV, 65 IBU
Situated at the top of the 63-mile Luce Line Trail, Plymouth's Luce Line Brewing sees a lot of saddle-sore bikers come in their doors. Cuyuna Hardtail is made to wash the grit from their teeth and restore their resolve. Fortified with dank Centennial, Citra, El Dorado, and Columbus, this sturdy IPA can slap you out of your windswept stupor. The first sip bites hard, and even at a mild 65 IBU, it tastes like a fresh bite of aspen evergreen. From there, it smooths out, replacing the adrenaline of your ride with a nice, crisp buzz.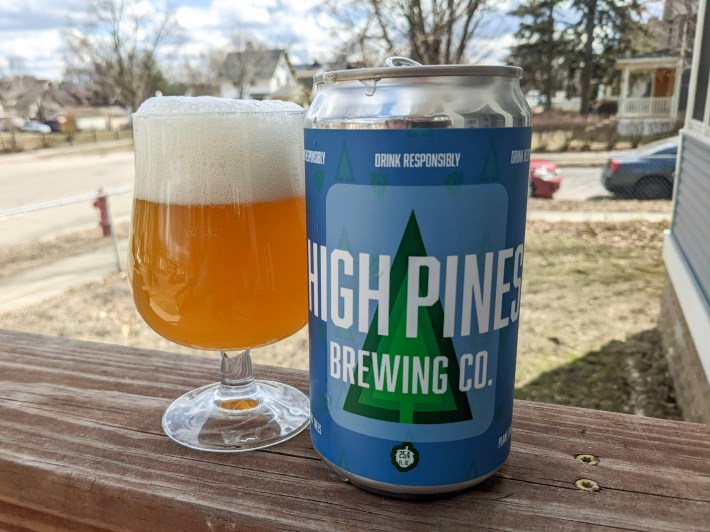 High Pines Mosa da Time
Blonde Ale, 3% ABV, n/a IBU
I'm not sure if Joe's Crab Shack serves brunch, but Roseville's High Pines, which opened in an old Joe's in February 2021, does serve mimosas. Well, sorta. Their tasty breakfast beer Mosa da Time takes an innocuous blonde ale and cuts it with blood orange juice. There also might be some kettle souring involved, like New Belgium does with their Dominga, but whatever the process, the beer is surprisingly effervescent and slightly tart, mimicking the renowned breakfast booze to a tee. And at 3%, you can chase your Sunday Scaries with a couple crowlers without worrying about that Monday morning hangover.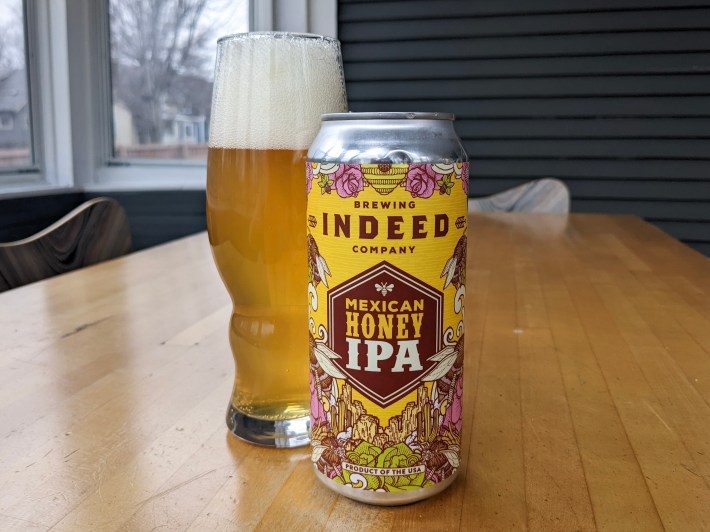 Indeed Mexican Honey IPA
IPA, 6.8% ABV, 50 IBU
Last month, I asked local beer fans what the worst Minnesota beer they ever had was. As expected, things got fiery, with people cursing beers from Surly Furious to Pig's Eye, but one name that inexplicably came up several times was Indeed Mexican Honey. What? Mexican Honey was one of the first beers I fell in love with after moving here in 2014. My one gripe was the 8% ABV, which was resolved in 2019 when they dropped the Light version of the Mexican-style lager with orange blossom honey.
Three years later, Indeed's Mexican Honey brand extension has reached its next logical plateau: an IPA that takes the impeccably sweet original and reinterprets it as a quasi-West Coast IPA. But like the Light reinterpretation, it's crisp and crystal clear. Unlike either, there's a real depth of flavor, the honey sweetness balancing off the resin in the bittering hops while a big floral comes over the top.