Your dogs want to eat them. Your gardens fear being eaten by them. They're eastern cottontail rabbits, the famously fuck-crazed mammalian breeder whose population seems to be booming this year in Minneapolis.
These Redditors have noticed the apparent wild rabbit bumper crop; my Twitter followers have, too:
The next step, as any enterprising newsman worth his salt will tell you, is acquiring expert confirmation, like I did months ago when box elder bugs invaded Twin Cities homes in eye-popping numbers.
This time, however, my reporting hit dead end after dead end. The University of Minnesota PR team claimed they couldn't find an expert for me. The Animal Emergency & Referral Center of Minnesota, whose website includes expert information on wild baby bunnies, didn't return my email. Finally, I connected with with Jason Abraham, a fur-bearer specialist with the Minnesota Department of Natural Resources.
"I couldn't tell you for sure. But if people are seeing more rabbits… there's a good chance it could be," he says, noting that the DNR doesn't track urban rabbit populations, though they do record snowshoe hare numbers. "Rabbit populations are gonna fluctuate in localized areas all the time, so it's hard to say if that's actually going on or it's a perception thing."
Wild rabbit population cycles tend to follow historical patterns, he explains, and factors like disease, weather, and predators can and do impact those year-to-year.
Hm, not nearly conclusive enough for Racket readers. (Interesting aside: Abraham spoke with the Strib in 2011 to help identify this cryptozoological roadkill.) Flailing and desperate, I messaged Minneapolis City Council Member Andrea Jenkins, whose rabbit credentials appear, admittedly, suspect at best: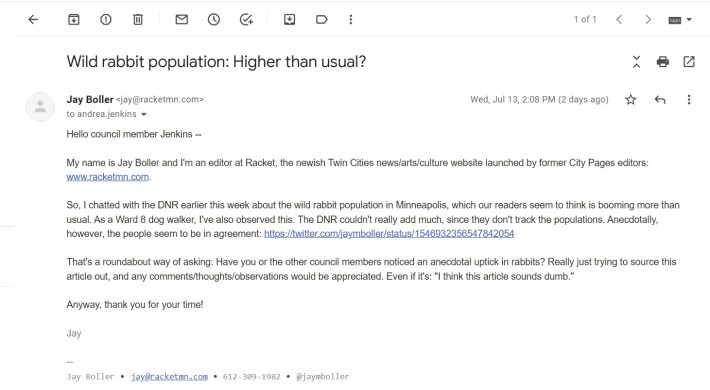 Figurative crickets.
Having been failed by every institution (and helped by the always-helpful DNR, just not in the way I demanded), I could have scrapped this story. But then I thought back to the avalanche of responses my prompt tweet received, and realized the power to declare that the city's yards are more rabbit-packed than usual isn't bestowed to those in the U's ivory tower or the elected officials in City Hall: It belongs to the people.
So here's a roundup of non-expert theories I encountered on this journey. So-called scienticians might not endorse 'em, but they're indisputably interesting.
No Mow May
Did our commitment to pollinators via lawn neglect result in fewer baby bunnies being chopped up by lawnmowers? Possibly!
Avian Flu
Did the dramatic die-off of eagles and hawks mean fewer rabbits snagged by talons? Maybe! (The outbreak killed "nearly every" bird brought into the U's Raptor Center this past April, as Racket reported.)
Fox Hunting Patterns
Axios reporter Nick Halter claimed that foxes hunt in grid-like patterns, scaring rabbits in droves away from certain areas and toward others. Seems unlikely!
Your Rabbit Experiences
Read this far and craving more anecdotal rabbit boom confirmation? Let's hear from the people.
"They absolutely decimated my yard this winter, eating things that rabbits have never touched before," Haley DeGrella tells us. "Every evening when I walk outside rabbits all over the yard scatter. Definitely way more than normal."
"Yes. Bumper crop year for baby bunnies!" says Max Nesterak.
"So many rabbits in NE, are they even afraid of people anymore?" says Sammantha D.
"So many!!!!" says Zoe Jackson. "Literally almost every day but especially at night in my neighborhood! So cute."
"Yes. I'm seeing many many rabbits everywhere at all times of the day and night," says Dawn Messerly. "It's actually kind of bonkers how many rabbits I'm seeing every day."
"Shitload? What about fuckton?" asks John Reinan.
"Rabbits on rabbits on rabbits in Nokomis this year," says Phil Numrich. "Seems to follow something like a 5-8 year cycle, then we'll see a few more coyotes and foxes."
"Highland is chock-a-block with the city's dumbest leporids," says Tom Basgen.
"My dog woke me up at 1 a.m. in the morning a couple weeks ago barking at something outside so I decided to go and investigate," says Wade Wuornos. "I saw a stampede of like 50 bunnies all together sprinting down my block and I legit thought it was The Birds but with bunnies."
"'Shitload' is the perfect terminology because my dog has been loading up on rabbit shit like he's at the Sizzler buffet morning, noon, and night," says Chris Riemenschneider.
"There are so many rabbits that my dog has stopped chasing them in the yard," says Kelly Barnhill. "Perhaps she thinks that she's become a rabbit now. Perhaps we will all be rabbits soon."
Perhaps!
Happy Friday, TGIF. Thanks for supporting Racket's rabbit coverage.