This isn't the kind of message you want to see on your phone as you hunker down in bed for one last doomscroll before sleep. But it's what I saw on my phone about a week ago.
A couple things raced through my mind. First, I don't have a COVID tracking program on my phone. So… WTF? Where did this message even come from? Shit, I need to contact a friend I saw earlier today. And, of course, what am I supposed to do now?
Here are a few things I learned during my first "official" COVID exposure scare.
Your phone might know before you do
So, about that message I got. Apparently on some phones, you don't even need to download and install the COVIDaware MN app—if you have Bluetooth turned on, you might already have the COVID tracker on your phone.
How does it work? According to the explanation in my phone:
"When active, your iPhone can exchange random IDs with other devices … Your iPhone will regularly check your exposure log to see if you may have been near someone diagnosed with COVID-19."
I use an old-ass iPhone 8. If I go into my settings and scroll down, I can see an "exposure notifications" section that wasn't there pre-pandemic. There are resources here you might not have known about, including info on whether your tracker is active, and you can add regions beyond Minnesota if you're a traveler. If you come down with COVID, you're able to alert the system. You can also turn on exposure alerts that will buzz you, amber alert-style.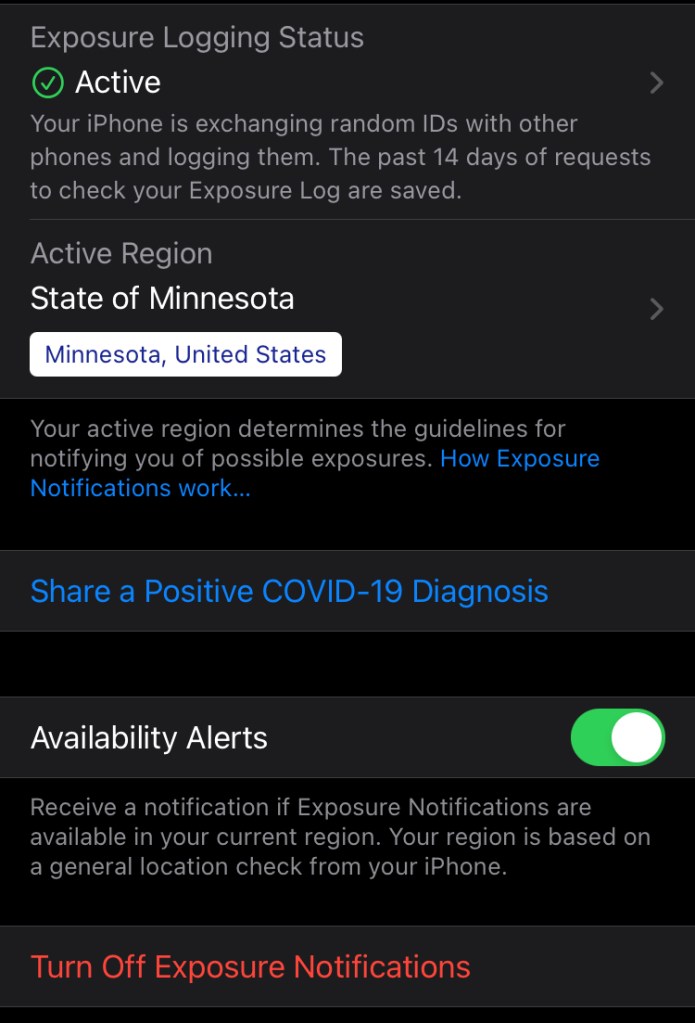 Free mail-in COVID tests arrive VERY fast via DoorDash
After the alert popped up on my phone, a link jettisoned me to Minnesota's Department of Health page telling me to quarantine and how to get tested, for free. Since all of the rapid test locations would require me to hop on a bus or take a cab to reach them, I opted to go full shut-in with a mail-in test from Vault Medical Services. I was told it would arrive in 24-48 hours. It actually arrived at my place via DoorDash in a few hours. That's faster than a Saturday night pizza delivery, folks.
I wasn't able to use it right away, however, as it's recommended that you wait 3-5 days after exposure to take the test.
If you go the spit-test option, prepare to do it over Zoom. It's strange.
For those who fear the COVID nose swab, fear not: This mail-in option via Vault is a spit-take test. If you've ever done one of those DNA "origin story" tests, you're familiar with the set up: You spit in a tube, then twist the special lid with liquid preservatives on to seal the sample.
The one thing that was weird is that you have to Zoom with a representative who instructs you on how to take the test and watches you spit into the tube. My rep looked fabulous, with fresh makeup, smooth hair, and a professional office background. I was unwashed and in a shirt that says "I Love Day Drinking," and spitting in a tube. So maybe consider getting a little fancy beforehand.
Also, you can't just drop these boxed biohazards off at any UPS. You're going to need to take it to an official store. Don't try to take it to your neighborhood hardware store/drop off site like I did. They'll act like you're an unstable bomb about to go off.
If you need to alert Lyft about your exposure, they're going to be weird about it
In order to get the COVID exposure warning I did, I had to have been within six feet from a confirmed case for more than 15 minutes. That meant my exposure could only have come from four different people, two of whom were Lyft drivers. I'll never be able to confirm this, of course, but I highly suspect the ride I took with a double-masked, coughing driver who had all the windows fully open on 35W was my exposure point. 
Regardless, I decided to do the right thing and contact Lyft so they could do whatever they needed to do and alert the two people I took rides from recently.
Lyft responded. A lot. I received six emails from the company over the course of the day, starting at 9 a.m. and ending at 11 p.m. They had a lot of questions, but very little to say in response. I get it; they have to dance around things carefully so as to not acknowledge that there's a chance that I was exposed while riding with them. 
Here's the thing: When you self-report, they basically deactivate your account. Fair enough. To reactivate it, however, you need to get some very official paperwork from a doctor. They write:
"Medical clearance can take the form of a letter stating you have been released from quarantine and/or may return to work, and the letter should clearly indicate that you are not currently a COVID-19 patient, are not symptomatic, not under investigation for COVID-19, or that you have recovered from and are considered "cleared" from COVID-19 infection.

With that in mind, we are requesting a letter of clearance or other verification by a medical professional indicating approval to return to the platform in addition to your initial documentation."
I have no symptoms, so I'm not exactly in a rush to bother medical personnel so I can use a rideshare app. So, after my quarantine and test results, full-time MetroTransit it is!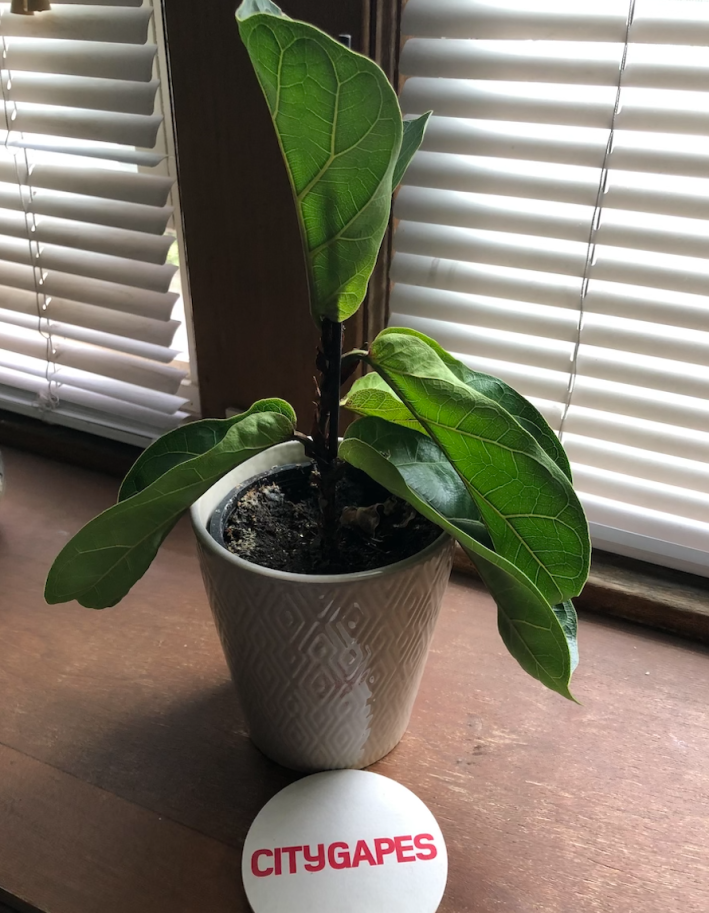 You might get flashbacks to last year's big lockdown
I haven't left the house in six days, except to drop off my test. I have dyed my hair blue, completed a video game, read a book, and killed one houseplant via overwatering. 
Vaccines and masks are lifesavers
And now, I am waiting. Waiting has been the worst part. But it's also the best part–because I can wait. I don't have any symptoms, and because I'm vaccinated and wear a mask as much as possible in public, I statistically have less to worry about. This could have been a tragic story, but it's not. It's just another story about quarantining, navigating technology, and making sure I do my part to keep others safe. And for that, I am thankful.