Welcome to Event Horizon, your weekly roundup of the best events in Minneapolis and St. Paul.
MONDAY 8.1
Comedy Bang! Bang! Live
State Theatre
Thirteen years ago, Scott Aukerman took his UCB stage show, Comedy Death-Ray, and turned it into a radio show. Over the years it'd changed formats (to a podcast) and names (to Comedy Bang! Bang!), but the show reliably brings hilarious improv, a vast network of in-jokes, and a growing roster of zany, comedian-voiced characters to listeners' ears every Monday. For five seasons, CBB was adapted into an IFC TV show that subjected guests like Amy Poehler, Zach Galifianakis, Eric André, and Jack Black to its mock talk-show mania.This summer, Aukerman is taking the pod on the road for a 23-show tour with fan-favorite Paul F. Tompkins, and it kicks off in Minneapolis tonight at the State. Ahead of the show, the gracious host spoke with Racket about the tour, some local institutions, and his history with Minnesota; click here to read our long, goofy, locally angled conversation. $39-$109. 7 p.m. 805 Hennepin Ave., Minneapolis; find more info here.—Charlie Gillmer
WEDNESDAY 8.3
Kermet Apio
Acme Comedy Co.
When comics work clean, there's often a lurking sense of churchy weirdness or corporate-gig opportunism. There are notable exceptions, including Brian Regan, Jim Gaffigan, and, yes, Kermet Apio. I recently asked a non-clean comedian friend for an Apio scouting report, and he offered: "Ray of sunshine, beautiful man. The only 'clean' comedian who isn't secretly a fucking psycho." The Hawaii-born comic is an effortless joke teller and genuinely delightful personality, as backed up by his the cited Wikipedia entry of: "He loves baseball and eating pie. Fans regard him as a very humble and friendly man." That translates to lots of crowd work from Apio, whose warm brand of comedy has led to spots on Comedy Central, A&E, and NPR. $18-$37. 8 p.m. Wed.-Thu.; 7 & 9:30 p.m. Fri.-Sat. 708 N. First St., Minneapolis; find more info here.—Jay Boller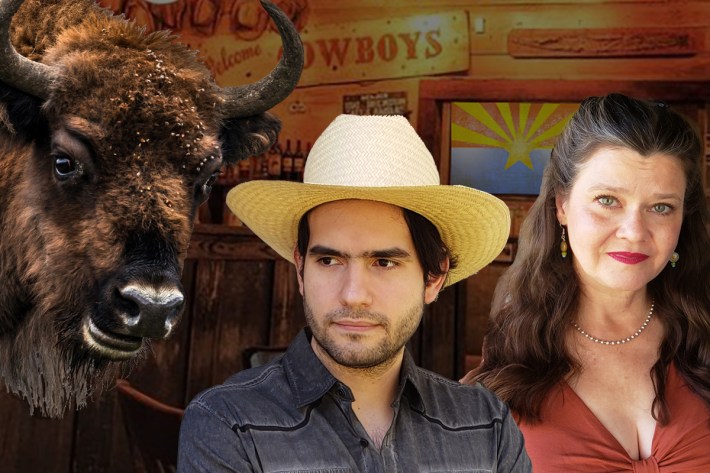 THURSDAY 8.4
Fringe Festival
Various Locations
Every summer, the Twin Cities hosts one of the most epic theater festivals in the country. Over 100 companies, troupes, and one-person shows pop up on a variety of stages for 10 days of performance. The content varies per year, and there's no theme, so pick your genre, mood or curiosity in the moment. Want a romantic comedy? Looking for something queer and super fun? What about an historical drama? A Middle Eastern musical? How about an experimental puppet show? Yeah, you'll probably find all that here. Productions are short and sweet, lasting about an hour, so if you end up at a dud you won't have to flee in shame at intermission. Plan your Fringe by checking out the schedule at www.fringefestival.org. Through August 14 –Jessica Armbruster
Cat Video Festival 2022
CHS Field
Is the internet bad for your mental health? Almost certainly. For your physical health? Quite possibly. Is it leading to the spread of white supremacy and collecting scared little white boys in online spaces that foster their slide into violent extremism? Pretty much inarguably. But it did give rise to at least one indelibly wonderful modern art form: cat videos. (And cat memes more broadly—can you believe "I can has cheezburger" hit the web 15 years ago?) This Thursday at CHS Field, you can watch a whole block of 'em without even logging on or thinking about all that depressing stuff I just shoehorned into a blurb about cat videos for some reason. Plus a buck from every ticket sold goes to the Animal Humane Society. Find tickets and more info at catfestmn.com. $15-$75; children 5 and under are free. 6 p.m. doors; 8 p.m. screening. 360 N. Broadway St., St. Paul. —Em Cassel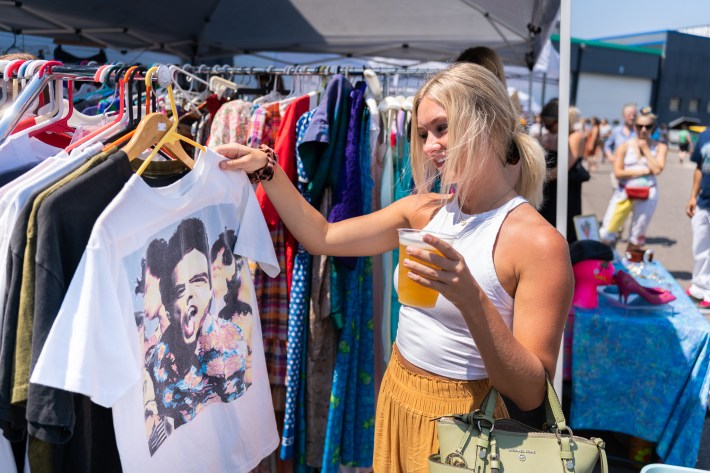 FRIDAY 8.5
Vintage at the Ballpark
CHS Field
Should we… send you to two not-baseball events at the ballpark this week? OK, let's do it! Following the annual Cat Video Festival at CHS Field on Thursday, it's Vintage at the Ballpark—a two-day secondhand-selling extravaganza hosted by Minneapolis Vintage Market. Friday is the preview, with live music from Monica LaPlante and sets by DJ Buster Baxter; on Saturday, it's an all-day shopping affair. Bring the whole family, and come hungry: Food and beer will be available from the concessions stands for the duration on both days. Find tickets and more info here. Friday: $10 advance, $15 at the door; 5-10 p.m. Saturday: $5 advance, $10 on the door; 10 a.m.-5 p.m. 360 N. Broadway St., St. Paul.—Em Cassel
Joyce Manor
First Avenue
Lord, what we wouldn't do to return to the relative halcyon days of March 2020, when presidential hopeful Bernie Sanders gruffly thanked "The Joyce Manor Band" for their performance at a campaign event in San Jose. One pandemic and a Biden victory later, at least we can still capture some of the hopeful, youthful, joyful feeling of that time thanks to the Cali three-piece's fast, free, fun pop-punk. Their latest LP, 40 oz. To Fresno, stays true to the cleverness and brevity the band have honed since 2011's self-titled LP, whose 10 tracks blasted by in under 19 minutes. Just take the first two singles—"Gotta Let it Go" and "Don't Try"—neither of which cracks the two-minute mark. With Citizen, Prince Daddy & The Hyena, and Phony. 18+. $20-$30. 7 p.m. 701 N. First Ave., Minneapolis; find more info here.—Em Cassel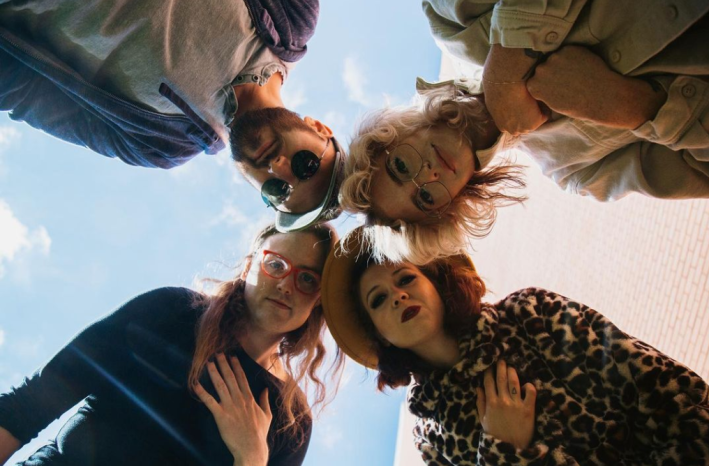 Elle PF
7th St Entry
Ah, what does time mean anymore anyway? Renelle LaBiche and her crew released their seven-song album, I Woke Up Today Laughing, back in January, and are finally celebrating with a record release show. (As a fellow January birthday, I get it—hard to gather people in the COVID-y winter months.) Their first lengthy release in three years is rooted in Labiche's keyboards, whether piano or synth, and animated by her coolly observant vocals. The mononymous Doc's guitar jabs rhythmically, leans into full-on power chording, or melodically augments the arrangements (as, on occasion, does Alex Gale's viola), and the rhythm section of bassist Jenessa LaSota and drummer John Acarregui shifts along smoothly from the off-kilter "Punk Song" to the disco-adjacent "Think Too Much About It." The effect is broadly theatrical without being needlessly over-the-top (and super-catchy too). They've also got a new song, "Can You Show Me?," that would have fit right in on the album. Deluxe edition, anyone? Alien Book Club and Aesha open. $12/$15. 9 p.m. 701 First Ave. N., Minneapolis; find more info here.—Keith Harris
A Midsummer's Night Dream: Trashion Show
Dead Bedlam
Yes, the models will be wearing trash, and they are going to look fierce. Think early seasons of Project Runway or… pretty much every season of RuPaul's Drag Race where competitors are given a pile of junk and asked to make it FASHION! We expect creativity to abound at this event, which is a benefit extravaganza for Big Animal Productions, a wildly creative company helmed by Christopher Lutter-Gardella. You might not know Big Animal by name but we bet you know their whimsically ginormous pieces: there's the Luminous Yeti who presides over Holidazzle, the monarch butterfly flurry hanging from the ceiling at Mall of America, or Virgil the Skeleton, who has been known to show up to the MayDay Parade. Tonight is all about fashion made from garbage bags and toilet paper rolls, which should yield some hella creative stuff. Learn more about the event–and even sign up to participate!–at instagram.com/p/CgZfjlLuTwN. 6 p.m. 2714 E. 27th St., Minneapolis. –Jessica Armbruster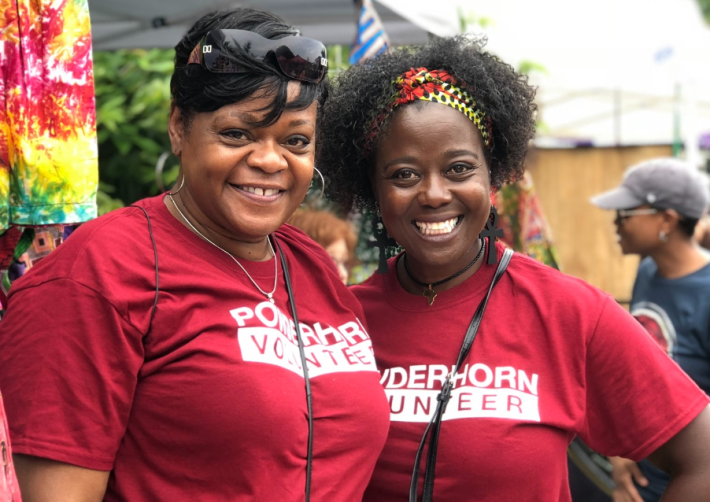 SATURDAY 8.6
Powderhorn Art Fair
Powderhorn Park
Look, we know there's a bigger art event happening in Uptown this weekend, but the Powderhorn Art Fair gets our hearts and our precious time this weekend. Now in its 31st year, this big fun fest features over 150 artists working in just about every medium, including colorful pottery, practical woodwork, wearable leather pieces, sparkling jewelry, and pastoral stitching. Art installations include Robin P. Hickman's "Soul Living," a collection of diverse Barbie-like dolls living their best Black lives and a therapeutic/meditative light prism piece by Boo McCaleb. There will also be a dozen or so food vendors, from Venezeulan arepas to homemade ice cream (we definitely rec La Loma's delicious tamales) and Reverie will host a beer garden with DJ/radio tunes both days. Find all the deets at powderhornartfair.com. 10 a.m. to 5 p.m. Saturday and Sunday. 3400 15th Ave. S., Minneapolis. –Jessica Armbruster
St. Paul Food Truck Fest
Union Depot
Culturally, we've decided we really enjoy eating food that originates inside trucks. There's perhaps no greater testament to that pervasiveness than Chef, the 2014 Jon Favreau vehicle that I don't remember with particular fondness. You'll likely have a more enjoyable time patronizing the real-life food trucks at the sixth annual St. Paul Food Truck Fest, which takes place outside Union Depot and features 45 (!) trucks of diverse culinary origins (click here for the full list). Also on tap: fashion trucks, vinyl trucks, and photo-booth trucks, as well as non-truck activities like drinking beer, jumbo Jenga, a mechanical bull, bean bag tossin', henna tats, psychic tarot readings, and three cover bands: Khalia & Blackwater, Tyte Phitt, Sumo Seven. Will it be a good truckin' time? You could say that. Free. 11 a.m.-9 p.m. 390 E. Kellogg Blvd., St. Paul; find more info here.—Jay Boller
Sleigh Bells
Fine Line
A dozen years after their debut, Treats, disjointed femme-voiced tunelets, is-that-guitar-a-synth? power chords, and booming drum stutters are all the rage (especially if you intone the magic word "hyperpop") and Alexis Krauss and Derek Miller sound more visionary than ever. They fine-tuned and nuanced their malevolently chirpy vocals and oppressively tuneful noise blasts like any good band would over the course of three terrific follow-ups that too many novelty junkies thought sounded all the same. Truth be told, album no. 5, Texis, from 2021, does retrace some steps from its predecessor, Jessica Rabbit, with Krauss turning her sincerity dial up and downplaying her cheerleader-in-jackboots domina-tricks. But I'm all in on the "can't go on, must go on" ambivalence captured in the chorus of opener "SWEET75," which changes from "Here we go for rock and roll" to "Aren't you a little too old for rock and roll?" And I get the same minimal rush out of them that rock-show bros get from Japandroids. With gospelish pop stomper N3PTUNE and MN-spawned noise-rapper Moodie Black. $30/$45. 8:30 p.m. 381 First Ave. N., Minneapolis; find more info here.—Keith Harris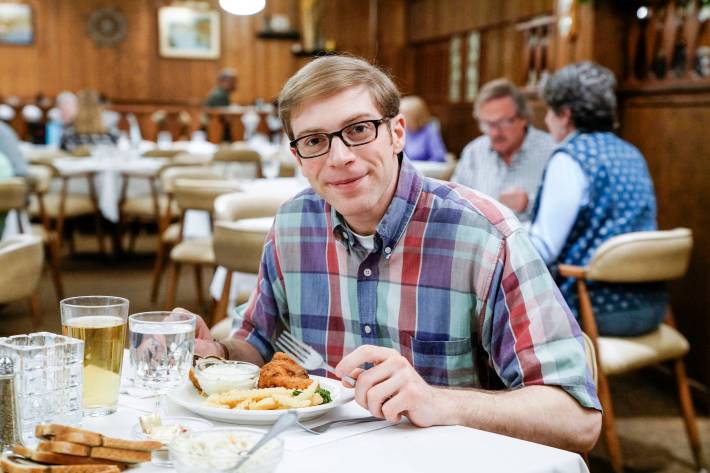 SUNDAY 8.7
Joe Pera
Varsity Theater
'Round these parts? We're big fans of Pera, star of the feel-good TV show every Minnesotan should be watching. The extremely understated star of Joe Pera Talks with You is taking his dead-on Midwestern comic persona on the road through December, which may be your only chance to see him for some time: HBO canceled his very good show in June. It's unclear how the unmistakable Pera brand will translate to the theater state, but fans are eager to find out; the slate of shows is quickly selling out. $35. 6 p.m. 308 SE Fourth St., Minneapolis; find more info here.–Jay Boller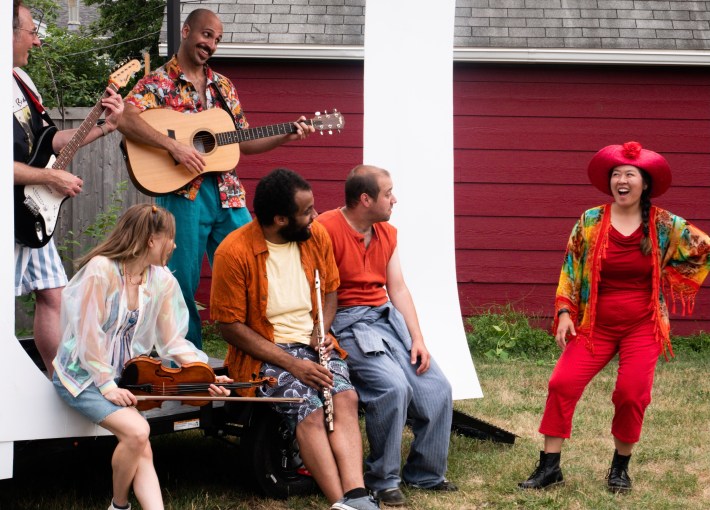 ONGOING
The Magic Flute: A Pickup Truck Opera
Various Locations
For the past 14 years, Mixed Precipitation has brought accessible opera shows to parks, gardens, and wineries throughout the metro and beyond. They used to go by "A Picnic Operetta," but have rechristened themselves "A Pickup Truck Opera" as a nod to the 2011 Ford Ranger Pickup that serves as their ride and part of their stage. This year, they'll be presenting their take on The Magic Flute, Mozart's last production before he kicked it. The (modernized) plot follows a few young professionals facing burnout in their bullshit jobs, and explores the principles of Freemasonry. (Mozart was in the illuminati, y'all!) In addition to 18th century bangers, expect a few hits from Deee-Lite and Bjork. Make reservations at mixedprecipitation.org. $10-$20 suggested donation. Through September 11 –Jessica Armbruster
Artist Designed Skyline Mini Golf
Walker Art CenterNow in its 15th year, Artist Designed Skyline Mini Golf returns to WAC for another season of putt putt played in the sky. No really: You'll be heading up to the museum's rooftop to play these 10 holes, which means you'll see gorgeous city views in addition to the spectacle of the quirky course. The new hole this year, ​​Always Have Been Sewn, was designed by Asian American Organizing Project's Youth Action Team, and was inspired by Hmong "story cloth," a.k.a. a paj ntaub. Mini golf aficionado Tom Loftus also has two holes featured this year. $10. 11 a.m. to 9 p.m. Thursdays; 11 a.m. to 6 p.m. Friday–Saturday; 11 a.m. to 5 p.m. Sunday. 725 Vineland Place, Minneapolis. Through September 25 –Jessica Armbruster