Three years ago, Tono Pizzeria + Cheesesteaks quietly opened its doors in a packed Maplewood shopping district, where a dozen chain restaurants from Taco Bell to Outback Steakhouse to Perkins have long staked a claim. The menu was streamlined—eight steak sandwiches, 12 pizzas—served in a cozy restaurant.
Today, Tono is readying its fifth Twin Cities location, and its owners tell Racket they're even looking into a franchise model—someday. Not bad for a couple of best buds who love cheesesteaks.
The Tono story actually starts in 2016, when Antonio Gambino and his friend Shaz Khan opened Frank & Andrea in Dinkytown. (You could argue it starts long before that—Gambino's dad is the Andrea of Andrea Pizza, where he grew up slinging slices and working the register.) The highly ranked Frank & Andrea is well known as a late-night slice joint, but it also specializes in Philly cheesesteaks—a local favorite of this Pennsylvania-born Racket staffer.
Now, sure, maybe you wouldn't find a Philly hoagie shop that also does a mean pizza. But "these two food groups—pizza and cheesesteaks—while not historically complimentary, do pair rather well," Khan says. Gambino's father grew up in Italy making the former from family recipes, and he was raised in Philly chowing down on the latter. It kind of just made sense.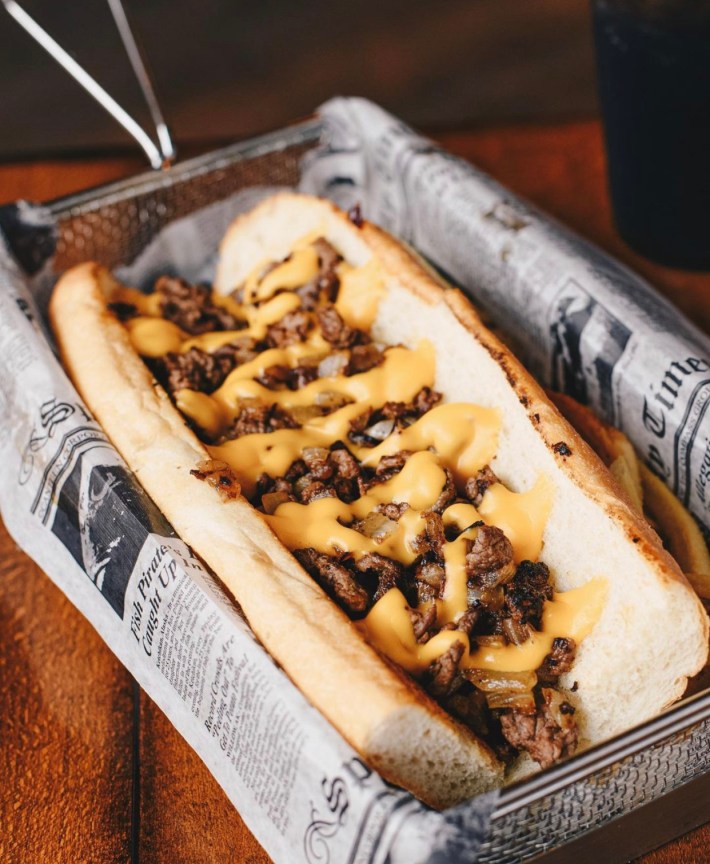 That collaboration would eventually sort of serve as the blueprint for Tono, which the pair started dreaming up not long after making their Dinkytown debut. The idea was to keep a lot of what worked at Frank & Andreas—the recipes, the fast-casual atmosphere—but translate it to a more family-friendly, less late-night crowd.
Gambino and Khan brought in two more friends who specialized in real estate and construction, and the four opened the first Tono Pizzeria + Cheesesteaks.
The pandemic hit less than a year later. But as restaurants around them struggled to navigate the pivot to takeout, the tech-forward Tono found itself in a position to thrive. They already had a mobile-friendly, responsive website; it was a cinch to focus on online ordering and add third-party delivery. Closing down the Maplewood dining room was a bummer, but it wasn't a death sentence.
"It wasn't really a pivot for us, it was just a natural extension of what we'd already been offering, and that was takeout," Khan says. And because people were stuck at home and frustrated, looking for anything new to do, or eat, "It led to a lot of discovery for Tono."
As places opened back up and the restaurant industry started its careful rebound, Tono didn't see much of a customer drop-off. A second location opened in St. Paul in November 2020, where it's also been a hit. Coon Rapids followed in May of 2021, and their latest location opened in Woodbury this past February. A Chanhassen Tono is in the works now, with plans for a late fall or early winter opening.
"That'll be our fifth Tono location, and we just plan on continuing to expand and giving Twin City-ites what they want," Khan says.
Khan says the number-one thing letting them keep up that pace is the loyalty of their customers. As the business analytics brain and self-described "data warehouse," he keeps a close eye the numbers, and the numbers are looking pretty damn good.
"One phenomenal statistic is that we have a customer retention rate of 60 to 70 percent," he says, adding rather hesitantly that it's not a figure he advertises often. "You don't hear about numbers when it comes to your favorite restaurants, but we think that's really important, because that means that on average, seven out of 10 people come back repeatedly for a meal."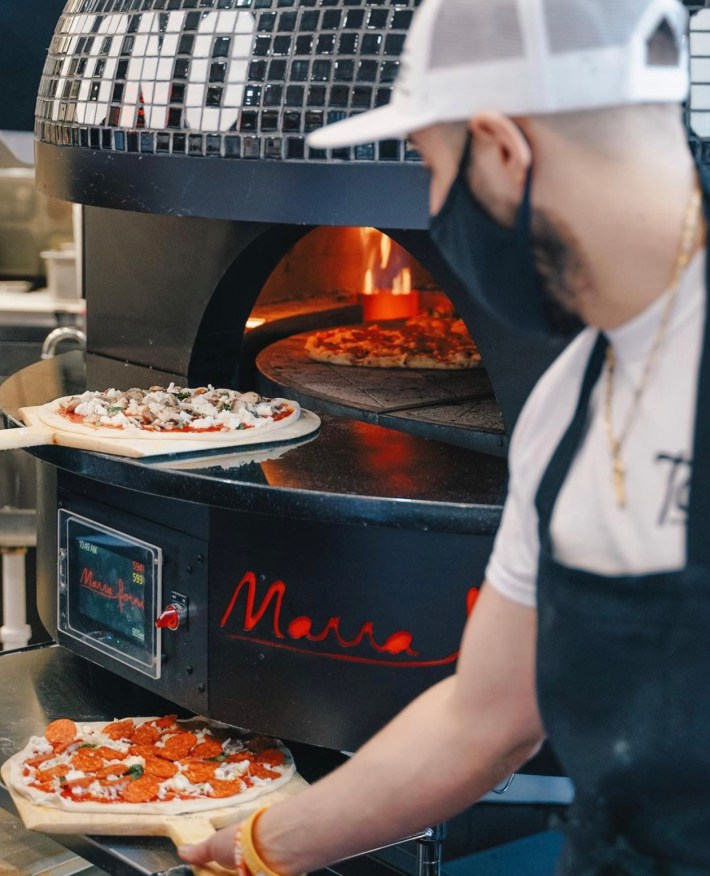 And a restaurant doesn't thrive by data alone; at Tono, they're serving tried-and-true old-world recipes with a tech startup mindset. They're still using the 84-year-old recipe the Gambino family perfected back in Palermo, though at Tono, unlike Frank & Andrea, pizzas are cooked in a rotating gas-powered oven. The 12-inch pies are smaller, and differ slightly in terms of taste and structure—not Neopolitan, but kind of Neopolitan, with a tasty char and hearty crust.
Quality—both in the ingredients and in the service—is the key. On the ingredient side, cheesesteak rolls are flown in from Amoroso's Baking Company in Philly; on the service side, they're intensely responsive to customer interactions, replying to every email, social media message, and phone call they get. Khan says it's not a service they outsource—someone from Tono gets back to every last person.
As for what comes next: "Right now, I'm looking into the potential of developing a franchise model," Khan says. "We've heard so many great things from people far and wide across the nation and our local home-towners, who have expressed a lot of interest in being part of this."
Franchised Tonos might be a long way off, but they're "on the road map, for sure," and Khan says it won't stop them from opening more locations as demand allows in the Twin Cities metro.
So… does that mean someday we might see Tono plant a flag in Philly? Bring a little Midwest cheesesteak take to the home of wiz wit?
"That would be the ultimate," he laughs. "One day."
Tono Pizzeria + Cheesesteaks
Locations in St. Paul, Woodbury, Coon Rapids, and Maplewood