Welcome to Event Horizon, your weekly roundup of recommended things to do. This week we have a variety of holiday markets, a beer birthday, and a saucy Star Wars celebration.
TUESDAY 11.16
Marc Ribot
Icehouse
If you listened to a Tom Waits or Elvis Costello album in the '80s or '90s, you've heard this perennial sideman's guitar, somehow both splintery and rubbery at once. If not, there's still a good chance you've heard Ribot scratch his identity on a track or two from some singer-songwriter's album. A little over a decade ago, Ribot formed Ceramic Dog with bassist/keyboardist Shahzad Ismaily and drummer Ches Smith, a flexible container for the guitarist's talents, including his vocals. Ribot's grievances are as wide-ranging as his instrumental work, and if before the pandemic he was plenty pissed at justifiable targets (homegrown fascism, the app-masters' proletarization of the music industry, some annoying quote or other he read in the Times this morning), he's hardly lessened the intensity on the trio's latest album, Hope. On "B-Flat Ontology" he sourly muses, "What will Latour and Žižek think of next?"; another track is titled "Maple Leaf Rage." Tonight, though, Ribot will be solo, and where a musician who's recorded classical, Cuban music, free jazz, Philly soul, and no wave will take you is anyone's guess. All ages. $20/$25. 8 p.m. 2528 Nicollet Ave. S., Minneapolis. More info here.—Keith Harris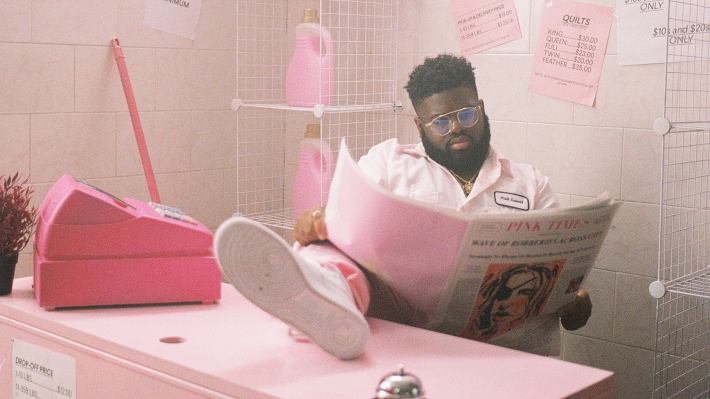 WEDNESDAY 11.17
Pink Sweat$
Varsity Theater
Philly semi-traditionalist David Bowden is no distinctive stylist, but he's not imitative of any specific singer either: He's just his own sensual, kind, not overly ambitious self, retro only if you think gentle seduction and soulful electric guitar are passé. There's not a sentiment on his 2021 album, Pink Planet (Human Re Sources/Atlantic), that somebody else hasn't already sung to convince a person they want to see naked that they care about them. That's kind of the point. If you fell for his affectionate hair-stroke of a ballad "At My Worst," there's more where that came from: Try his recent singles, the uptempo "I Feel Good," and its sequel "Nothing Feels Better." (If he doesn't round the trilogy out with "The Best Feeling" in the next month or so I'll be very disappointed in him.) $25. 7 p.m. 1308 SE Fourth St., Minneapolis. More info here.–Keith Harris
FRIDAY 11.19
The Boba Fettish Ball
Ground Zero
A long time ago in a galaxy far far away, people went to dance parties. The Boba Fettish Ball is here to help you remember this time with a kinda weird, kinda sexy event where masks are encouraged–and not just because there's a plague raging on. You're attending a party on Coruscant, so wear your Star Wars best, whether you're a Death Star commander, a rogue Batuu smuggler, or part of the Resistance. Don't have a getup? With the right bathrobe anyone can be a Jedi, and Princess Leia is just a pair of earmuffs away. Everyone in costume is welcome to join the fashion parade, which will march across the stage. The dance floor will be fueled by DJs from the Forbidden Bazaar, with breaks for entertainment including aerial acrobatics, fire dance, and geeky-hot burlesque-style performances by Mona Montague, Michelle Ravenwood, Angela Higgins, and others. 21+. $15; $10 if in costume. 10 p.m. to 2 a.m. 15 Fourth St. NE, Minneapolis. –Jessica Armbruster
Sam Evans
Comedy Corner Underground 
Cincinnati-born, NYC-based comic Sam Evans named his 2020 debut album Sweet Baby Boy, and the title fits. Innately likeable, Evans glides through slice-of-life bits with effortless charm and writerly flair. When he swerves from a premise about dog sweaters into dog dicks, you're on the friendly standup's side regardless of your appetite for phallic humor. Evans scored a coveted New Faces slot at the 2014 Just For Laughs Festival in Montreal. Local comic Grant Winkels opens. $12. 8 p.m. Friday and Saturday; 10 p.m. Saturday. 1501 S. Washington Ave., Minneapolis. More info here.—Jay Boller
Yule Ball 
Boom Island Brewing Co. 
Just how canceled is J.K. Rowling, the Harry Potter author whose TERF-y behavior has dominated her recent headlines? Up to you! But the folks at Boom Island are comfortable celebrating her millennial-cherished Y.A. universe with Yule Ball, a Hogwartsian holiday bash at the Minnetonka brewery. We're talkin' a special Yule Holiday Ale, N/A Butterscotch Root Beer to mimic the franchise's butterbeer, Potter-inspired cocktails, live tunes from MN Hard Bop Collective, and food from Deep Roots. There's also a Jr. Yule Ball on Saturday from noon to 4 p.m. for lil' muggles (costumes are encouraged). Noon to 11 p.m. Free. 5959 Baker Rd. #320, Minnetonka. More info here.—Jay Boller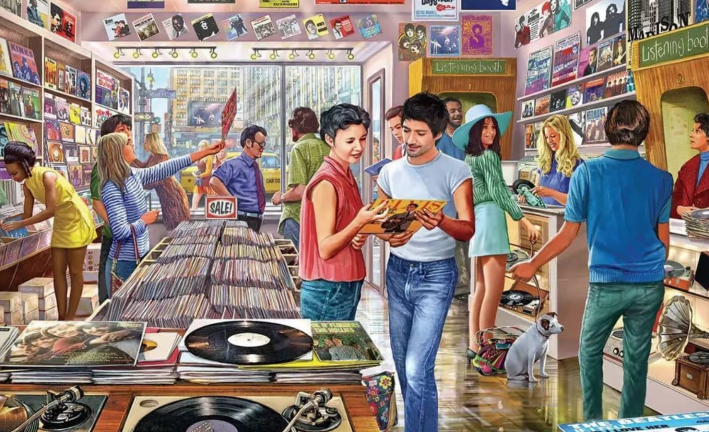 SATURDAY 11.20
Twin Cities Record Show
Able Seedhouse
For years, the MSP Music Expo has been bringing vinyl lovers together at low-stake venues. No intimidating and cramped record shops, creepy musty basements, or overwhelming warehouses. These events tend to be pretty simple: just a bunch of tables featuring boxes of records to look through. The playing field is level, some people walk away with a rare find, while others are just here looking for a well-loved classic release. These events are at Able about six times a year, making it a fun way to spend a casual afternoon drinking pints and looking for treasure. Free. Noon to 4 p.m. 1121 Quincy St. NE, Minneapolis. –Jessica Armbruster
7th Trip Around The Sun
Insight Brewing
After taking a year off (thanks, COVID!), Insight's annual birthday party is back with a day of beer drinking and entertainment. There will be a makers' market throughout the day, with Leather Works Minnesota selling key fobs and wallets that they can monogram for you (sounds like a Dad Christmas gift), succulent shillers Succ It Up Buttercup will have a mini nursery set up, and portrait painters Daughters and Suns will be making 10-minute masterpieces. Live music starts up around 2:30 p.m., and will offer rocking tunes from Surf Riders, the Hits, Gentleman Speaker, and Pleezer, a Weezer/'90s cover band. Pizza and Asian fusion food trucks will be parked outside to serve sustenance. Finally, there's the brew. While the traditional Gravity Well isn't happening this year, there will still be a variety of unique (and super alcoholic!) bottles that you can take home and enjoy after the party: the Triple Drift West Coast IPA (10.5% ABV), the Baltic Porter (9.1% ABV), the Doppelbock (8.7% ABV), and an imperial stout brewed with toasted coconut, cacao nibs, orange peel, and vanilla (11% ABV?!). Free. 1 to 10 p.m. 2821 E. Hennepin Ave., Minneapolis. –Jessica Armbruster
SUNDAY 11.21
Adrianne Lenker
Cedar Cultural Center
Here's what we don't know: Adrianne Lenker, the prodigious songwriting force behind Big Thief, may or may not be local. Lenker grew up in Minnesota, left for hipper coastal outposts, but relocated back home before the pandemic, thus rendering her a local artist and satisfying our provincial pettiness. While her current zip code remains unknown, of this much we're certain: The 30-year-old's output keeps getting better and better, and the Cedar is an idyllic venue for her latest collection of solo work, last year's Songs. Tender, evocative, and often breathtakingly beautiful, the barebones acoustic album is yet another showcase for Lenker's singular poetry and celestial voice. All the while, we keep getting stellar teaser tracks from her indie-rock band, who seem poised to build on their powerful double-release 2019. Buzzy local Lutalo Jones—who happens to be Lenker's cousin-in-law—opens both shows. Tickets are currently sold out, so you'll have to finagle something from Stub Hub if your heart's set on attending. 3 and 7:30 p.m. 416 Cedar Ave., Minneapolis. More info here.—Jay Boller
Old St. Anthony Holiday Bazaar
Machine Shop
Between supply chain issues, consumer goods shortages, and worker strikes (good for them!), the task of tracking down the holiday gifts you want is shaping up to be even more stressful than it is in a typical year. Lucky for you, then, that this local shopping fest from Minneapolis Craft Market will bring two full floors of handmade goods to Machine Shop this weekend. Stop by and shop jewelry, ceramics, candles, prints, knits—and possibly even Prince knits? It's completely free to attend, but tickets are required for entry (along with masks and proof of COVID-19 vaccination or a negative test). Don't let the 2021 shopping season get the best of you! You can do this! Noon to 5 p.m. 300 Second St. SE, Minneapolis. —Em Cassel