After a two-decade hiatus, 40 snowboarders and hundreds of spectators crowded Duluth's Cascade Park on Sunday for Red Bull Heavy Metal.
The street snowboarding event, last held in 2003, took over a spot that's "a figurehead for street snowboarding, even outside of Duluth," as competition director Joe Sexton told the snowboarding magazine Slush.
Street snowboarding has gotten really big in Minnesota, for an obvious reason. "We have hills, not mountains," says Lexi Roland, one of about a dozen women and a handful of Minnesotans competing in Sunday's street contest.
Born in St. Louis Park, Roland says the North Star State is one of the best places for street snowboarding in the country. Thanks to the prevalence of tow ropes, which quickly haul boarders up hills without needing to take a lift, riders can get dozens of runs in over the course of a few short hours. ("That's one of the things that keeps me in Minnesota," Roland says. "Every time I have to wait in a lift line a little piece of my soul dies.")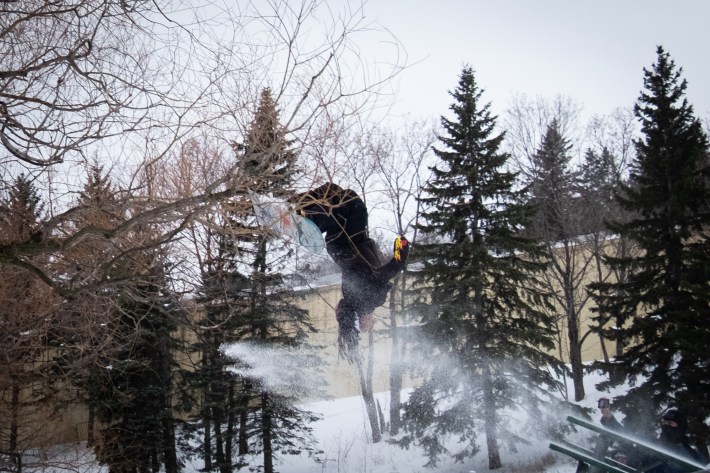 Sunday's event consisted of three parts: "The Tower," which saw riders dropping 20 feet from the park's pavilion; "The Playground," where they showed off their technical style with picnic tables, trees, and transfers, and "The Metal," where they rode a huge kink rail down to the street below.
Roland gets excited whenever there's a rail jam event like this here in Minnesota, and she says it's something she'd like to see more of. "All the rail jam stuff, I personally—and I'd say a good amount of people agree with me—[believe] Minnesota has the best rail riders in the world. Having an event like this in Minnesota feels really fitting."
To her point, Maggie Leon, the Vermont-based boarder who took home first place in the women's event Sunday, told Racket that her first trip to the Midwest has been a long time coming. "We've been talking about doing a street trip out here [to Duluth], but we don't really know the zone very well," Leon said. (Although it's maybe too well-known: "All the famous spots have been absolutely slaughtered here," she laughed.)
Take a look at the weekend's excitement below. All photos by Bryan Frank.