Last week: The men told all! Which was basically nothing: Pizzapreneur Pete chewed scenery, Jaime failed to apologize for being a jerk, and Clayton was anointed the next Bachelor. I already know his journey is going to be super boring.
Folks, we are no longer in Minnesota. The show opens with a montage of Mexico ephemera. There's a shot of an iguana, a bird, some coastal stuff. 
"These beautiful trees and canopies are, like, everywhere," says Michelle. "I feel really good about coming to Mexico to finish falling in love."
Host Kaitlyn talks about the importance of the overnight dates. For the uninitiated: At the end of each of these dates Michelle—if she chooses—can offer the guys an overnight date in the "fantasy suite." Meaning, they get to spend the night together, with no cameras. Sexy times, y'all!
"The cameras are off and you can ask the questions you need to ask," says Kaitlyn. This personal time without cameras is something the show is going to bring up a lot. When you're considering getting engaged you really need that time to discuss things without a camera crew watching your every move, you know? Very relatable.  
"I have three incredible men left, and I am falling in love," says Michelle. "These three relationships are all very strong." Well, I am very stressed out for you, Michelle.
Meanwhile, the dudes are hanging out. 
"It's weird being in the room with both Brandon and Nayte," says Minnesota Joe. "We're not really friends. We went from bros to foes and it's really awkward."
Host Tayshia is in charge of giving the guys a pep talk this episode. She also brings up how great it is to talk to your soulmate without a camera crew following you around.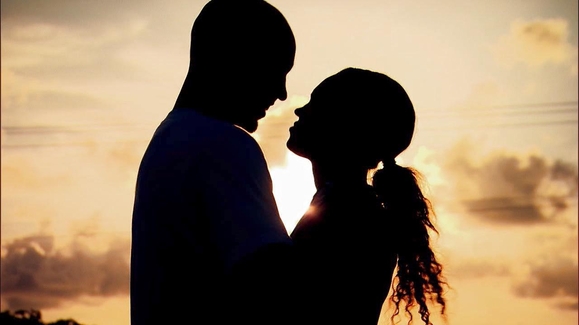 Brandon "literally" tears his heart out
Brandon gets the first date. They're going to ride horses. One is named Panini and the other is named Tomate. Cuuuute!
"Yo! We're going horseback riding," says Brandon. "I don't have any cowboy in me, but I was like, 'Let's ride.'"
They ride the horses to the beach.
"This is like, the most romantic thing I have ever done in my entire life," Brandon admits. Duuuuude.
At the beach he writes their initials in the sand and they make out. Their initials are B + M. Sexy!
Next is the dinner where no one will eat. Brandon is ready. 
"I'm super excited about tonight," he says. "I am literally going to rip out my heart and throw it on the table. I am not here to leave anything off the table." That sounds messy, man.
During their dinner he admits that he knew from the moment he first met her that she was "the one." Here is that moment, for reference:
"You are such a big part of my life now," says Brandon of the woman he met a few weeks ago, and has never spent time with IRL off-camera. 
Michelle admits that she is falling in love with him. They go to the fantasy suite where they make out in a hot tub and there's fireworks. 
The next morning, we see them hanging out with each other in bed in their jammies. He serves her breakfast in bed.
"Our relationship is never going to be boring like everyone else's," says Brandon. Dude, give it a few years. 
They end their overnight date with a food fight in bed. It's gross. There's egg on his face, on his shirt, and all over the sheets. I am stressed for the house cleaning crew.
Minnesota Factor: Nothing! 0 / 10,000 lakes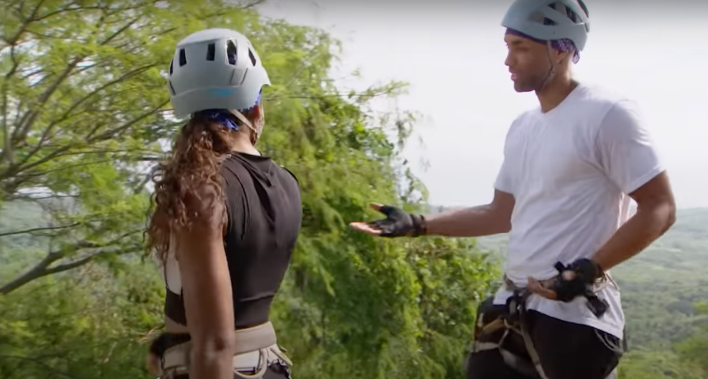 A very meaningful and clarifying zipline
Next up: Minnesota Joe! They are going ziplining, and it looks like a lot of fun.
"Love is scary, and ziplining is scary," exposits Joe.
There's not much else to say about it. It looks like they had a good time. Fun fact: I went ziplining in Ohio when I was a kid. It was not as majestic. 
After their sky ride, they end up with champagne on a bench in a field of horses, as one does. 
"You've been like, this little slice of home," says Michelle. "I do feel less homesick."
They feed a horse. Minnesota Joe tries to tell the horse to sit. They make out as the sun sets. It looks like a Christian Mingle ad. 
It's uneaten dinner and sex suite time! It looks like they have plates of fish. Michelle lets MN Joe know that today was very meaningful for her and it gave her clarity. Folks, we're talking about a zipline date.
Minnesota Joe says that he wants to help people who feel lost after they have to move on from a sport. 
"I want a life that is impactful," says Michelle.
"I feel like we would be a very powerful couple together," says Joe.
They spend the night together. The next day they talk about how they are both morning people. Gross. Michelle thanks Minnesota Joe for the thousandth time for being vulnerable with her. In an interview he admits that he is ready for marriage, and seems downright giddy. Oh buddy.
"The past 24 hours with Joe has changed everything," says Michelle in an interview. But has it? We shall see.
Meanwhile, Minnesota Joe is catching up with the dudes. "Feeling good, living better," he tells Nayte and Brandon of his fantasy suite overnight. "It was fun." 
Minnesota Factor: Two Minnesotans talk about missing Minnesota. I'll give one point for that, I guess. 1 / 10,000 lakes
Vibin' with Nayte
Now it's Nayte's turn! They're on a boat! They seem really into each other.
"I think part of being in the present is about sitting with the uncomfortable feelings you have," says Michelle.
"I just love the very little things about you," says Nayte. "You know the very subtle things that make up a human being."
Michelle explains in an interview that she is worried that she might have more feelings for him than he does for her. She really wants Nayte to tell her tonight that he's ready for an engagement. No pressure!
At dinner, Nayte does, with some prompting, admit that this is all very new to him, but he is ready to propose, get engaged, and married. There are a bunch of stuffed peppers on the table. No one is eating them, of course.
They agree to go to the fantasy suite. The next morning, a mariachi band serenades them outside. Michelle and Nayte rush out on their balcony and exclaim that this is the craziest thing ever. A mariachi band in Mexico? Crazy!
Back with the dudes, Nayte is flexing. 
"We definitely vibed out and kicked it," he says. There's a shot of Brandon bugging his eyes out. This vibin' clearly worries him!
Minnesota Factor: Nothing! 0 / 10,000 lakes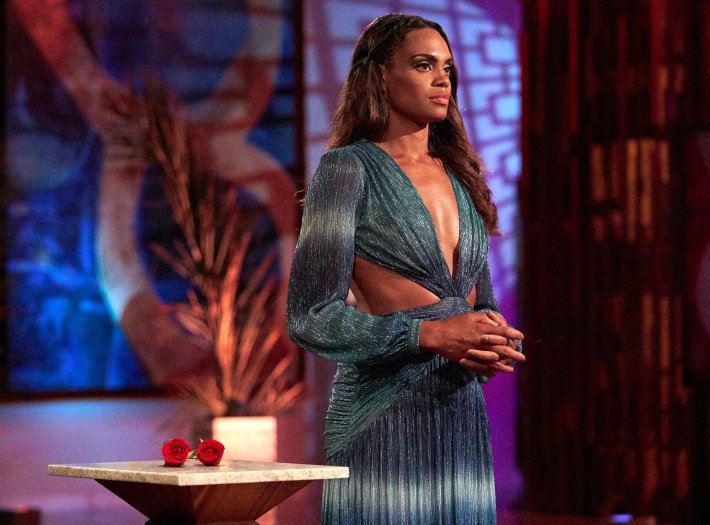 Michelle rejects the entire state of Minnesota, probably
Time for the rose elimination ceremony of love!
Right as Michelle is about to get started, Brandon pulls her aside and tells her he supports her. The old Jedi mind trick! She goes back to the ceremony and gives the roses to Nayte and Brandon. Minnesota Joe is out! It's pretty brutal. If you're local and you know Minnesota Joe, give him a hug. It's gonna be OK, buddy.
Next time on the big-ass three-hour season finale: "The show's journey of love comes to a dramatic conclusion." I can't wait!