Welcome back to "Five Things," Racket's recurring rundown of new, new-to-us, or otherwise notable Twin Cities restaurants.
Today we're taking a look at Nine Mile Brewing, which just became Bloomington's first brewery. Why? Because true to Minnesota's history of weird and annoying alcohol laws, Bloomington's charter effectively banned taprooms within city limits. After working with the city, getting a charter change on the ballot, and watching it pass with incredible public support, Nine Mile (delayed a bit further by the pandemic) opened in February.
But what's it like inside? What's the vibe? And how, crucially, are the beers? Let's find out together!
1. Yes, it's Bloomington's First Brewery.
But founder Bob Countryman didn't necessarily want to open a taproom in Bloomington, he just wanted there to be a taproom in Bloomington. "I had been sending emails to other taprooms like, 'Open in Bloomington! Open a second location!'" Countryman laughs. None of them could, unfortunately—another frustrating law, this one courtesy of the state of Minnesota, says a brewery can only have one taproom in the state. Eventually, though he had three decades of experience in insurance on his resume and very little food and drink experience, he wondered, "Would it be crazy if I did?"
Coverage of the brewery so far has largely focused on the legal push to amend the city charter, but Countryman clarifies that his brewery was a "part of the process," mainly working "behind the scenes." He feels the city had already been looking to change it, and he didn't want to be seen as trying to influence the public's vote. If the people voted for a brewery, he would be only too happy to build one for them. In the end, the public overwhelmingly voted to bring on the beers, with 77% of people voting to change the charter.
2. The Taproom Is for Everybody
Countryman loves bars, from old Wisconsin dives to swanky cocktail lounges, but "I feel like you talk to people more in a taproom," he says. They feel like communal spaces, packed with families with young kids, groups of friends, and people with their pups (Nine Mile Brewing is dog-friendly inside). Some bring in pizza and others play games, but everybody's hanging out and feeling at ease. "I want it to feel comfortable, I want it to feel welcoming to everybody," Countryman says. "And I love the fact that it's family friendly." Sundays have been such a popular day for families, in fact, that they've started billing them as family days.
3. And the Beers Are for Everybody
A brewery for everyone has to have beers for everyone, which is why Nine Mile Brewing leans hard into lagers and pilsners. Countryman says they'll always have two or three lighter, more easy-drinking beers on tap, with lots of IPAs and New England IPAs in the middle. They have 20 taplines, and Countryman wants them flowing with a wide range of beers. "Any time someone comes in here, they should be able to say, 'This is the kind of beer I like,' and we would have something that will match them.'" John Leingang, former head brewer at northeast Minneapolis's Dangerous Man, is now head brewer here, and we're already fans of stuff like their Belgian farmhouse Saison Ménage—one of Racket's beers to drink this month.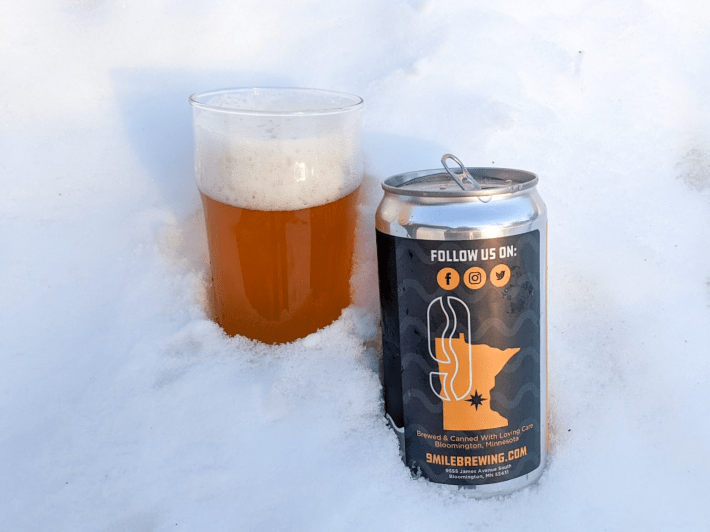 4. They Can't Keep the Stuff On the Shelves
Those 20 tap lines have been getting a lot of work. "I gotta be honest, we're struggling to keep up with demand a little bit," Countryman says. When I stopped by Nine Mile Brewing earlier this week, shortly before 5 p.m., the place was packed when I got there and only got busier over the following two hours. And they had just five beers left on tap: Aces Around (an American IPA), Parallels Pale Ale, Lulu Goldenberry Sour, Done & Dusted (a double NEIPA), and Swamp Thang, a smoked wee heavy ale made in collaboration with Wisconsin-based Oliphant Brewing. I loved the hop-packed Aces Around, and I'll be back to try the Schiftdbier house lager, one of several currently listed on their site that's underscored with, "We're making more!"
5. What's Good for Bloomington is Good for the South Metro
Located at 9555 James Ave. S. in Bloomington, Nine Mile Brewing is just about as convenient for many Southsiders to get to as the brewing hotspot that is northeast Minneapolis. Sure, you have some options: Wild Mind Artisan Ales (Minneapolis), Wooden Hill Brewing Company (Edina), Fat Pants (Eden Prairie). But there really isn't much in the way of taprooms in this neck of the woods. "When we went into banks to talk about loans and everything, we had a map: Here's the taprooms. And here's Bloomington, sitting in the middle of nothing," Countryman says.
Nine Mile's founder isn't worried about having some company, though. On the contrary, he'd love to see some more Bloomington breweries cropping up, helping put the city's brewing scene on a map of its own. It's a big city—Minnesota's fourth most populous—and people there drink beer just as much as everyone else. Judging by the packed house last night, the city could use it.