Welcome to Meet the Tattoo Artist, a series where we aim to showcase a variety of talented Twin Cities tattoo artists who are creating spectacular art on peoples' bodies in Minnesota. This week we're chatting with Allie Moon of the Present Tattoo Parlor.
Are you from Minnesota? 
I am! Born and raised. So, 24 years!
How did you get into tattooing? 
I've always had an admiration for body art. When I was around four years old, my mom had just gotten a tattoo and I remember telling her, "I'm gonna do that on people when I'm older!" So, when I was 18, I got an apprenticeship at a local shop in Minneapolis, and it's just kept going since then.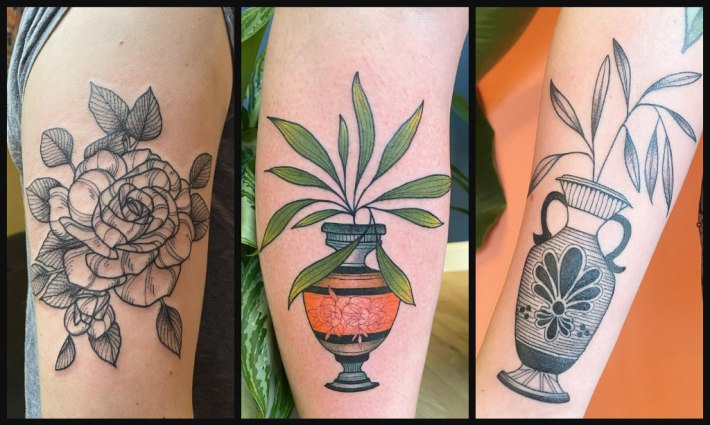 What are some of the barriers/struggles you have faced as a tattoo artist? 
The tattoo industry is a place that used to be very white, and very dominated by men. It still is, but it is becoming a lot more accessible to all folx. I used to feel very out of place. When I was in my apprenticeship, I was taught in a way that has been passed down through generations of tattoo artists that were created by white men and navy sailors. I understand my mentors aren't at fault; how the industry was created and is, but still, it wasn't an easy time for me. 
I've always been someone who believes in evolution, change, inclusivity and kindness. I didn't have that experience in my apprenticeship, and that's always been hard for me; to realize the ways I learned, doesn't have to be the way that I now teach my apprentices. Owning my own shop, the Present Tattoo Parlor, has taught me I've had to unlearn a lot of things. I've learned that kindness, being gentle, creating an inclusive, safe space for me, my co-workers, and especially my clients is the best thing that I get to do. 
Do you lean towards a particular style of tattoo? 
I do! I love blackwork, and I lean towards an illustrative style.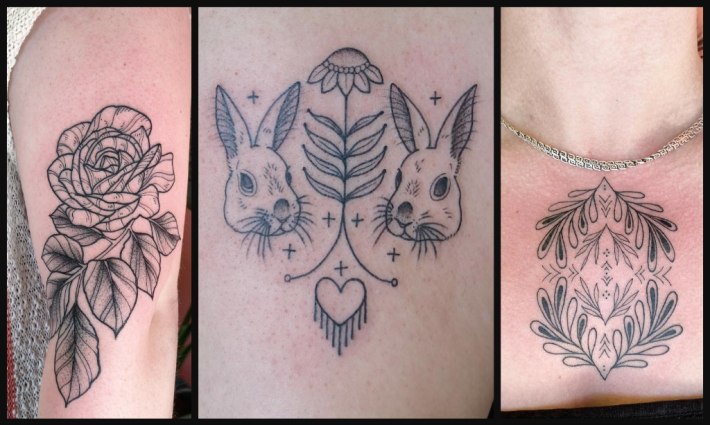 Name three things that inspired you early on in your career:
Cloey Zikmund (@cloeyzikmund) heavily inspired me when I was just learning to tattoo, and still does. 
Old nature/vintage illustrations 
Flower gardens in Minneapolis
Name three things inspiring you now:
My partner, Clementine, who I'm now teaching to tattoo: @house.of_sleep
Old magazines
My co-workers, @housebabytattoo and @rachelradiant
Is there a tattoo that you're particularly proud of? Can you take us through why?
Yes! I used to be extremely hard on myself, and I can still fall into self-doubt, but there are a lot of tattoos I'm proud of. I really love this ginkgo piece I did a few months ago. I feel like the shading and the placement looks really good. I took my time on it, and it paid off.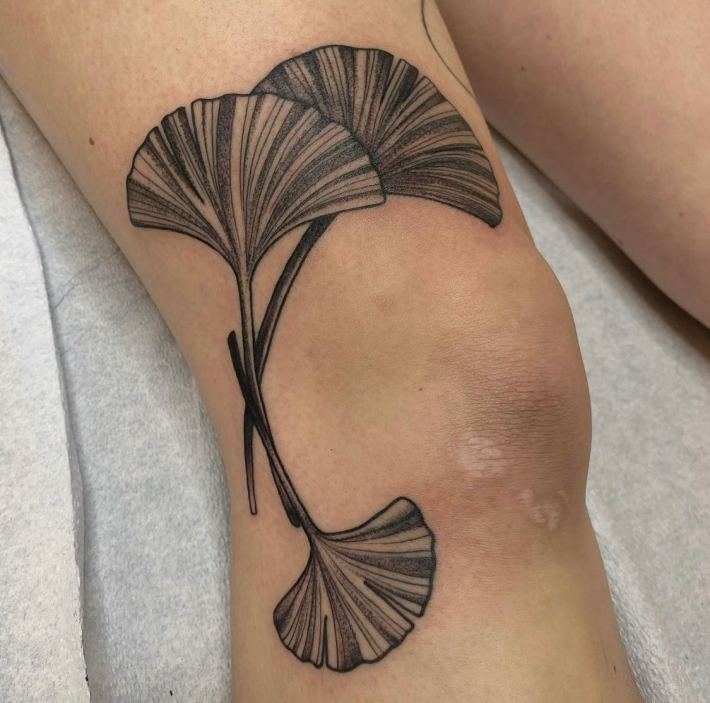 What about the weirdest/most original/most random tattoo you've even done?
Yes!! I did a whole arm sleeve full of bubbles early in my apprenticeship. My client told me she was taking a bubble bath and loved how the bubbles were laying on her skin, and decided to get it tattooed. It was really fun, and I thought it turned out pretty sick.
Do you create other kinds of art? 
Yes! I'm always doing some sort of art. I dabbled in ceramics for a while, which I really loved. I was a dancer growing up, and will take any opportunity to dance still to this day; dance classes, interpretive dancing in my living room, dance work-out classes. I also am really into interior design and have completely renovated my shop twice. I love changing the spaces around me to inspire me. 
Where can we find you when you're not tattooing?
I'm a huge foodie, so I'd probably be out to eat with my partner, or cooking! I also love gardening, going to the beach with my dog, and spending time outside. 
Where Can We Find You? 
The Present Tattoo Parlor, 2224 E. 35th St., Minneapolis
Instagram: @thepresenttattooparlor and @alliemoontattoo