Juxtaposition Arts has a lot going on.
Many know the Minneapolis nonprofit for their beautiful murals, their presence at North Side art crawl FLOW, their retail space on West Broadway, or their skate park, which hosts events throughout the year. But that's just the tip of the iceberg.
A few things they're working on right now? Designing a lobby for a new low-income housing project in the historic 927 West Broadway building, running an expanded wood shop facility in their brand-new headquarters, bringing students back to labs and classrooms post-COVID, preparing to host a free summertime aerosol painting camp, raising the last $1 million dollars for their $14-million in renovations, building an arts archive, and ending their lease at 2007 N. Emerson Ave., because they now own the block. There are even more big changes coming to campus, too.
"We now own the corner of West Broadway and Emerson, and that allows us to expand," explains Gabrielle Grier, pottery artist and CEO of Juxtaposition. "We're going to have an archive and library and a community space that people can rent out and hold lectures and teach and host birthday parties–anything. We're also going to have a green space."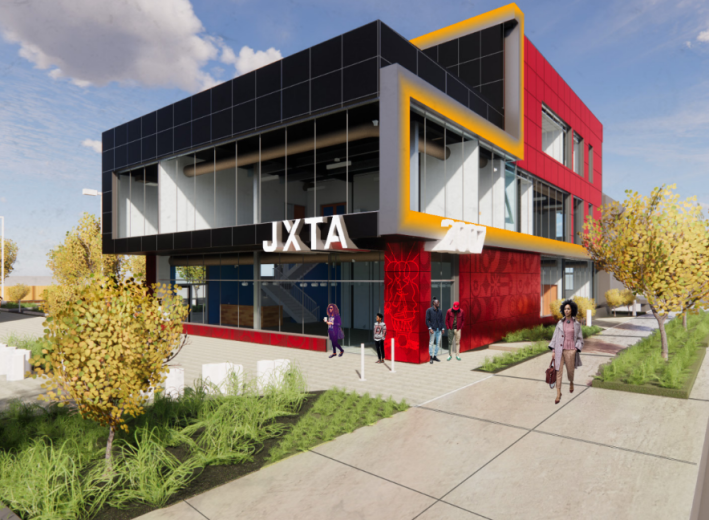 JXTA is just a million dollars shy of its $14 million capital campaign. In addition to donations from foundations and institutions, "thousands and thousands and thousands of regular everyday folks contributed to help us get, hit, raise that $13 million dollars," she says. "In less than a year."
That's all good news for Juxtaposition Arts, which is one of the most uniquely dextrous organizations in Minnesota. For over 25 years, the company has merged the practical with the creative, engaging kids, teens, and young adults with programs and apprenticeships that connect them not just with mentors and facilities, but also with clients and income. Participants are not only learning, they are also getting paid–a rarity in our "pay-to-learn, work for exposure, don't expect compensation for your art" world, Grier says.
"You're getting paid $12-$15 to learn, and you're also developing a portfolio from that learning, and you're getting paid commissions from what you sell from that learning," she adds.
Instead of leaving school with a handful of debt and a gnawing question on how to pay bills with creativity, students are primed to enter college or the workforce with an actual game plan–something many creative people only figure out decades later.
"The average young person stays with JXTA for two to four years," Grier says. "In that amount of time, it's really like JXTA is compensating for what doesn't happen in traditional art and design school. Art schools should be talking about how to survive as an individual artist and how to develop yourself as a brand and entrepreneur in whatever field you go into–whether you end up in freelance, are a consultant, or if you decide to sell your stuff on Etsy."
The idea is to start kids thinking critically about creativity as a career early.
"There are people who come here as young as eight years old who are exposed to an environment where there are 16 year olds who are accomplished and have their own portfolios and are traveling with really high clients Nike and Red Wing," Grier says. "It changes the game of what is possible and realistic for your life when you have been hyper exposed to opportunity early. I think that's the contrast that JXTA has from public or traditional schooling."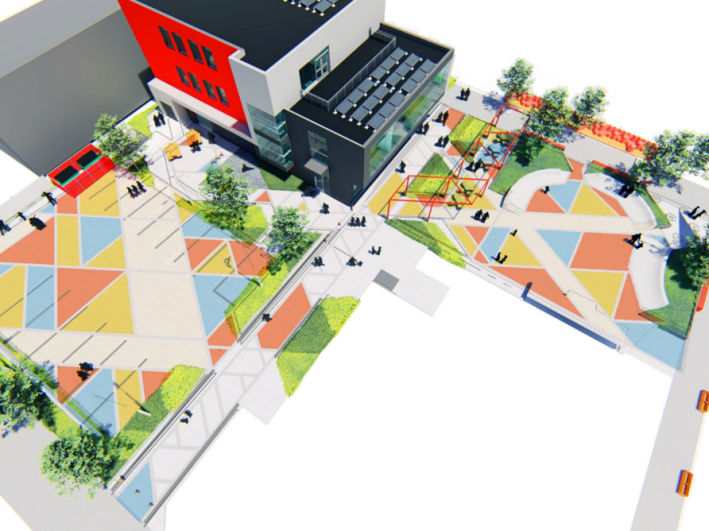 Like everyone else, Juxtaposition had to make some adjustments during COVID lockdowns, moving to a hybrid model that entailed lots of working from home, arts supply drop offs, and working to make onsite facilities safe ("You can't throw a mug from your house," Grier jokes). But as we slowly inch our way back to normalcy, JXTA has continued to load up its plate with projects.
"What I am most excited about now is flipping the local narrative about what JXTA does," Grier says. "I think that people box us in, like 'Oh! That's the cute little nonprofit that does the murals.' If I think about the collective of projects that JXTA has right now on West Broadway? It's over eight projects that are fully connected to economic development. So everything from architectural design to building renovation to community engagement on the Blue Line–we're far more than just paintings and murals. We are literally redesigning our local neighborhood. And that's where our investment is."
The new campus opens in September with a soft launch, with a major launch party scheduled next spring for the whole campus project.