Freeloader Friday is your weekly guide to having fun no matter what your budget looks like. Each week we have a list of 100% free events like gallery parties, music, and films in the park, as well as free admission events like special happy hours, markets, and more. For our picks of the week's best events, price be damned, click here.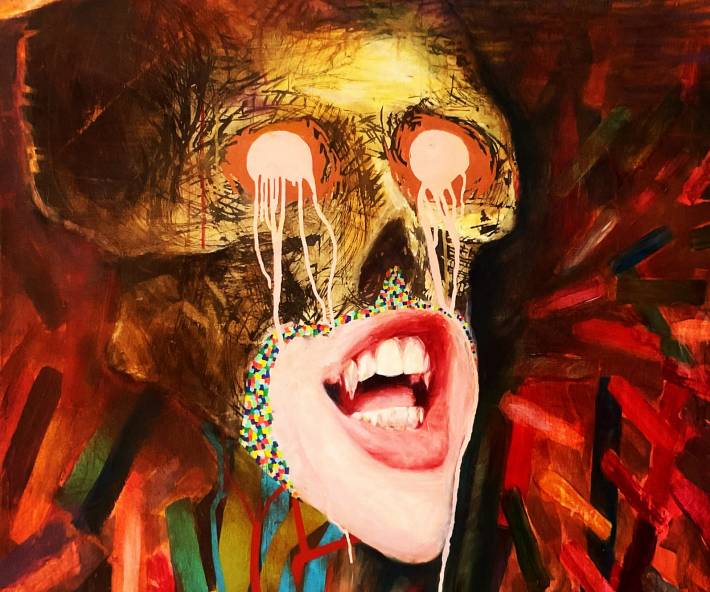 FRIDAY
Eldrich
Collaborative paintings by Adam Marx, Jonny Kelson, and Matt Franzen. 7-11 p.m. Rogue Buddha Gallery, 357 13th Ave. NE, Minneapolis.
JUICE! Friday the 13th Edition
Featuring art by artist Zach Kelz, board games, a photo booth, dancing, and tunes from Astrolex, DJ TNA, and MamaSauce. 8-11 p.m. Modist Brewing Company, 505 N. 3rd St., Minneapolis.
Kinder Dosage, Lulu & the Shoe
21+. 9 p.m. 331 Club, 331 13th Ave. NE, Minneapolis.
Black Cat Soiree
With tunes from DJ Dedicated Enemy and limited-edition cocktails. Black attire is encouraged. 9 p.m. to 1 a.m. Constantine Mpls, 1115 Second Ave. S., Minneapolis.
St. Paul RV Super Show 
Look, you're not going to buy a $70,000 RV. But you might have kiddos. They might be fascinated by large vehicles. And this free industry propaganda event promises "dozens of outdoor adventure vendors, family-fun activities, speakers, and more!" What more could you possibly want? The idea of someone giving a Ted Talk-y lecture about the virtues of the 2023 Jayco Jay Flight SLX 7 sounds funny to me, and they probably let you walk in and out of the RVs, which, honestly, seems pretty neat. Some of the fancier ones might have creative features and doodads that'll make the whole family remark: "Neat!" Think retractable TVs, space-saving bathrooms… stuff like that. Ever see Will "Mr. Slap" Smith's $2.5 million RV? It's a sight to behold. (That was a non sequitur; Mr. Slap's RV won't be at the RiverCentre.) Would we be writing about this event if we weren't in the post-New Year's activity doldrums? Almost certainly not, but hell, I've half-convinced myself to check out the St. Paul RV Super Show. Free. Noon to 9 p.m. Thursday through Friday; 10 a.m. to 8 p.m. Saturday; 10 a.m. to 4 p.m. Sunday. Saint Paul RiverCentre, 175 Kellogg Blvd. W., St. Paul; find more info here. Through Sunday–Jay Boller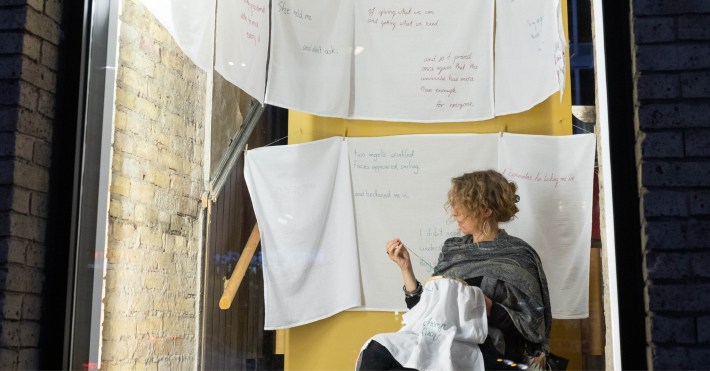 In/Visible Care
Artist-in-residence Dr. Rachel Epp Buller embroider stories submitted by the public onto tea towels to be incorporated into her fabric installation. 10 a.m. to 5 p.m. Friday and Saturday. Minnesota Center for Book Arts, 1011 Washington Ave. S., Minneapolis.
Kara Nesvig Closet Sale
Beauty and style writer (and a former City Pages' fashion writer) Kara Nesvig sells vintage and designer pieces. 5-8 p.m. Friday; 11 a.m. to 5 p.m. Saturday and Sunday. Legacy, 1610 W. Lake St., Minneapolis.
Friday Night Music: Amanda Grace
6-8 p.m. Utepils Brewing, 225 Thomas Ave. N., Minneapolis.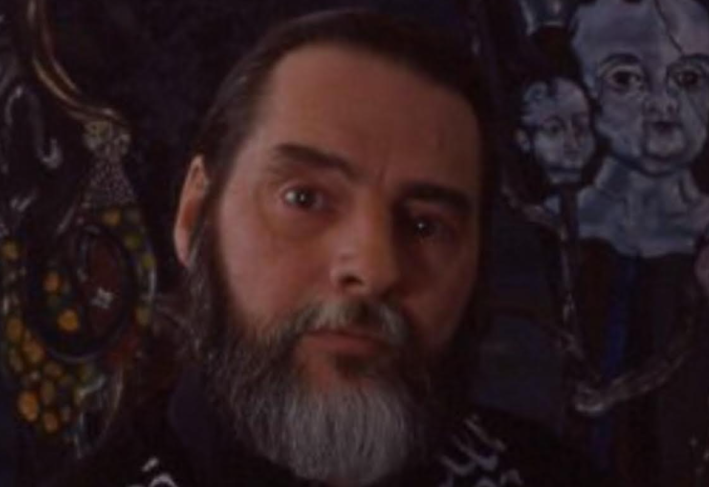 Act III: Who the Heck is Hoffman?
When curator Emily Landberg answered an ad on Craigslist inviting anyone to claim free artwork by the recently deceased Frank G. Hoffman, she ended up taking over 100 paintings, sculptures, drawings, poems, and more home in a U-Haul truck. "I only had to see three canvases to know that this collection was truly special," says Landberg. Now you too can learn more about this prolific dude from Duluth, whose career spanned 50-some years (some of his pieces are also in the Smithsonian's National Air and Space Museum's permanent collection). Over the past year, Landberg has begun archiving and creating a timeline of his work, which you can see in this unique show, which is 18+ (some pieces are sexually explicit). 7-10 p.m. Artista Bottega, 937 W. Seventh St., St. Paul. Through January 27–Jessica Armbruster
Winter SKOLstice
This free festival features a warming house with drinks and food from Omni, plenty of bonfires, and free ice rinks for skating, curling, and pond hockey (just bring skates). Special events scheduled during the winter include trivia nights, live music, and more. Find tickets and more info at minnesotaicemaze.com. 4-10 p.m. Mondays through Fridays; noon to 10 p.m. Saturdays and Sundays. Viking Lakes, 2645 Vikings Circle, Eagan. Open daily through February 19. 
John Scalia Acoustic Trio 
7:30 p.m. Excelsior Brewing Company, 421 Third St., Excelsior.
Tony Williams
A one-man cover band. 7-10 p.m. Steele & Hops, 2800 39th Ave. NE, St. Anthony.
Purple Friday Fan Rally
With performances from the Minnesota Vikings cheerleaders and the SKOL Line, autographs from Vikings legends, tailgate games, photo ops, and more. Hosted by the voice of the Minnesota Vikings, Paul Allen. 5-7 p.m. Mall of America, Bloomington.
Friday Night Open Mic
21+. 10 p.m. The Comedy Corner Underground, 1501 S. Washington Ave., Minneapolis.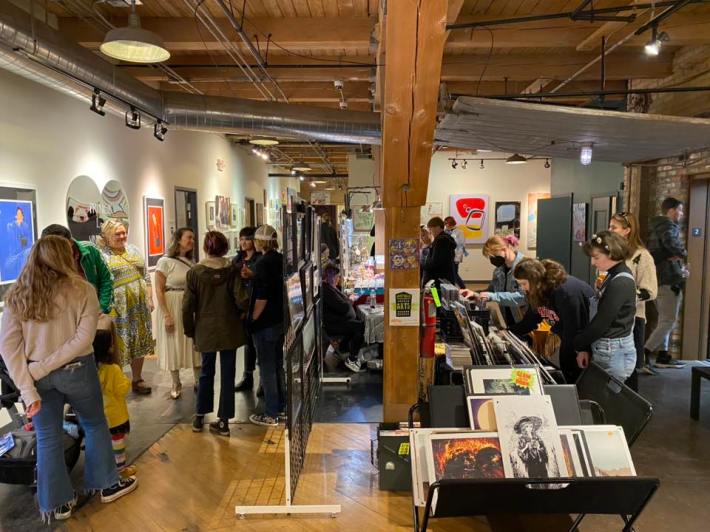 SATURDAY
Art Winter Market
With two floors of art, live music, 40+ artists, a secret Prince Museum, and more. Noon to 6 p.m. Solar Arts Building, 711 15th Ave. NE, Minneapolis.
Second Saturday
11 a.m. to 4 p.m. Casket Arts Building, 681 17th Ave. NE, Minneapolis.
California Building Second Saturdays
11 a.m. to 4 p.m. California Building, 2205 California St. NE, Minneapolis.
Open Studio Saturdays 
11 a.m. to 4 p.m. Northrup King Building, 1500 Jackson St. NE, Minneapolis.
Ways to Save Fair
With samples, budget tours, cooking demos, special savings, prizes. Mississippi Market Natural Foods Co-op, 740 Seventh St. E., St. Paul. 
MLK NOW 2023: The Impact of Gentrification On Rondo
Featuring keynote speakers Karen Wells (mother of Amir Locke, murdered by MPPD) and YouTuber Michelle "Mechee X" Kulczyk, plus 36+ guest speakers (policymakers, activists, educators, business owners, and more), shopping from 70+ Black-owned businesses, food from Black-owned local restaurants, a kids' mini carnival, electronic gaming, and more. 10 a.m. to 10 p.m. Wilder Conference Center, 451 North Lexington Pkwy., St. Paul.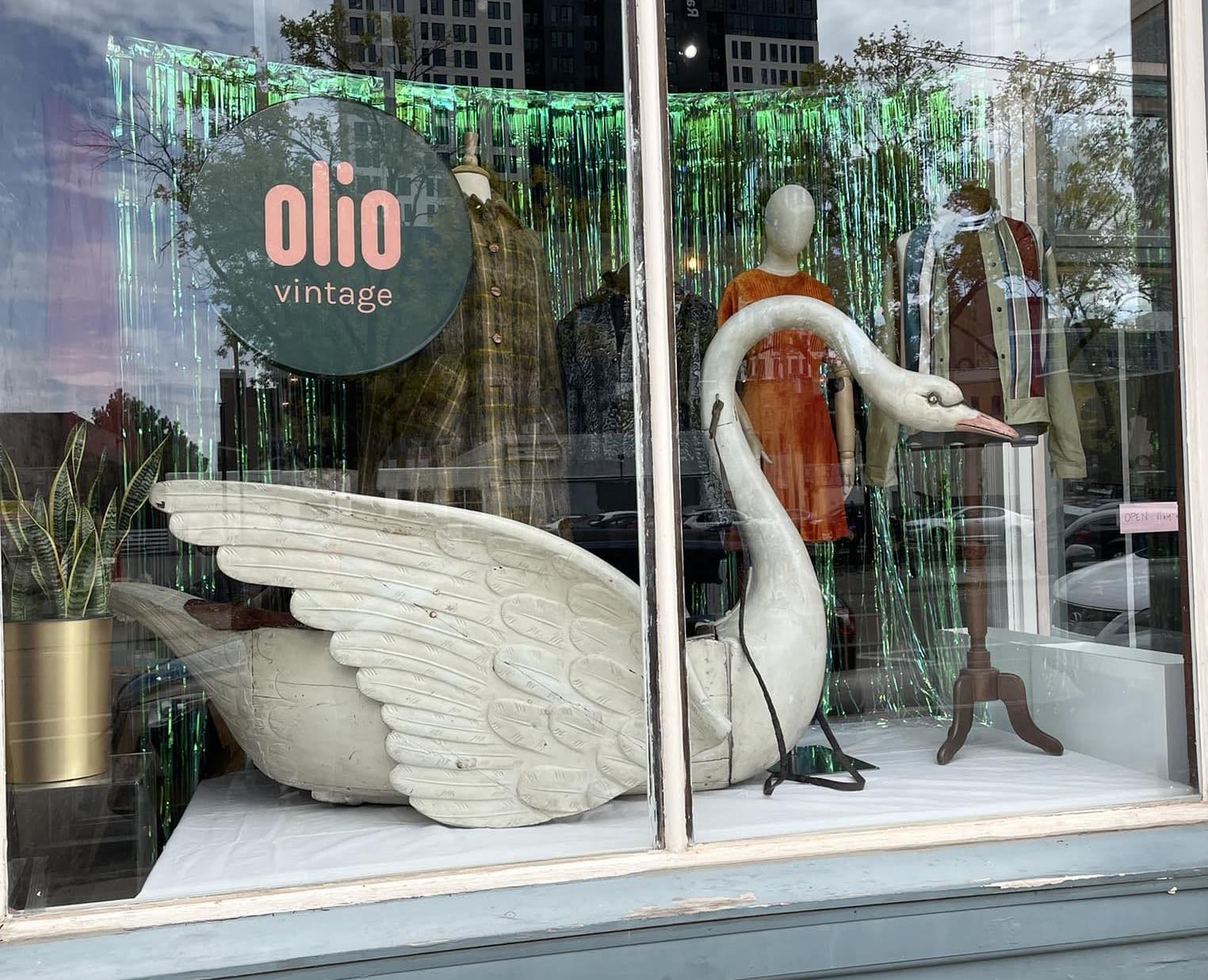 Olio Vintage Wellness Event
Featuring kombucha sips, self-care and wellness goods from local makers, and guest vendors Hausle Shop and High Desert Modern Vintage. 11 a.m. to 6 p.m. Olio Vintage, 21 NE Fifth St., Minneapolis.
Keep the Glass Special
Market Collective MN Makers Market
Shop from BIPOC and queer vendors and allies. 1-6 p.m. Indeed Brewing, 711 15th Ave. NE, Minneapolis.
Departments at Dayton's Winter Maker's Market 
Last call for this MN pop-up market featuring 65+ makers and local businesses, including Red Wing Shoes, Faribault Woolen Mill, GiftyWrap (wrapping paper), Worker B beeswax skincare, Larissa Loden Jewelry, and Leather Works Minnesota. 10 a.m. to 6 p.m. Mondays through Saturdays through January 14. The Dayton's Project, 700 Nicollet Mall, Minneapolis.
Halfway to Twin Cities Pride Celebration
Featuring live entertainment and info on the upcoming fest. 11 a.m. to 2 p.m. Midtown Global Market, 920 E. Lake St., Minneapolis.
Manchester Derby 
Sports at the butt-crack of dawn. 6:30 a.m. Brit's Pub, 1110 Nicollet Mall, Minneapolis.
The Crimson Boys, Queen Jeane
10 p.m. 331 Club, 331 13th Ave. NE, Minneapolis.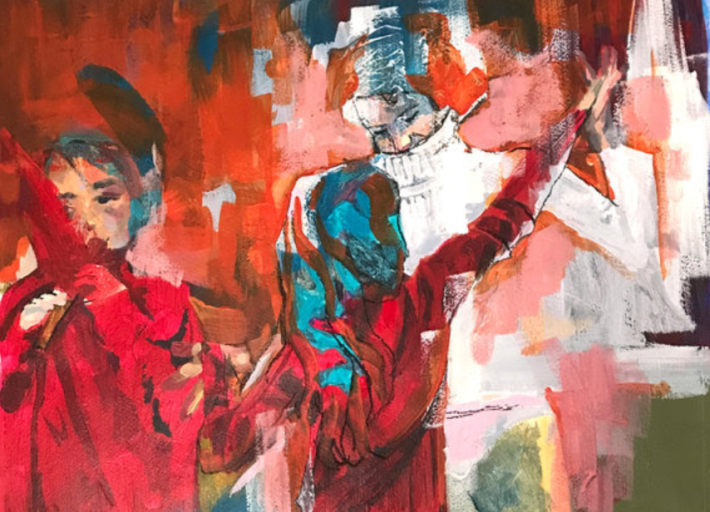 New Work by Avigail Manneberg
Paintings explore performative expressions of grief and joy. There will be an opening reception on Saturday, January 14, from 7-10 p.m. Rosalux Gallery, 315 West 48th Street, Minneapolis. 
Spin Cycle 
9:30 p.m. Gluek's Restaurant & Bar, 16 N. Sixth St., Minneapolis.
Second Saturdays: Northern Gales
7:30 p.m. Merlin's Rest Pub, 3601 E. Lake St., Minneapolis. 
ASL Night Out 
7 p.m. Headflyer Brewing, 861 E. Hennepin Ave., Minneapolis.
Voltage Controller Vol. 13
Ambient and experimental music. 3 p.m. 331 Club, 331 13th Ave. NE, Minneapolis.
Suzy Plays Guitar
7-10 p.m. 612 Brew, 945 Broadway NE, Minneapolis.
Adoption Event 
Meet adoptable dogs and puppies from Healing Hearts Rescue MN. 1-4 p.m. Forgotten Star Brewing, 38 Northern Stacks Dr., Fridley. 
Yoga at Union Depot
Hosted by Studio 9-to-5. Bring a mat and some water; sign up here. 9 a.m. Union Depot, 214 Fourth St. E., St. Paul.
Farmers' Markets
Neighborhood Roots Winter Market
This indoor/outdoor monthly market features vendors from Kingfield, Fulton, and Nokomis farmers' markets. 10 a.m. to 2 p.m. Jan. 14, Feb. 4, Mar. 11. Bachmann's, 6010 Lyndale Ave. S., Minneapolis.
Northeast Farmers' Market Winter Market 
Featuring fresh produce, artisan foods, art, and items from makers, all indoors.11 a.m. to 3 p.m. Jan. 14, Feb. 11, Mar. 11, Apr. 8. Earl Giles Distillery, 1325 Quincy St. NE, Minneapolis.
Downtown Winter Market 
9 a.m. to 1 p.m. St Paul Farmers Market, 290 East Fifth St., St. Paul.
Mill City Farmers Market
With over 40 local farmers, makers, and more. 10 a.m. to 1 p.m. Mill City Museum, 704 S. Second St., Minneapolis.
SUNDAY
Vikings vs Giants Watch Party
3:30 p.m. O'Shaughnessy Distilling Co., 600 Malcolm Ave. SE, Minneapolis.
North London Derby: Spurs vs. A*****l
9:30 a.m. Palmer's Bar, 500 Cedar Ave. S., Minneapolis.
Robert Wilkinson
5 p.m. 331 Club, 331 13th Ave. NE, Minneapolis.