Happy long weekend everyone! Here's your weekly list of super free things to do, plus a few free things to do at the Minnesota State Fair once you pay your way in. See some things you remember from last week? Fear not! This isn't an error; a ton of happenings were rescheduled last weekend due to the rainy weather.
Do you have a free or $5 event coming up? Feel free to email me at Jessica@racketmn.com (bonus points if you put "Free" or "$5" in the subject line. 
FRIDAY
Hillside Beats: DJ Cassieopia and Friends
Tunes, dancing, and stargazing with Svanoe, SoloStar, and Juice Lord. 7 p.m. Walker Art Center, 725 Vineland Place, Minneapolis.
MCAD MFA Fall Show 2021
Show featuring 38 creatives includes painting, design, sculpture, video, drawing, photography, installation, illustration, printmaking, mixed media, and animation on the MCAD lawn and around the exterior perimeter of MCAD's main building. 7 to 9 p.m. MCAD, 2501 Stevens Ave., Minneapolis.
Red Hot Fridays
[Note: This event was rescheduled from last week.] In the "before COVID" times, Red Hot Art was a yearly two-day event. Surprisingly, this summer the rocking fest actually expanded, becoming a monthly series showcasing artists and offering services to the community. This month's installment will feature tasty eats (La Tortilla Food Truck, MaraBee's Cupcakes, Red Wolf Chai), and tunes and entertainment will be provided by FreeQueenSee & Friendz, Ashley Mari, and DJ Sci-Fi. There will be an artists' market; makers include jewelry, pottery, rugs, and other artsy oddities. Added bonus: Red Hot Arts will also host Red Hot Shots. So if you are in need of a vaccine you can not only score one for free here (administered by Black Nurses Rock), but they will also give you cash and vouchers that can be used on the food vendors tonight. Free. 4 to 8 p.m. Stevens Square Park, 1801 Stevens Ave. S., Minneapolis.–Jessica Armbruster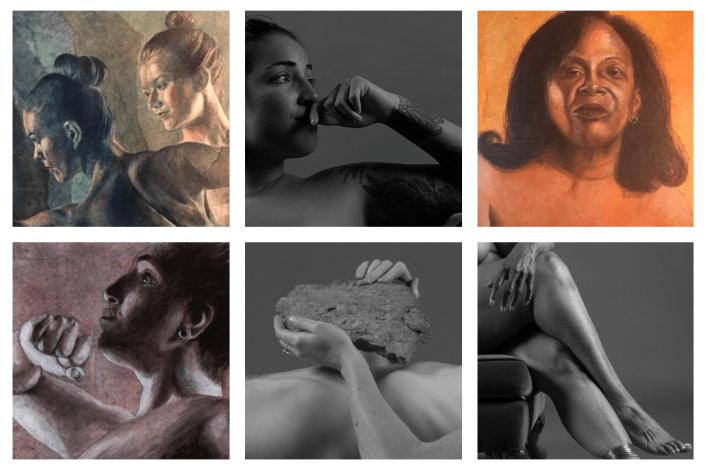 Bodies of Resistance
Featuring photographer Suzanne Shaff, writers Judith Jopp and Maureen McMullen, and painter John Stumme. There will be an opening reception from 7 to 10 p.m. Friday, and the show runs weekends from noon to 4 p.m. through September 19. Artspace Jackson Flats, 901 18 1/2 Ave. NE, Minneapolis.
Free once inside the Fairgrounds:
First Avenue Goes To The Fair
If you don't feel like gorging or Grandstanding at the fair this year, there's always the free First Ave-selected sampling of local music at the West End to keep you sated. Hosted by Nur-D, Friday night brings Derecho, a new pairing of notable Als (Sparhawk of Low, Church of too many projects to mention), along with rockers Eleganza, hip-hop group Heiruspecs, the stylish art-R&B of Lady Midnight, and Duluthian Sarah Krueger's latest project Lanue. Lizz Winstead hosts on Saturday, presenting some blues-rockin' from Colin Campbell and the Shackletons, new Current Local Show host Diane, genre-defiant songwriter EVV, Chicago-born rapper Longshot, and spooky indie-rocker Monica Laplante. Both nights Al Church leads the house band, and if you show up a little early either day you'll catch piano blues institution Cornbread Harris. Free. 8 p.m. Schell's Stage at Schilling Amphitheater, Minnesota State Fair, 1265 Snelling Ave. N., St. Paul. Friday and Saturday—Keith Harris
Bargain Bin ($5 and below):
Hotpants Presents: Funky Dance Night
With guest DJ Nanobyte. 21+. $5. 9 p.m. Palmer's Bar, 500 Cedar Ave. S., Minneapolis.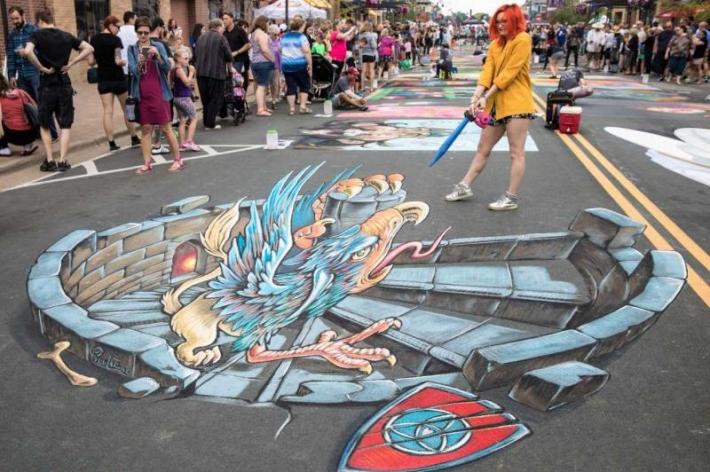 SATURDAY
Chalkfest
When it was announced that the immersive Van Gogh exhibit was coming to town, news outlets collectively lost their shit. But if you're a commoner who can't score a media pass, you're going to be shelling out $55 to $75 bucks just to get in the door. For those of us on a budget but still want to "trip balls" while looking at rad art, we humbly suggest Chalkfest. A little bit Banksy, a little bit analog immersive, this festival showcases amazing artists from around the world who come to Maple Grove each year to blow your mind. Past efforts have included Muppet-themed masterpieces, illusion-based works that trick the eye, and interactive art that screams "Instagram selfie time." Artists will be creating works on Saturday, and on Sunday the finished works will be on display. A self-guided mural tour of the area will also be offered through September. Find more details online. 10 a.m. to 5 p.m. Saturday and Sunday. The Shoppes at Arbor Lake, 12459 Elm Creek Blvd. N., Maple Grove. Through Sunday –Jessica Armbruster
Steve Miller Lite, Luddgang, Anita Velveeta
21+. 9:30 p.m. 331 Club, 331 13th Ave. NE, Minneapolis.
Bey All Day
Listen to Beyonce tunes all day in celebration of her b-day. Noon to midnight. LynLake Brewery, 2934 Lyndale Ave. S., Minneapolis.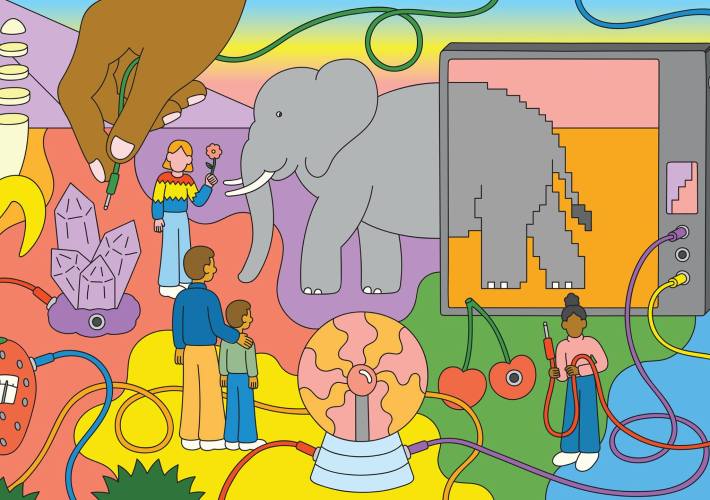 Free First Saturday: Celebrate Summer
Featuring like music from Koo Koo Kanga Roo, an interactive performance with Cypher Side Dance School, and art projects inspired by sculptures in the Minneapolis Sculpture Garden. 10 a.m. to 3 p.m. Walker Art Center, 725 Vineland Place, Minneapolis.
Smokin' Ninjas Anniversary and Concert
Featuring music from Kid Swami, MAS (Sam Weezay), Swimin, Chin Chilla, Zoo V, Khinu Xiong, Justin J Fly Thao, and D.E.I, as well as food trucks Smoke Session BBQ, Ninja Sushi, and Happy Street Foods. 11 a.m. to 11 p.m.; music starts at 8 p.m. Smokin' Ninjas Food Truck Lounge, 879 Rice St., St. Paul.
The Great Calamity Medicine Show
It's still theater in the park season. Which is great, because we're probably not heading back indoors anytime soon. One such offering scheduled for September is The Great Calamity Medicine Show. This month, Physical Theatre will travel to various parks around the Twin Cities for an adventurous romp about a Flim Flam man who comes to a small town to shill a miracle elixir that causes more chaos than calm. Saturday's show will be a Phalen Park, while on Sunday the crew will travel to Powderhorn Park. These shows are free (but it's great to tip at the end if you can), and blankets, lawn chairs, and picnicking are welcome. Free. 3 p.m. Find the complete schedule of locations and times here. Saturdays and Sundays through September 19 –Jessica Armbruster
Pickup Truck Opera Volume 1: The Odyssey
Mixed Precipitation is taking its Picnic Operetta on the road with an adaptation of Homer's Odyssey, using selections from Monteverdi's 1639 opera, Il ritorno d'Ulisse in patria (The Return of Ulysses to his Homeland), baroque melodies, and Dolly Parton tunes. Admission is free, but donations are encouraged. 2 p.m. Saturday and Sunday. Alexis Bailly Vineyard,18200 Kirby Ave., Hastings.
"UnVessel"/"Listening to the Mississippi"
[Note: This event was originally scheduled last week.] Tia-Simone Gardner's site-based work "UnVessel" explores landscape photography and the Mississippi, drawing on historical connections between Blackness and the river. Meanwhile, Monica Moses Haller and Sebastian Muellauer present underwater and above ground recordings of the Mississippi from 2015, shared in this iteration as a composition by Michi Wiancko and Judd Greenstein. Noon to 4:30 p.m. Saturday. Pickerel Lake at Lilydale Regional Park, 950 Lilydale Rd., St. Paul.
SUNDAY
Hifi Hair and Records
Featuring Doug Collins and the Receptionists, Becky Kapell and the Fat 6, and Kinda Fonda Wanda. 2 to 5 p.m. 1637 Hennepin Ave., Minneapolis. 
Free, once inside the Fairgrounds: 
State Fair Amateur Talent Contest
For 10 days, they sang, yodeled, tap-danced, juggled, and wise-cracked on the Leinie Lodge Bandshell stage. Now, as the Minnesota State Fair winds down, 26 nightly winners of the 48th annual Amateur Talent Contest will vie for $20,000 in prizes at the Grandstand. If the fair is about celebrating homegrown folksiness, and it certainly is, then this free showcase of talented Minnesota kids, teens, and adults is about as folksy as it gets. The semifinal crop was whittled down from around 400 auditions in July, so you know these finalists will bring the goods. Free with fair admission. 7:30 p.m. State Fair Grandstand, 1265 Snelling Ave. N., St. Paul.—Jay Boller