As encampments of unhoused people started springing up in Twin Cities parks last summer, Christian Clements was one of the many people who started working with mutual aid organizations like Twin Cities Encampment Responders and Southside Food Share to deliver meals to them.
Hundreds of volunteers have been working to provide food and supplies to encampments over the last year and a half, but one obvious—and much more logistically difficult to provide—service was missing: showers.
"When I first had the idea, it was like… how come nobody's thought about this?" he says. Clements, who'd worked in production for music events, knew there were mobile showers out there; the problem was that none of them were single-entry, providing the health, safety, and dignity unhoused folks deserved.
"I see such a huge value in meeting people—literally meeting people—where they're at," says Clements, who also has a background in harm reduction. "If we can give somebody a place where they can have a locked door, warm up, and trust the situation enough to close their eyes and put their head under a stream of water, that's creating a space that doesn't exist right now."
A handful of other organizations around the country have started working on shower solutions. There's LavaMaeˣ, a nonprofit based out of California, whose programs include mobile showers, pop-up "Care Villages," and DIY hand-washing stations. Brooklyn Community Services operates a shower bus in New York.
But DRIP, as Clements has named his project, would be the first mobile shower unit for people experiencing homelessness in Minnesota. And he drew his inspiration from a very Minnesotan place: ice fishing trailers. The ice fishing frame would be big enough for several standard shower stalls and an ADA compliant one.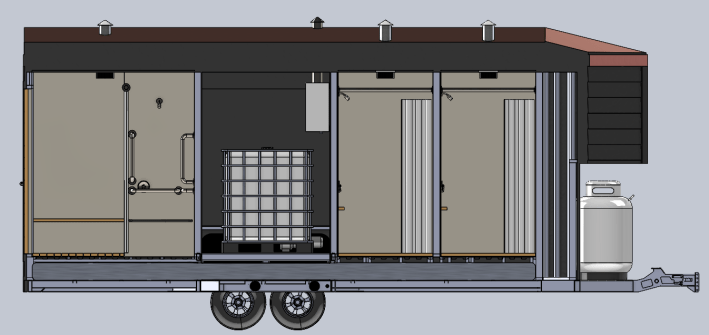 DRIP is a real grassroots, bootstrapped kind of thing, and Clements has friends in everything from HVAC to commercial appliance repair offering their insights. Levi Wolterstorff, lead engineer on the project, was a server when they met, who was also putting himself through engineering school. Clements's neighbor Marx Barry, a tattoo artist and master craftsman who's worked with tiny homes, is now their build manager.
A GoFundMe with a $25,000 goal has raised almost $17,000 so far, and the ice fishing frame arrived last month. Their hope is to have the DRIP mobile shower unit up and running by February or March 2022; in the meantime, DRIP's co-creators are hosting a food drive to benefit Southside Food Share and Community Kitchen Minneapolis, both of which feed folks in Minneapolis and St. Paul encampments. You can find the full list of needs and donation sites here.
Originally, Clements hoped to get the shower running as quickly as possible to meet the need. Ultimately they ended up taking their time to make sure it works. They're filling out nonprofit paperwork, and making sure the design is something that could be replicated in other cities where it could help. The project will be open-sourced, its plans accessible to all.
"We have the opportunity to do it right, and do it well, and do something that's sustainable. Something that will be a benefit to everyone," he says. "Hopefully, as we figure out what we need here in Minneapolis, we can help other groups … they can give us a call and go, 'OK, we live in Detroit, we need a mobile shower.' And we can go, 'OK, we can build that for you.'"