In America, corn is king. The country's biggest crop dominates 91.7 million acres of land, according to the USDA, and its growers received $90 billion in subsidies between 1995 and 2010. Corn is in your ketchup (high fructose corn syrup), tooth paste (sorbitol), shampoo (citric acid), makeup (zea mays), and, unfortunately, in your fuel tank (ethanol).
At Capital Corn, the new St. Paul restaurant specializing in "bomb elotes and crazy snacks," it seems corn is intended for two places: your stomach and your Instagram feed. Much digital ink has been spilled bemoaning the Insta food trend, where over-the-top edible novelties become crass photo subjects rather than enriching treats, so we're not here to re-litigate that.
Like all things, food that's created with aesthetics at the forefront can be good, bad, or somewhere in between. We're happy to report Capital Corn's wacky elote variations and candy-loaded blended drinks tend to deliver on taste as well as social media engagement.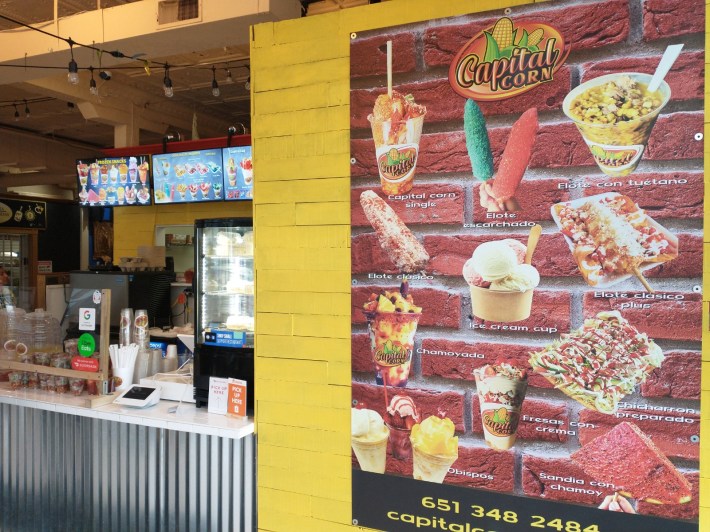 That's unsurprising considering Capital Corn comes from the folks behind Hamburguesas El Gordo, the reliably delicious local Mexican burger/taco chain. During our recent visit, the counter-service shop at 927 Payne Ave. was filled with kiddos singing TikTok songs and young couples enjoying churro ice cream cups. The hustling staff was cheerful and helpful; the longish wait time suggested my Capital Corn Deluxe ($9) and Chamoyada ($7) were prepped to order.
The big Q, of course, is whether the signature elote lives up to its "bomb" billing. My particular elote—whole cob, mayo, powdered cheese, chile powder, lime wedge—arrived hot and submerged in a styrofoam cup and swimming in cheese, a half-can's worth of bonus kernels, candied tamarind, and Flamin' Hot Doritos. (Chips like Doritos, Takis, Cheetos, Fritos, and Tostitos are the marquee add-on options at Capital Corn.)
Corn-wise, my elote lacked any charring, though the kernels were juicy and flavorful. The logistics, however, quickly overwhelmed me. The smear of passable mayo and cheese causes havoc among beard-havers, and renegade kernels flew all over the cabin of my Elantra. A flimsy plastic spoon didn't have the length to dig down into the tall cup, but that was just fine: Once you've strafed that tasty cob clean, the mix of corn, cheese goo, drippy mayo, and submerged chips that remains isn't worth more than a couple bites. Just opt for the standard Elote On a Stick, which costs about half as much and can't devolve into a strange corn slurry.
Not too sweet and wonderfully refreshing, my ice-cold Chamoyada cup acted an ideal counterbalance to the hot corn cup. For the Chamoyada-ignorant, it's a Mexican smoothie featuring mango blended with ice and chamoy sauce, plus fresh mango and pineapple, spicy tajin around the rim, chamoy drizzles, and a straw coated in more candied tamarind. There was a lot to like, visually, about the red and yellow swirls topped by a bouquet of fruit chunks, and Capital Corn's delightful execution could easily satisfy two people as a snack or dessert. I didn't have the stomach for it, but the restaurant does offer sweet drinks that appear to be at least 25% gummy candy.
When my colleague Em (unbeknownst to me!) deemed me Racket's junk food correspondent, I decided to copy my favorite podcast and make my guiding principle: Does the experience justify the calories and cost? With Capital Corn, the indulgent menu rarely exceeds $7, and the food—while clearly non-gourmet—is crafted with much more heart than a ghost kitchen's. Plus, it's just a whole lotta fun. And if you care about Instagramability, Capital Corn aces that metric, too.
"OH MAN," Em said when I shared my cartop drink photo. "Tell you one thing, I'm clickin' that link."
Sounds a lot like you!