Summer has dawned in the Twin Cities, and just like any good local, I left as soon as it got nice to be here.
This month, I took a trip up to Two Harbors to enjoy the Lake County town that Racket co-founder Jay "Da Bollman" Boller sometimes calls "Da Bollhome." It was a cathartic change of pace, not only getting out of the city but also changing the menu of beers available. By road tripping three hours north, I was suddenly opened to a whole array of new breweries.
Come along with me as a retrace this trip in the beers that I enjoyed. If you spend most of your time in the lower third of the state like me, well, maybe it's time you drank your way north.
Three Twenty Genevieve's German Lager
Maibock, 6.7% ABV, 20 IBU
There's a dead zone on the drive up 35 from Minneapolis to Duluth where there are no accessible breweries for 88 miles. Until they wise up and put a brewery in Cloquet or Sandstone, Three Twenty in Pine City is the last outpost on the road north. I hit them while their spring Maibock was in season. It's not a style I leap for, but Three Twenty nailed the requisite roastiness and syrupy sweetness. That's before the crisp, biting finish. This was my first beer from Three Twenty, and it was a fine version of a classic German beer.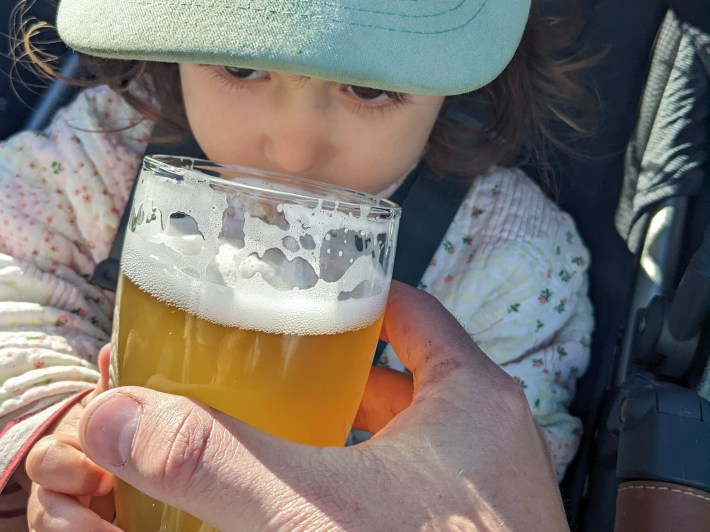 Castle Danger #FreetheGrowler Hefe
Hefeweizen, 5.3% ABV, n/a IBU
Let's start with the obvious: I didn't get a proper picture of this beer, because there was a collection of 9 kids doing parkour near me, and it was a very distracting environment. Anyway, here's a picture of my daughter Daisy *JUST SMELLING* Castle Danger's new #FreetheGrowler Hefe, which was just a spectacular beer.
Castle Danger has been embroiled in a fight to modernize beer laws since 2018, and they've been promoting their legal efforts with an ongoing pilot series named #FreetheGrowler. Their latest rabble rousing beer: a brilliant, 14k gold Hefeweizen. It's a Bavarian classic brought to life in the North Woods, exploding with bready scents and drinking like pure sunshine. This beer could be the finale of the #FreetheGrowler series, provided the Minnesota senate doesn't ruin everyone's fun.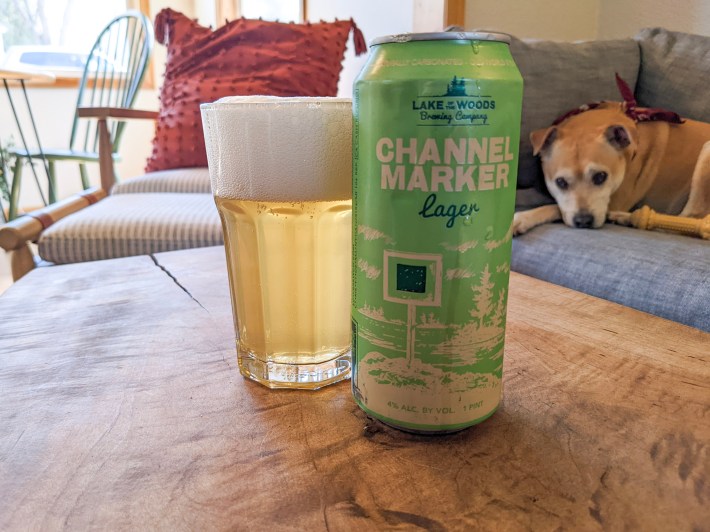 Lake of the Woods Channel Marker
Lager, 4% ABV, 11 IBU
Lake of the Woods is Minnesota's northernmost brewery, sitting just on the precipice of Manitoba (where it also has another location). I've never seen the Warroad brewery on shelves anywhere, so when I spied a four pack of Channel Marker at a shitty liquor store near Castle Danger, I grabbed it and took it back to the AirBnB. Dry-hopped with Citra, this biscuity lager is perfectly elevated with grapefruit and tangerine flavors. What a four-percenter, too. I sucked these down while watching playoff hockey, locked into a bliss that has eluded me all of 2022.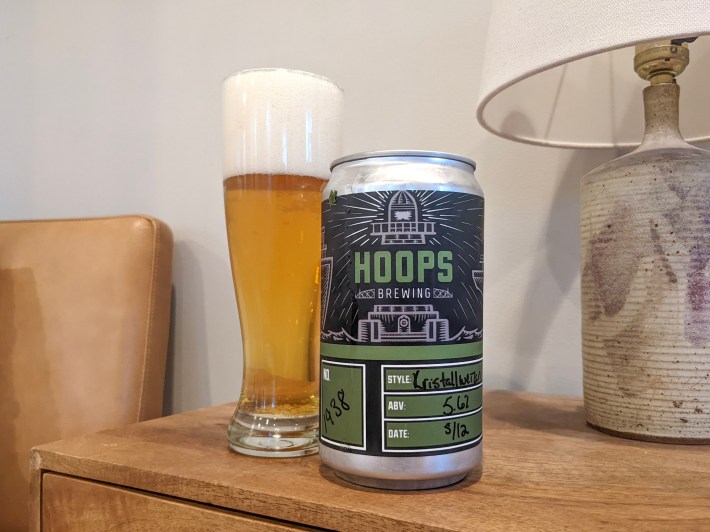 Hoops No. 1938 Kristallweizen
Witbier, 5.6% ABV, n/a IBU
The employee at Duluth's Hoops Brewing told me that they sell most of their crowlers to folks driving up from the Twin Cities. Folks like me, who stop in on their way home from the North Shore for a from-the-tap taste of the Zenith City's most underrated brewery. Unlike the previous Hefe featured here, the Kristallweizen is filtered. It has all the up-front clove esters and classical yeastiness of the standard German Wit, but the body is much lighter, like a super-fragrant Pilsner.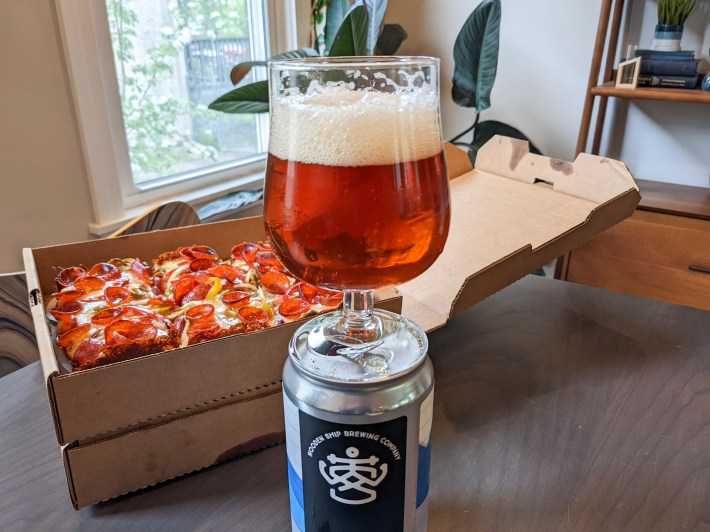 Wooden Ship Southside Dip Hop Project
West Coast IPA, 6.5% ABV, n/a IBU
Back home in south Minneapolis, I wanted to celebrate my home region with a five-way collaborative beer made between Southside breweries. Wooden Ship, Arbeiter, Eastlake, LynLake, and Venn all joined together to make dip hop variants of the same West Coast IPA, each dosing their beers with different combinations of hops. Wooden Ship scored a quintessential trio of Cascade, Chinook, and Centennial to add a deep resin flavor to the beer, but they also tossed in Citra to cut in some grapefruit. I'd just picked up a pizza from Wrecktangle, and this aughts-style bitter bomb scraped all the grease off my palate. Good to be home!