The cost of things these days? Far too expensive! Inflation, supply chain, giddy price gouging from proprietors large and small—the boring factors are too numerous to count. To protect our readers, Racket recently launched the Best Budget Bites series, where we'll showcase a toothsome, wallet-friendly food item that'll actually fill you up. Have a nomination? Hit us up: tips@racketmn.com.
What: Cinnamon roll doughnut of unholy proportions
Where: Any metro Cub Foods location
Cost: $1.25
Availability: Year-round
The cat is outta the bag regarding Cub doughnuts.
In a rare and welcome hot take, Bring Me the News blew up the local grocery chain's spot last year with "The most overlooked, underappreciated donuts in the Twin Cities are at Cub Foods." Writer Shaymus McLaughlin called out Cub-snubbing best doughnut lists from Twin Cities Eater and MSP Mag, noting that such popularity contests tend to favor old, failsafe standbys (A Baker's Wife, for instance) and newer, glitzier, pricier options (like, say, Glam Doll). A couple weeks back, a chorus of local Redditors echoed McLaughlin. "Not sure why so many folks sleep on Cub donuts," one wrote in response to a photo of the hulking beauty you see above.
Sleep no more, doughnut freaks: Cub's no-nonsense bakery game is a noble achievement at the nexus of tastiness and thriftiness.
Consider the cinnamon roll doughnut, the largest item available on the pastry racks that arrive fresh daily. It comes topped with several sugary icings (cream cheese, chocolate, maple), and measures six inches by inches. (I used a tape measure.) The outer portions are vintage Cub—airy, puffy, not too sweet. As you chomp down, the doughnut almost deflates as you work toward the center. Don't expect the fall-apart, gooey cinnamon roll experience with this hybrid. It trends closer to a standard cake doughnut, though the ripples of cinnamon flavor do pleasantly hit as you approach the denser core. Let's take a closer look: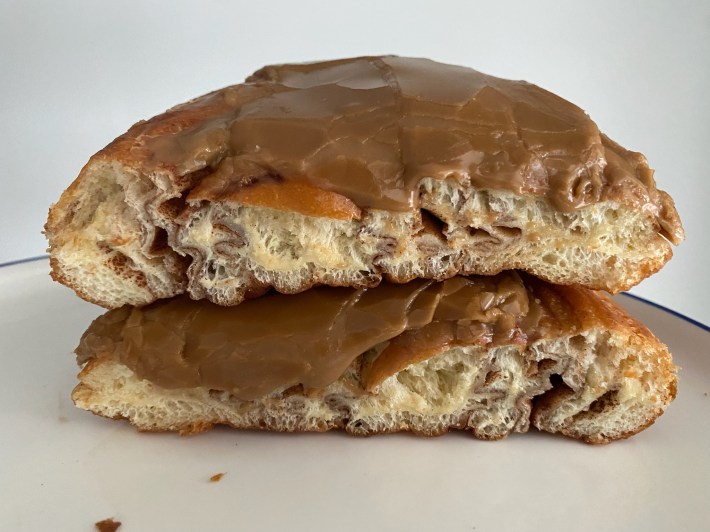 Considering this thing's the size of a smart baby's head, you'll realistically be able to split it and still be satisfied. That puts the price point at 63 cents. Incredible. Maybe your smart baby is going private college after all. We'll further rhapsodize the budget element by noting that one dozen Cub doughnuts runs you $10; at frillier doughnut shops that figure can easily creep past $25.
Now, is the Cub doughnut good? Not in the mind-blowing, eyes-rolling-back revelatory sense. But that's not what the self-serve Cub pastry case is all about. It's about delivering solid, B-grade treats that will never disappoint at a great value. Real Twin Cities heads know that's also true of Cub's fried chicken, but that's a Best Budget Bites for another day.
BBB Hall of Fame
$1.25 Colossal Cinnamon Roll Doughnuts from Cub