Throughout 2022 business was booming at The Unofficial, according to former general manager Andrew Bauman.
About a month ago, when owner Chris Christopherson demoted his kitchen manager and took a more hands-on approach, vibes reportedly shifted at the popular St. Anthony bar and grill.
"It had been getting busier everyday," Bauman says. "Immediately everything started going backwards."
Christopherson would curse at and degrade workers, the former GM alleges, and attempted to establish a working environment where he was "feared."
"At brunch about three weeks ago, it all exploded," Bauman says. "He called me a dick, told me to shut the fuck up, threw a sandwich at the food runner… about half our staff walked out that day. He had this notion that everybody was conspiring against him."
On Sunday, The Unofficial was too short-staffed to operate, so workers shut the place down at around 5 p.m. They awoke the following morning to an email from Christopherson stating that the bar would close "effective immediately." The "childish" workplace culture "grosses" him out, he wrote, and he "refuses to be a part of it."
Workers were instructed to reapply for their jobs beginning next Monday; the doors at 3701 NE Stinson Blvd. had been chained shut.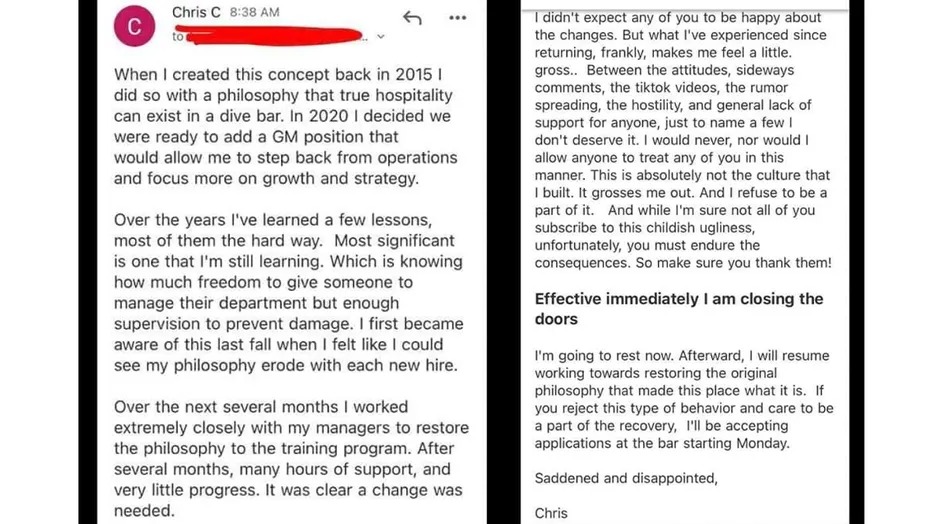 Since Christopherson re-entered daily operations, and culminating with the apparent mass layoff, about 20 front- and back-of-house workers are out of work, Bauman says, calling the staff "tight-knit." He knows of one worker who will show up to ask for their old job back.
"We were a bar of regulars, 85% of our business was regulars," Bauman says. "And the regulars are up in arms now. They came there for the amazing people that worked there."
Oddly, a Facebook post from Wednesday announcing the closure remains up, despite the comments being flooded with anger and resentment toward Christopherson. Ditto for this Reddit thread. As worker empowerment experiences a slow awakening in the U.S., we've seen more willingness from employees to call out allegedly bad bosses. Just look at eyerolls directed at Leslie Bock, the soon-to-be-former owner of Betty Danger's, or the service industry uproar sparked by local restaurant tycoon Kim Bartmann's James Beard nomination.
Christopherson, who could not be reached for comment, owned historic Minneapolis dive bar Sporty's—now Como Tap, one of the city's most underrated bars—from 2012 through 2019. The Unofficial launched inside a former IHOP around 2016.