Now that the temps have dropped into the frozen tundra zone, it's time for Minnesotans to decide how they are going to spend their days until the thaw. Do we dare to venture outside, where the elements might kill us? Do we head indoors, where the plague awaits? Or, do we stay home and hermit away, sharing stories (streaming services) in front of a campfire (TV)?
No matter what approach you take this winter (or each day), we'll have options for you every Monday here in Event Horizon.
MONDAY 2.21
​​Faye Webster
Fine Line
"There's a difference between lonely and lonesome," this 24-year-old Atlantan sings on I Know I'm Funny haha, her fourth and sharpest album. "But I'm both all the time." It's that slight analytic distance from her sadness, that sigh of a punchline, and the relative crispness of her sob, that sets Webster apart from your average moper. Despite her fondness for pedal steel and typically downhearted disposition she's hardly as country as some admirers will tell you—melodic melancholy, not precisely crafted heartbreak, is her concern. Instead, she's a singer-songwriter who accentuates her moods as she's fit. Someday Webster may yet joke more openly about her broken heart, maybe even decide there's more to life than gradations of unhappiness. Hey, wait there's this: "You make me wanna cry/In a good way." Baby steps. With Kate Bollinger. 18+. $18-$33. 8 p.m. 318 First Ave. N., Minneapolis; more info here.—Keith Harris 
TUESDAY 2.22
Marlon James
Parkway Theater
Jamaican-born author Maron James is in the prime of an already outstanding literary career. What a treat to witness the onetime Minnesotan's rise first-hand. Tonight, the Macalester professor is celebrating the release of Moon Witch, Spider King, the second installment of his Dark Star trilogy, which is being heralded as an African Game of Thrones. Don't get sticker shock: Tickets to the Parkway book-release party include an autographed copy of that new book, plus a reading, discussion, and Q&A. Ben Percy, another great Minnesota author whose 2021 novel, Ninth Metal, lit up year-end lists, will be joining as well. $38-$48. 6 p.m. 4814 Chicago Ave., Minneapolis; more info here. –Jay Boller
FRIDAY 2.25
Mike Lebovitz
Comedy Corner Underground
Like so many hilarious road comics, Lebovitz dropped his latest album, Two Slob Household, via Minneapolis-based Stand Up! Records. (Note to self: Racket should write a story about Stand Up! Records.) Raised in Chicago but based outta NYC, the mustachioed comic is innately likable in a Seth Rogan-ish sense, with energetic bits that jump from weed to Megabus to fatherhood to Jewishness. Lebovitz is smart and quick, and he's parlayed his standup talents into gigs on Comedy Central, NBC's Last Comic Standing, and HBO's The Deuce. $12. 8 p.m. Friday and Saturday. 1501 S. Washington Ave., Minneapolis; more info here. –Jay Boller
Vilification Tennis: Four Letter Wordle
Bryant Lake Bowl & Theater
If your various group chats and social media feeds have been consumed by Wordle content lately, then this is the show for you! Vilification Tennis is a structured improv show in which the competitors engage in a battle of insults, all for the amusement (and sometimes horror) of the audience. And this week, they're capitalizing on the Wordle craze, presenting a show "all about word games, letters, and how much alphabet soup your mom consumes." Get your tickets now—much like Wordle, this is a one-time affair. $12 advance/$15 day of. 9:30 p.m. 810 W. Lake St., Minneapolis.—Em Cassel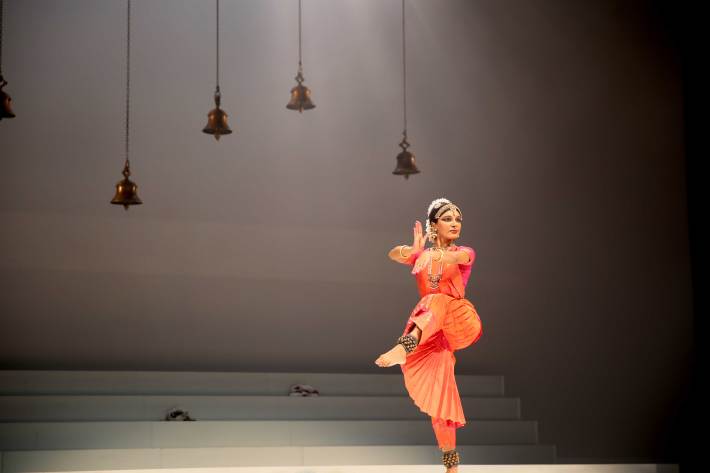 SATURDAY 2.26
Fires of Varanasi: Dance of the Eternal Pilgrim
Northrop Auditorium
Mother-daughter team Ranee and Aparna Ramaswamy take to the stage this Saturday for another electrifying night of dance. For Ragamala Dance Company's Fires of Varanasi, the two return to the South Indian dance form of Bharatanatyam, a living form with ancient roots. Here they explore the Hindu belief of birth, death, and rebirth, as dancers enter a time and space where the human merges with the divine. The piece, which was co-funded by Northrop over a two-year period, has been traveling the nation to rave reviews. Tonight, the troupe returns to the Minneapolis stage. $22-$53. 7:30 p.m. 84 Church St. SE, Minneapolis.
Winter Warm Up
The Trailhead at Theodore Wirth Park
There's a long-running myth that the outdoors is both "free" and "accessible to everyone." Outdoor recreation has historically excluded people of color, and gear—especially the nice, functional stuff that keeps you warm and dry in the winter—can be prohibitively expensive for huge segments of the population. (Have you ever looked up the cost of an Arc'teryx jacket?) It's why Twin Cities PBS and Melanin in Motion are partnering to bring you this Winter Warm Up at Theo Wirth, where all are welcome, but the focus is on communities of color and folks who are new to winter outdoor sports and looking for a low-barrier entry point. They'll supply the instruction and the gear you need to try tubing, snowboarding, snow shoeing, and cross country skiing. Register here. Free. 10 a.m. to 2 p.m. 1221 Theodore Wirth Parkway, Minneapolis—Em Cassel
Beach House
Palace Theatre
It's so honorably indie how Victoria Legrand and Alex Scally have pursued slight gradations in their luxuriously dozing sound without ever making a sharp departure. After eight albums and more than a decade, you'd think they might give a full-on electro pop a bash or get ambitiously experimental, but instead, remaining relentlessly on brand, they just give you… more. Released in increments over the past year, the new double album Once Twice Melody is all very dreamy, bien sur—in the sense that when you wake up, you can't always remember the details, and when you try to explain why it's so special to others they might not pay attention. Beach House still prefers texture to rhythm, and lyrics like "If it hurts to love/You better do it anyway/If it hurts too much/Well, I loved you anyway" favor the suggestive over the descriptive. But immerse yourself in the modest grandeur, if that's your thing, and after it's all dissipated some beguiling after-effects will linger on. Just like, you know, a dream. With Colloboh. 18+. 8 p.m. $45 and up. 17 W. 7th Place, St. Paul; more info here.—Keith Harris
The Suzy Greenberg MFA Exhibition
Soo Visual Art Center
For the past 20 years, Soo Visual Arts Center has hosted an annual showcase featuring emerging artists in the Twin Cities. These artists, who are all working through their MFAs or recently received an MFA at either MCAD or the U of M, have been creating and critiquing through the pandemic. This Saturday the artists–Jocelyn Suzuka Figueroa, Olivia Gallenberger, Cody Hilleboe, MAC, Prerna, David Ruhlman, and Anda Tanaka–will share recent pieces. They are working with a variety of topics, including mixed racial identities, addiction, American bureaucracy, and domestic life. The mediums include ceramics, paintings, and sewing. "These works are as varied as the artists that created them," says juror Nicole Soukup. "Yet all were made during the absurdity of the past two years." See them this Saturday at the opening reception from 6 to 9 p.m. 2909 Bryant Ave. S., Minneapolis. Through March 26 –Jessica Armbruster